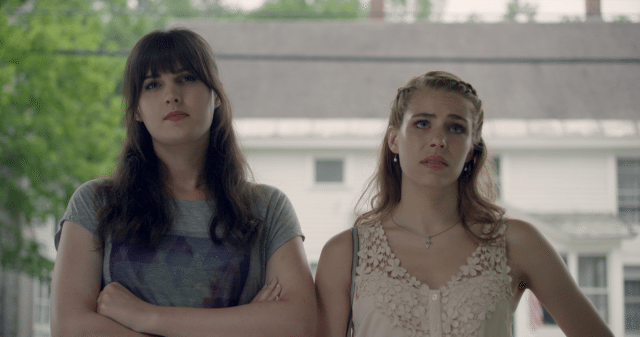 It's not often that a deeply political film comes in the guise of a romantic comedy, but that's just one of the many pleasant surprises of Eric Schaefer's new feature, Boy Meets Girl. The film takes place in rural Kentucky and presents a love triangle (eventually square, star, and snowflake) between Robby (Michael Welch of Twilight-fame), shiny town debutante Francesca (Alexandra Turshen), and the beautiful trans girl, Ricky (Michelle Hendley).
Although it opens as a quirky, run of the mill, rom-com, the film quickly becomes an intelligent and far reaching discussion on gender politics, social stigma, and sexual psychology. When we meet Ricky, played with magnificent grace by Hendley, she is bemoaning the lack of interesting men in their small town while best friend Robby sits texting his many female pursuits. In a rather forced meet-cute sequence, Francesca enters the picture and quickly shifts Ricky's attention from men to women -- or, woman. Already, Boy is openly admitting the the malleability of attraction. After the initial awkward character setups, the film flows into a seamlessly entertaining, fun-poking, thought-provoking romp.
There is no character in this film without emotional motivation and background and therefore, no villains, no one who isn't relatable or beyond empathy. This kind of attention to writing and lack of judgement is what raises Schaefer's work to the next level. His characters make complicated choices and have real, un-pandering reactions. To boil it down, Schaefer writes with a clear understanding of the gray scale of humanity.
Ricky acts as a sort of impetus towards emotional change in everyone she comes into contact with. Each secondary character is better for knowing her. From beginning to end, Ricky has strength and confidence of person that never waivers — something rarely found in comedy, female characters, or transgender stories. This, combined with the blatant discourse around sexuality as a spectrum, makes Boy Meets Girl groundbreaking in its genre.