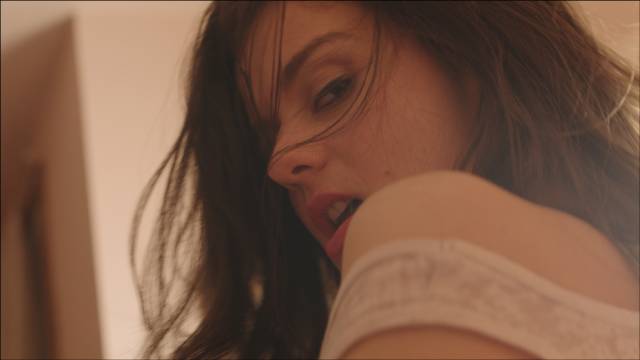 Elvis Martini (Nickola Shreli) is an unusual name. The kind that winks at you from the pages of a hardboiled thriller or dime novel. Fittingly it's the name of the protagonist in Cash Only, which is indeed a crime thriller, the kind with gangsters and a kidnapping and psychotic villains. But nothing feels like an imitation. Neither clever genre pastiche, nor glamorous overblown caper, Cash Only is a triumph of indie filmmaking. Set in Detroit and switching between shaky handheld shots and more traditional still ones, Malik Bader's film approximates gritty realism lensed through a lime and lemon neon. The first half of the movie scampers after Elvis, self-acclaimed king of low-life renters through his dilapidated building inhabited by quirky, but also realistic renters, many of whom are Albanian. Cash Only brings to mind Tangerine in its depiction of community little seen and a city unprettified.
As Elvis, Shreli –who also is the movie's screenwriter—is an everyman and almost a non-actor. As a landlord, his seediness is offset by his own bumbling neediness. There are no goons to collect the rent on his behalf, though they would be welcome; Elvis is greatly indebted to the bank, the local bookies, and even the priest who heads his young daughter's school, where she's been absent. His wife, it is revealed, was killed in a fire, which Elvis set to for insurance money. Talk about a rough backstory.  In such dire straits, most characters turn to something rash like robbing a bank. Not Elvis. He does something more pragmatic, less sexy, though still perhaps not within the realm of the law: he raises the rent of marijuana farmer (played in a nice turn by Bader himself) and in a moment of brash helplessness evicts another, a call girl named Rolexa (Maia Noni). She along with two henchmen are unfortunately the only representations of African Americans in the film.
After changing the locks, Elvis swipes a few thousands of dollars from her apartment and pays off a few debts. Half to the bookie, some for his daughter's tuition. It's a modest version of equivalent of gangsters flinging hundred dollar bills on a whim.
But of course, there must be consequences and it's his daughter who ends up kidnapped by whom, it does not ultimately matter. Just know there is a sharp spell of violence from a crazed man with an assortment of pitbulls. The attention grabbing element is what what Elvis will do to scrounge up $25,000 in cash. At one point, he triple, quadruple, books his rooms in what may be the only instance where you might find yourself actively rooting for a slumlord and for the innocent potential renters to fall prey to his scheme. Talk about a notable accomplishment of storytelling.