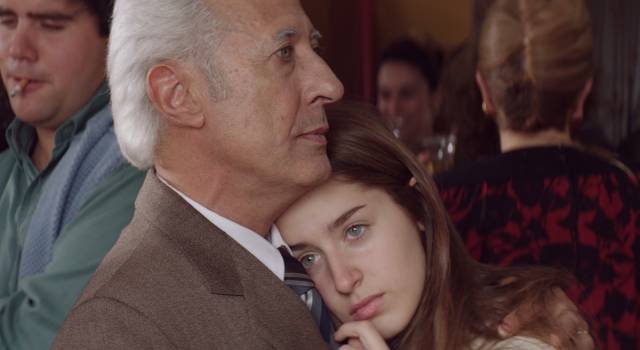 Pablo Trapero's The Clan is the answer to the American gangster movie. His film is not about the Ku Klux Klan, but the notorious Puccio family from Buenos Aires who kidnapped and killed people in the haze of post-Falklands War 80s. Arquimedes Puccio (Guillermo Francelli) is a former government intelligence services worker who in order to make ends meet targeted wealthy neighbors for ransom- a practice that was at the time not uncommon we learn as Trapero competently weaves in the historical context with ease.
In the role of Arquimedes, Francelli has the stare and icy blue eyes unnervingly similar to the crime boss White Bulger and all too perfect of a match for his cold and exacting manner. But, as a father and husband, he is well-loved and fawned over by his family members who are complicit to varying degrees. Mama Puccio (Lili Popovich) casually plates a meal for a kidnappee whose muffled cries ring through the bathroom tub and walls. One son leaves because of these dark activities, and another returns for reasons undisclosed. The oldest daughter turns a blind eye, while the youngest remains unaware.  Directly involved is eldest son Alejandro (Peter Lanzani), a rising rugby captain of the Pumas. (Rugby was not yet a professional sport, thus there was no income generated from what seems to be the team's many wins.) A dreamy athlete with a bright future ahead, Alejandro helps choose victims and invites himself into their car after feigning his own vehicle troubles. Within minutes Arquimedes and henchmen arrive to hijack the vehicle. Alejandro's sense of guilt is assuaged of course by the stacks of bills his father pays him, all the more appealing as he settles down with a girlfriend, who is completely unaware.
The Puccio's get serious as time passes on, even installing a hidden door in the basement for their captures, the most disturbing of which is an older woman, whose continuous cries for help are barely drowned out by a boombox. Alejandro's moral dilemma never makes satisfying narrative headway even at the film's ghastly, though true to life ending. The director employs popular tunes, like The Kinks "Sunny Afternoon" to underscore more of the violent occasions, including a competent cross-cutting sequences bouncing between Alejandro and his girlfriend undressing in the car, and his father and goons beat and abduct another victim. However, these tricks become uninspired as they continue through the film, forgettable if not for its real life basis, and the truly confounding acts of the Puccio family.