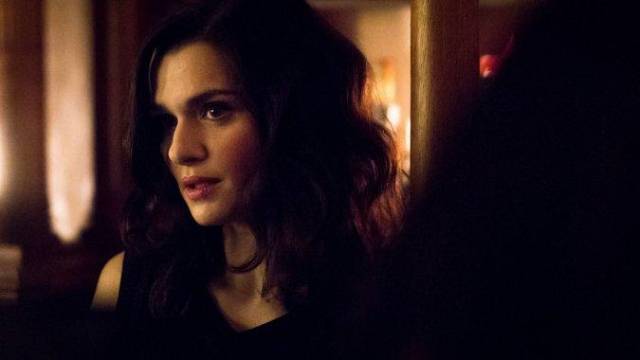 Within the first five minutes of Complete Unknown, we see Rachel Weisz go from being an environmental student looking for a room, to wearing scrubs and calmly asking a patient to breathe in and out, to sitting in a car wearing a business suit, to smiling for a crowd as she's about to let a magician make her vanish, and telling a man she's in bed with all about her past as a teacher. The sequence isn't only disorienting for how quickly it goes from character to character - sometimes feeling like the actress' demo reel - but because by the end of it, we discover that all these different people are one character. She goes by the name of Alice through most of the film to follow, and in complete disconnect with the closeups used by director Joshua Marston to capture her, it seems that the closer we get to her, the least we get to know.
Dreaming of being someone else isn't a foreign concept in the films of the proficient Marston, his debut feature Maria Full of Grace, deftly captured a young woman's unexpected, and undesired, transformation from ingenue, to drug mule, to American Dream victim, all while she wishes she could turn back time. In the harrowing The Forgiveness of Blood we can't help but wonder who the children caught in a senseless blood feud, dream of becoming. If his two first films saw characters who were bound by identity, the anti-heroine of Complete Unknown has turned metamorphosis into an artform. When at one point in the film she is confronted by a character who accuses her of being a pathological liar, we're forced to reexamine where our allegiances lie. Everyone has at some point dreamt of being someone else, so why would we condemn someone who lives that dream?
Weisz, who has become a master at showcasing inner struggle, delivers her most urgent performance to date. She's a confident actress who has specialized in creating lost characters, as sure as Alice seems on the surface, it's clear that part of her m.o. is owed to how lost she is, the wonder is seeing Weisz tap into this without hesitating or condescending. She feels empathy for Alice, and never looks down on her. It's a mesmerizing work of thespian skill that more than makes up for the uneven tone of the rest of the film. When Alice is given the duty of becoming a manic pixie dream girl for a neurotic man played by Michael Shannon, because of Weisz we're confident that Alice isn't bound by what this man wants her to play, Alice gets to choose whatever wonderland she wants to inhabit next.