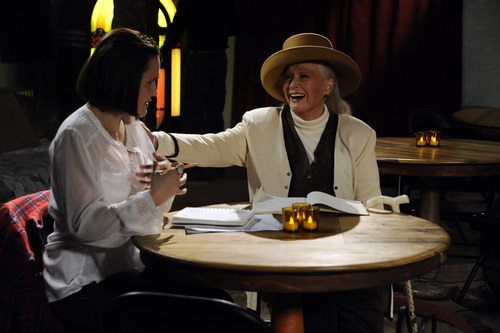 A lack of funds renders newly minted postgrad Dora (Eden Brolin) flightless, dashing her dreams of traveling to South America. Elizabeth Bishop she won't be, but a few lines of introspection and its accompanying doodles point towards that direction (of poetry) later. She narrates her disappointed return to the nest, suburban Jersey, in a cool dispassionate voice over that belies her onscreen demeanor, ditzy and frazzled. First time headliner Brolin is warbly voiced and wide eyed, reminiscent of Ellen Page, but lacking her edge. Juno wouldn't be caught with a cutesy handwritten list stating her case for her mother (Christina Rouas), whose bland one-note cry is for LSAT prep. When news arrives of Great-aunt Vera's (Diane Ladd) broken foot, Dora doesn't miss a beat and hastily volunteers to move to upstate New York (Saugerties, which characters frequently like to announce) as her aide, despite warnings of Vera's prickliness—the formidable aunt is soon introduced burning a wooden chair, for both warmth and spite.
The great Diane Ladd saves Vera from becoming overly crotchety, using ornery reserve (as she did in Enlightened) to falsely convey senility and mask a bitterness undoubtedly related to the recently published tell-all from the mistress of her deceased husband, famous journalist Theodore Marxos. Dora soon strikes gold: Vera's journals, revealing Marxos to be phony as his name is silly, reliant on his wife's editing, despite her never having been published. The literary touch extends supposedly to Dora, who scribbles a line when her mind wanders from law school studying or resigns itself after languidly scrolling through her friend's vacation photos. For a film whose characters are meant to be literary-minded, I Dream Too Much shows little of this. Ginsberg and Miller are name-dropped by Vera, whose literary ability is talked about, instead of shown.
In a subplot Dora befriends Abbey (Danielle Brooks), an aspiring singer-songwriter looking to meet a big deal producer, who happens to be a big fan of Marxos. Another convenient surprise: Abbey attends a poetry group hosted by Vera. The clashes between Dora and Vera can seem weak and shrill due to the former's lack of self-awareness. She abandons Abbey in a key social situation, by redirecting attention to herself, like the world's worst friend. But Dora isn't malicious, just naïve. Her freehanded delivery of her great-aunt's personal writing and inability to mix a proper cocktail is insulting to college graduates (perhaps that's because Dora is only 20). She's less a navel-gazing than a flimsy construction, stuck in a muddle, but her struggle, artistic and otherwise, is half-formed. Director/writer Katie Cokinos admirably focuses on female characters, but they unfortunately possess few shades of inner life. The film was produced by Richard Linklater whose hand is not readily seen, but needed. I Dream Too Much faces its own muddle, between an outright coming-of-age indie and a more nuanced tale of postgrad upheaval.