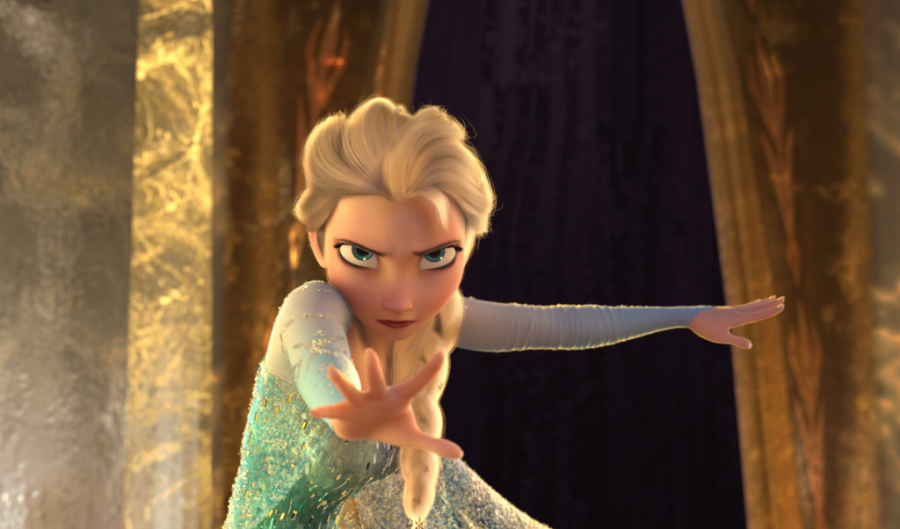 Disney pictures are often accused of being irrelevant (Fairy tales in the age of robots?), racist (by way of Caucasian beauty idealization) and anti-feminist (why bother working when Prince Charming will come and fix your life?). Watching "Frozen", one gets the sense that they finally listened to their critics and delivered their first "new classic" since their early 90's renaissance. (Loosely) based on Hans Christian Andersen's "The Snow Queen", screenwriter Jennifer Lee has crafted a touching story about sisterly love that feels groundbreaking because of how un-Disney it is.
Set in the land of Arendelle, "Frozen" tells the story of soon-to-be Queen, Elsa (voiced by Idina Menzel) who has the ability to create ice and snow, but has been suppressing her powers since a childhood accident where she almost killed her younger sister Anna (Kristen Bell). On the eve of her coronation, Elsa's powers get out of control and she casts an eternal winter on her kingdom that forces her to flee and go into hiding. As people in the kingdom demand that the Snow Queen be destroyed, Anna sets out on a quest to bring her back and thaw her heart. She is joined by mountain man Kristoff (Jonathan Groff), his reindeer Sven and a charming snowman named Olaf (Josh Gad).
"Frozen" is remarkable for many things, but two stand out in particular: first, it's one of the only Disney films that feature princesses doing their own saving. Even if Anna is joined by Kristoff and has her own love triangle of sorts involving the conceited Prince Hans (Santino Fontana) - who the film also uses to criticize nonsensical "love at first sight" - the only true stakes at risk here are Elsa and Anna's unique family structure. Romantic love is put on a secondary level without recurring to facile plot twists. Yet within this drastic change in Disney priorities, the film hasn't forgotten the power of a good Disney tune (songs for this film were written by husband and wife Robert Lopez and Kristen Anderson-Lopez).
It is in fact one of these songs that make the second and perhaps most significant impression in the film; as Elsa realizes that far away from her kingdom she will finally be able to be true to herself, she sings "let it go, let it go, can't hold it back anymore"...as she begins to own to this newfound sense of freedom, the world around her changes. She disregards the "conceal, don't feel, don't let them know" way of thinking she was brought up in and erects herself an ice tower (Mr. Freud would've had a ball with the symbolism in this scene) where she finally lets go. It is a moment of such subliminal queer sublimity that will have little girls and boys all over the world proudly unleashing their inner Queen.