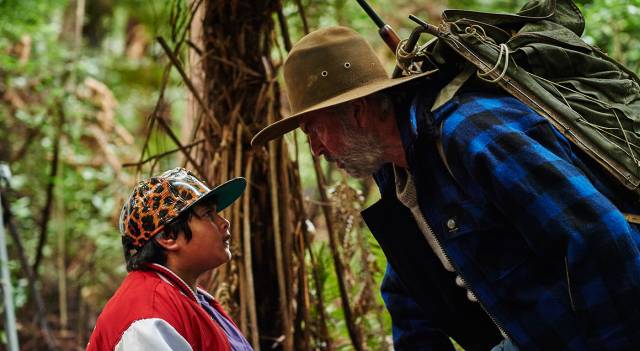 Praise for the New Zealand comedy is long overdue. Sometimes sour, a touch twee and so thoroughly deadpan is the humor that you might marvel whether it is intentional or not. Filmmaker Taika Waititi is the force behind What We Do in the Shadows (2014) and more famously, a few episodes of HBO comedy series Flight of the Conchords as both a writer and director. His latest film, Hunt for the Wilderpeople (wilder pronounced like "wildebeest"), is adapted from the beloved adolescent tale Wild Pork and Watercress by Barry Crump, but parents and others weary of movies geared toward children can cast their skepticism aside. The film is one raucous and hilarious affair for tots and adults alike.
Bad egg Ricky Baker (Julian Dennison, one to watch) plops into the arms of his umpteenth foster care family: a childless middle-aged couple one part cheery, one party surly. They are Bella and Hec, or the beaming Rima Te Wiata and scowling Sam Neill. After a measly initial runaway attempt from the rural farm, the 13-year-old city kid adapts quickly to Bella's small town sort of love, falling for the charm of homemade pancakes and a hot water bottle. Coaxed out of his full face mask zip-up hoodie, the tight-lipped Ricky welcomes this new goat skinning farm life, until his foster care aunt's untimely death leaves him, Hec, and child services in a lurch. It does however yield one of the funniest funerals in film history, with a cameo by the director.
The film, meted out in chapters titled in a spidery picture book font, presumably for the amusement of young viewers and fans of the book, is no trundle of morals and virtues. Emotions are staved off, shucking sentimental tears for wry jokes, irresistibly brut dry.  Ricky and his reluctant caretaker venture into the New Zealand bush and their absence combined with Hec's criminal past spawn a kidnapping hypothesis and a nation-wide manhunt that quickly widens in scope.  It is not unlike Moonrise Kingdom and like Wes Anderson's film, Waititi's also includes domestic canines and forts aplenty, and a droll but mild violence. The overzealous child services rep here is played by Rachel House, a comedic pot of gold who appropriates 'No Child Left Behind' as the welfare department's unofficial motto. The always funny Rhys Darby makes a third act appearance as Hunt for the Wilderpeople treks deeper into the unrestrained realm of adventure comedy with absurd glee.