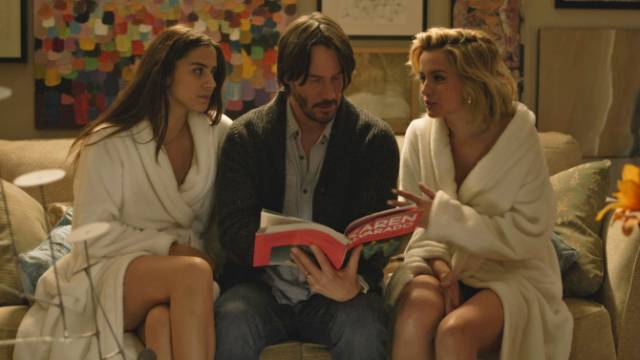 Known for their extreme violence and gore, Eli Roth's films are highly polarizing. The director's Hostel franchise helped coin the term "torture porn" a decade ago. But for his latest directorial effort, Roth has stepped away from graphic violence and exchanged it for psychological terror. Proving to detractors that he's more than just shock value, Knock Knock represents a welcome departure from his prior fare; in fact, you'd be hard pressed to find much blood in this one, at all.
The film, which is based on Peter Traynor's Death Game (1977), is a darkly comedic throwback to the B movie sexploitation flicks of the seventies. Starring a resurgent Keanu Reeves, back in the spotlight after the very well received John Wick, Knock Knock tells the story of Evan Webber (Reeves) an architect and father who is home alone over Father's Day weekend. Forced to miss out on a beach vacation due to work and a shoulder injury, he finds his model rendering cut short by two beautiful young women, Genesis (Lorenza Izzo) and Bel (Ana de Armas), dripping wet from the rain and lost on their way to a party. Evan invites them in to use his computer so they can contact their friends and a taxi, which, it turns out, won't arrive for 45 minutes. While they wait, the tension begins to rise as the conversations veer off into sexual territory. Seduction and temptation escalate to torture until Evan realizes he never should have let these women in.
Lorenza Izzo and Ana De Armas deliver indelible performances as the seductresses. Fueled by an insanity that stems from a hinted at incestuous abuse, these terrifying performances add additional depth to an otherwise highly entertaining film. The decision to cast Keanu Reeves was also inspired, as most of the film's entertainment value comes from the juxtaposition of the seducing nightmarish duo and Reeves' camped up performance. The art direction by Fernando Alé is hilariously camped up, as well: 95% of the low budget film takes place in the upscale modern Webber household, its walls dominated by super cheesy and cringe-worthy family photographs and phallic sculptures throughout.
Knock Knock also earns points for how self-aware it is. Keanu Reeves has taken his much maligned line delivery and consciously amped it up to hysterical effect. After kicking ass in the aforementioned John Wick, he is now helplessly on the opposite side, taking punishment at the hands of two women. And Roth, by serving up a film that is literally sexually based torture in a tongue-in-cheek way, may have managed to liberate himself and his films from the "torture porn" designation.