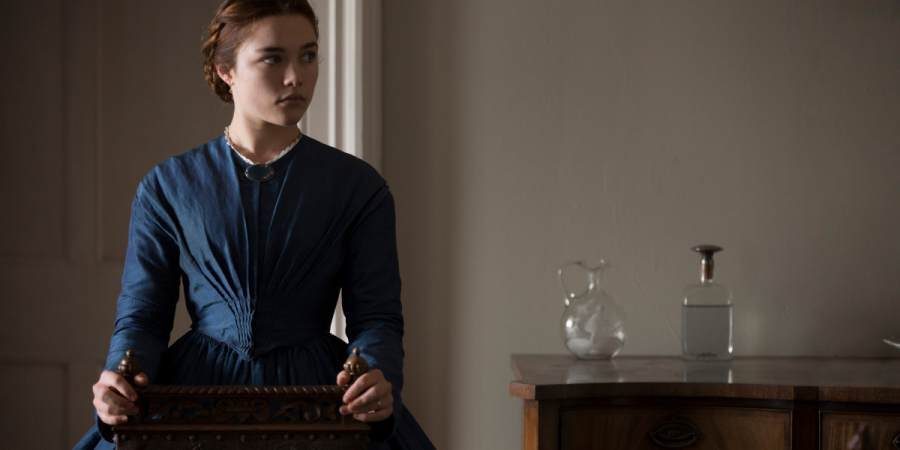 Lady Macbeth opens with a marriage ceremony. The bride, Katherine (Florence Pugh) tentatively goes through the motions, as the groom remains out of the frame. That night, shy and polite, our bride repeatedly assures everyone she is fine, not too cold in the drafty manor. Once they're alone, her new husband abruptly commands her to disrobe, and then he leaves her standing there, confused and humiliated.
The stuff of female oppression is intractably material in this 19th century-set story. Marriage is a matter of her body becoming the property of her husband's family. Her husband (Paul Hilton) is her liege, and his father (Christopher Fairbank) — a severe waxy man with the look of a miserly Dickensesque clergyman — discusses her impregnation as if she were a newly purchased sow. With each grunt as her corset is tightened by her maid, Anna (Naomi Ackie), we feel the breath literally squeezed out of an entrapped subject.
The movie takes its name from the truncated title of a Russian novella, Lady Macbeth of the Mtsensk District, published in 1865. This version is set in England, but a story of the bored wife of the upper class was a widely circulated topic in mid-19th century Europe. As our heroine inevitably takes a lover, a randy recently arrived farmhand called Sebastian (Cosmo Jarvis), she follows the path of many a more famous heroine. The only unusual choice is having several key characters, including Katherine's maid and her lover played by actors of color.
No explicit mention is made of race, but it definitely complicates the drama at hand. On the level of production and representation, it laudably allows people of color to engage in narratives typically reserved for white people and resists a probably incorrect total whitewashing of our imagined Western past. In terms of sexual politics, though, it adds another tricky layer to a mordant, difficult movie. This isn't necessarily a bad thing.
What is bad, though, is much of the dialogue this movie has generated. Marketing and many reviews have approached it as a kick-ass, anti-patriarchal statement. Somehow, people started referring to it as a revenge thriller. It apparently occurs to nobody that this book-turned-movie might not be named for the conniving but guilt-wracked wife of Shakespeare's hero but for the man himself, who can't stop murdering his rivals in a protracted, bungled power grab.
Such is the female rebellion in this movie. It is a portrait of the inevitable downward spiral in search for power. Nobody who watches the first third faults Katherine for wanting to control her own body at long last. But as she destroys everything that comes between herself and her lover, she becomes trapped in her own destructive cycle. Fighting the oppressors by playing their own brutal game while mercilessly exploiting the people of color below you is not something to cheer for. But intentional or not, we at last have the definitive parable of white feminism.