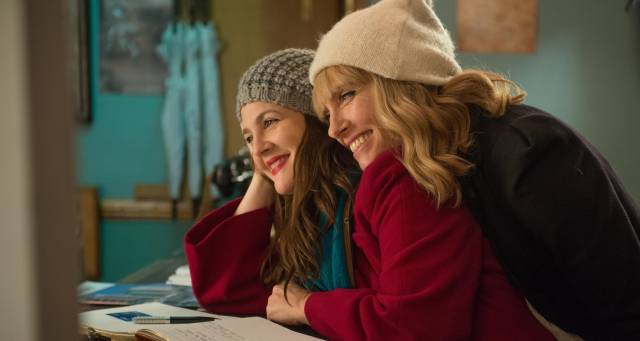 Miss You Already, a best-friends-forever cancer comedy directed by Catherine Hardwicke, is as bland and saccharine as its title. Positively a shame, too, for the excellent Drew Barrymore and Toni Collette, who are unafforded the chance to rise above a script that, while never too clever for its own good or soul-suckingly grim, is instead emotionally rote.  Screaming Milly's name in labor, Jess (Barrymore) recaps in voice-over the history of their friendship dating back to elementary school: a nascent Wuthering Heights obsession, first kisses in tandem, a teenage bad hair/bad behavior phase. Milly (Collette) parlays her groupie boyfriend into an adult success, her new life complete with a fancy London flat and two adorably prim children. Also happily married, Jess opts for a bit of bohemia, living on a boat and working in the nonprofit realm. She struggles to conceive a baby while Milly discovers a malignant tumor in her breast. It gives nothing away to say that Miss You Already tracks the waning of one life as it coincides with the birth of a new one.
Their divergent life paths matter none to the twosome, loyal through the chemo-vomit thick of it, from the obligatory Big Fight to the third act makeup. As Milly's diagnosis goes from bad to worse, the film tromps along, staving off the looming specter of death and loss with bad jokes and shrill laughs (though Collette's sarcasm and rascally grace are on point). Milly has a stronger story than Jess, who seems to exist only to support and offset her friend. She's a foil down to her shoes: Jess's granola Birkenstocks to Milly's 7" platform Louboutins. Barrymore is a pro at playing sweet and dedicated, proving herself as invaluable as the La Mer serum Jess lovingly pats onto her best friend's face. But there's only so much a triple-digit moisturizer can repair, and Barrymore and Collette must jump through the hoops of Morwenna Banks' limp script, unfairly dumbed-down for its audience.
Issues faced by Milly post-mastectomy, such as self-confidence, sexuality, and femininity, are given the short shrift, relegated to hints at plastic surgery from a vain mother (Jacqueline Bisset), and a failed bedroom mishap with her husband—though that scene does propel Milly's ensuing romp with the world's most beautiful barman (a pop-punk band frontman recognizable to a certain portion of millennials). More moving is when Milly shops for a wig and promptly has her head shaved, a scene directed without fuss by  Hardwicke, deserving of better material. The harder you might try to enjoy Miss You Already, the more it feels forced—something the best of friendships never are.