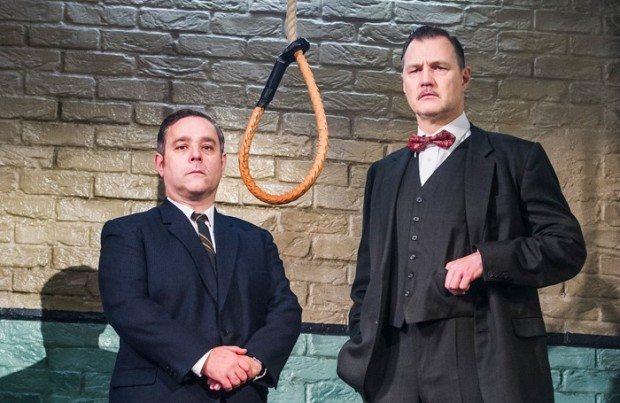 "Don't worry. I may have my quirks but I'm not an animal.
…or am I?"
Martin McDonagh's first new play in five years, Hangmen, is currently enjoying a very successful run in London's West End. The hallmarks of McDonagh's work -- violence, gallows humor and yes, love -- are all on grim display once again. Hangmen has been called the best play of the current London season. If you can't get across the Atlantic to see it, don't worry; screenings of the play, filmed at the Royal Court Theatre in front of a live audience, are being presented in several New York City area movie theaters this spring. These screenings are a wonderful gift to theatergoers because Hangmen is as funny, as shocking and as marvelously grim as several of McDonagh's previous plays put together.
The story concerns itself with Harry Wade (David Morrissey), the second-best hangman in England, as he adjusts to a country in which executions no longer exist. A prologue reveals the brutal scene of Harry's last execution, that of a young man who murdered a girl in the North Country. The rest of the play's action unfolds exactly two years later (to the day, in fact). It is now 1965 and capital punishment has been abolished. We find Harry retired and something of a local celebrity, lording over the habitués of his wife's Oldham pub. He hesitantly consents to an interview with the local paper concerning the recent abolition of what was his life's work.
That very day a stranger named Mooney (Johnny Flynn) enters the pub. The slender young Londoner with a "menacing" manner and a swinging '60s mop of blond hair wants to let the room upstairs. In a delightfully tension-filled scene Mooney befriends Harry's awkward, painfully shy and "mopey" fifteen-year-old daughter Shirley before suddenly departing. A few hours later Syd (Andy Nyman), Harry's feckless former assistant, unexpectedly drops by in a fit of anxiety; he is beginning to suspect that exactly two years ago they hanged the wrong man. He has encountered a stranger who possesses photos of an unsolved killing; a killing that bears an uncanny resemblance to the sensational murder that resulted in their last execution. According to Syd this stranger from the south is a young man with a "menacing" (or is it "creepy?") manner, a London accent and a mop of blond hair. This is alarming news to be sure, but even more so because Shirley, Harry's daughter, is now missing.
What happens next? Only McDonagh can tell, we have to sit there and endure whatever horrific and funny surprises he throws at us, hoping for the best (or the worst). The twists and turns may be less surprising to those familiar with McDonagh's The Pillowman and The Lieutenant of Inishmore, but they are entertaining nonetheless.
The cast is quite fine, and many of the actors, well-known in England, have not yet made their way to the states, so seeing them deliver such strong performances on their home turf is a real treat. David Morrissey, as the hangman Harry, is all bluster and chest-out self-importance until things start to go frighteningly wrong. He is a man who has always done the justified thing and yet, he is perhaps more troubled than anyone by where this odd story takes him. Johnny Flynn, as the sinister Mooney, is the talk of London in this role, compared favorably to Malcom McDowell (to me he is more reminiscent of a young Oliver Reed). A near-perfect actor for McDonagh's weird universe, he is charming, funny and quite scary all at once.
The show's other star turn is Bronwyn James as the troubled Shirley. She is funny and awkward without being pitiful, sad without being maudlin. She grabs your attention whenever she is onstage; often quiet with her large blue eyes cast downward, yet with what seems like a typhoon bubbling just under the surface. Sally Rodgers is a delight as Alice, Harry's dryly witty wife, and the rest of the cast is equally funny and touching as the borderline alcoholic denizens of Alice's pub, each one of them content and convivial on the surface but deeply troubled beneath.
A shadow looms over the entire play, that of Albert Pierrepoint, the best hangman in England (Pierrepoint was a real hangman of legendary status, today best remembered for overseeing the executions of convicted Nazi war criminals as well as a few of his countrymen who were later found to be innocent). When he finally appears in the person of John Hodgkinson, it is unexpected and hilarious.
Hangmen is justifiably a hot ticket in London. The screenings here are a great opportunity to see a fascinating play that is acted supremely well.
For more information on National Theatre Live, visit: https://ntlive.nationaltheatre.org.uk/