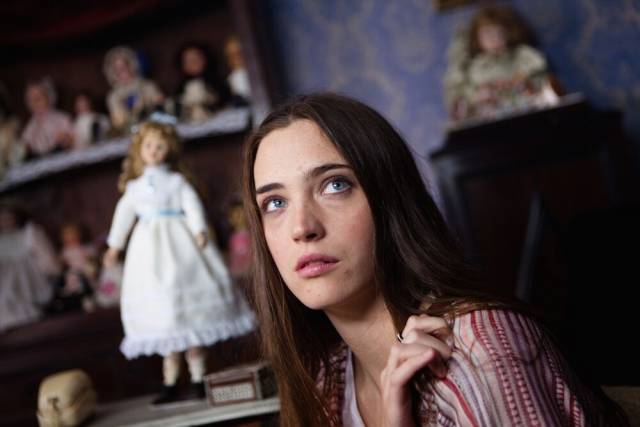 Planning to enjoy a simple right of passage turns into a nightmare in the Spanish horror flick Para Elisa. Directed by novelist-turned-director Juanra Fernández, the movie stars Ona Casamiquela as Ana, a Fine Arts major about to graduate from the university. To celebrate, her class is taking a trip to the Madeira Islands, and Ana needs 1000 euros to go.
Tired of supporting her, Ana's parents refuse to fund the trip, forcing the privileged party girl to look for work. Ana's boyfriend Alex (Jesús Caba) turns her onto a nanny position. During the interview in the apartment of her would-be employer, the creepy once famous pianist, Diamantina (Luisa Gavasa), Ana discovers that the child, Elisa (Ana Turpin), is not a child, but a mentally unstable young woman her own age. Desperate to leave, Ana finds herself trapped and forced to be Elisa's plaything.
Stylish and faced-paced, Para Elisa has all the necessary elements for a terrifying film: an attractive leading lady, scary premise, the stunning backdrop of the medieval city of Cuenca, Spain. Most importantly, the movie also has a great set-up to develop compelling characters and a psychologically haunting film. Unfortunately, however, the movie completely fails to realize its potential.
The script reveals just enough detail to whet the audience's appetite before moving on to the next thing, giving less and less details as the movie goes on, until strange violence is all that is left. The screenplay reveals the most during the beginning of the film. We learn that Ana's boyfriend is a drug dealer from whom she bought drugs before they dated. Her relationship is on the rocks because she feels that Alex is not committing to her.
A phone call to her parents reveals their strained relationship and that Ana receives a monthly allowance she doesn't save, taking it for granted. Ana does have enough character to actually get a job and not sit around wasting time wallowing. She seems like she just needs a good lesson to set her straight. We know less about Diamantina and Elisa and what makes them tick. 
The older woman was a famous prodigy and now lives alone with her daughter. She has an obsession with dolls and plants. Less is known about Elisa, except that she never leaves the house and is named after Beethoven's Für Elise. There is so much possibility in their stories, but all that's known is that they are both extremely violent for no apparent reason.
It's understandable why Fernández, who also wrote the script, doesn't tell so much. Every writer learns it's better to show, not tell. He trusts that the audience will catch on, but it doesn't work. Ana doesn't get a chance to grow into the woman she can be, and it's difficult to care about what happens to her. In the end, a lack of character development makes the experience of watching Para Elisa a thankless task.