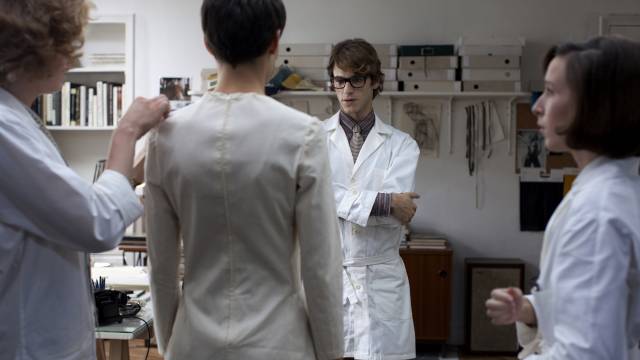 Saint Laurent, a vibrant, buzzy biopic of the visionary French designer, plays like an extended high fashion ad campaign, prioritizing corporeal movement aided and abetted by shiny textures, music, and distant gazes. Yves Saint Laurent passed away in 2008 and Bertrand Bonello's film is one of two films released in the past year (the other is 2014's Yves Saint Laurent, from director Jalil Lespert), proving the time has come to pay tribute to one of fashion's greatest icons.  Focused on the years between 1967 and 1976, the narrative functions in two parts: privileged stasis during the pinnacle of his career, and his career's inevitable descent.
It is atelier by morning and nightclub by evening for Saint Laurent, not an arrogant genius, but a fragile one. He nibbles on chocolate mousse while sketching and staring into the distance to "Ave Maria." He is above all wistful. Bonello owes much to Gaspard Ulliel, easy on the eyes, who plays the designer. With craning neck, Ulliel captures his shy tenderness and tentative smiles.
At the discothèque, soul tunes blare at the loudest of decibels before abruptly terminating when the scenes alternate back to atelier. Beautiful folk groove together under Bonello's direction and his camera catches the razzle-dazzle allure of the era's nightlife. Yves glimpses Betty (Aymeline Valade), a blonde model seated in a masculine pose, heel flung over knee. Her confident demeanor reminds Yves of himself, which Bonello cleverly conveys by replacing an image of Saint Laurent in her stead, like a visualized flicker, which results in the famous Le Smoking tuxedo suit. Fashion obsessives will appreciate such scenes and others that privilege the designer's creative process.
Characters matter less. Business savvy co-founder and romantic partner Pierre Bergé (Jérémie Renier) and kittenish bohemian Loulou (Léa Seydoux) are slender sketches. With slightly more pluck is the seedy badboy Jacques de Bascher (Louis Garrel), Saint Laurent's lover and obvious harbinger of his devolution. Their affair, more the stuff of puppy love, weakly propels Saint Laurent's ensuing depression, which is additionally explained by his stint in the war — a history that is unfortunately underexplored. His increased drug use is hardly alarming, leading to film's general problem: the highs are mildly high, the lows barely low. With neither the lust for life of Scorsese's supernovas, nor the cool ennui of Fellini's elite, Saint Laurent feels like a dip in tepid water. The score, which Bonello wrote himself, takes the form of vague electronica in this latter half.  As the camera slowly zooms in on Saint Laurent, roaming his lipstick red-walled rooms, one might horrifyingly, but plausibly mistake the scene for something out of a Refn movie.
The film isn't helped by its perplexing flashback/flashforward structure that bloats the story. Superfluous scenes of Older Yves (Helmut Berger) interrupt his post-hospitalization runway show in 1976. The Marrakech-inspired collection, replete with scarves and flowy chiffon, deserves full attention without the gimmicky Mondrian-style split screens. Indeed, attentive to the sensuousness of a fabric, or the clean lines of a trim suit, Bonello has a flair for showcasing the garments. Saint Laurent if nothing else memorializes the sartorial creations of an artistic legend.