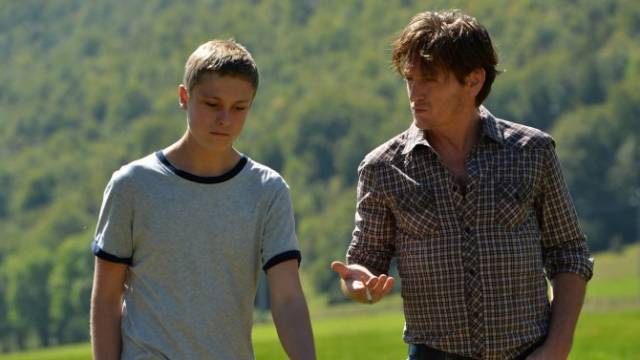 There is an almost Dickensian element in Emmanuelle Bercot's Standing Tall, a bittersweet coming of age tale filtered through the experience of growing up within "the system". When we first meet Malony, he is a toddler who seems unaware of the hell he has brought upon his mother Séverine (Sara Forestier, who is just fantastic) who pretty much blames him for shattering her life. This opening scene, with the camera mostly fixed on the little boy who can't help but smile and exude wonder as he explores the office where he's been summoned, encompasses the unsentimental approach with with Bercot approaches the case. Can this boy grow up to be anything other than what the world has decided he will become? Will the influence of the social workers who take him under their wing help him change his nature?
In the next scene we meet him as a wicked teenager (played by Rod Paradot) who has earned a reputation for stealing cars and purses. Landing for the umpteenth time in the office of Judge Florence Blaque (Catherine Deneuve) he has developed a strange relationship with the authority: he has both taken to them as his "family", the face of Judge Florence is so well known to him, that he shows a certain warmth around her, but in transferring these feelings to the system, he has also rebelled against them in the way a teenager would with their biological family.
As the judge, and social worker Yann (Benoît Magimel) try their best to find a path that will allow Malony to enter society properly, the film becomes both a character study of the young man who is slowly being consumed by an anger he doesn't understand, and the people whose job is to help him. Bercot understands the strangeness of the relationship between social workers and their "cases", and we never see the officials' lives outside their work environment. We are not given the opportunity to know more about their lives, which makes us know about them only as much as Malony is allowed. A brilliant directorial move that forces us to develop empathy for Malony.
It must be said that despite this lack of information about most of the characters, Bercot trusts her actors to infuse them with enough life for us to be able to contemplate the humanity behind the title. We see for example how Judge Florence keeps drawings other children have given her; are they her own children, her grandchildren, or young boys and girls she's met in her line of work? The extraordinary Deneuve evokes both the authority and desire to help, a Judge ought to have to make a difference in the lives of others. In Deneuve's facial expressions, and her eyes, we see how she is hard at battle in deciding whether she should follow the law or her own instinct. We might never go home with the Judge, but we know that she takes these cases with her wherever she goes.