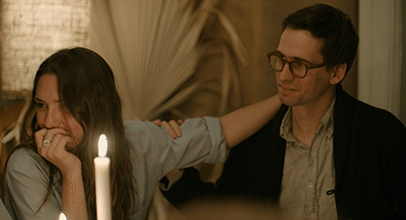 The mumblecore genre has become the go-to staple for many recent independent films, made famous by the likes of directors such as Joe Swanberg and Mark Duplass. Up-and-coming New York director Adam Newport-Berra has opted for the charm of improvisational acting in his latest piece Thanksgiving, which premiered recently at the Rooftop Films Summer Series.
Millennials Amy (Samantha Jacober) and Alex (Benjamin Dickinson) reside in Brooklyn and are playing host to this year's Thanksgiving festivities. Friends new and old arrive at the house to eat, drink and be merry, but an unexpected guest arrives in the form of Amy's long lost brother Will (Matthew Chastain). Unashamedly reserved from the onset Will is less of a fun-loving, hipster Brooklynite and more of a brooding, well-traveled wanderer who for reasons unknown has suddenly ended up on Amy and Alex's doorstep. Food and wine are shared, joints are passed around the table, and the group gives voice to that which they are thankful for. Having just moved in together Amy and Alex's thanks are geared toward each other, and Alex seals it with a kiss and a very public marriage proposal which Amy joyfully accepts. As most of their social circle are also married or coupled off these days Alex's annual post-Thanksgiving tradition of hiking in the woods with his close friend is thwarted by said friend's new wife and her family plans. Will then offers to join Alex for the hike while Amy stays at home. The pair set off into the woods early the next morning, a trip which amicable in its beginnings soon culminates into the airing of frustrations, grievances and well kept secrets.
The film is shot well with the dimly-lit, almost sepia indoor scenes contrasting nicely with the sweeping natural wonders of the outdoor scenes, and a small impromptu cameo by comedian and musician Reggie Watts acts as a nice breather amid the increasing intensity of the hike. However this initial intensity and build up seems to fall short when the final showdowns take place. While the characters set the scene well their eventual stand-offs are largely anticlimactic due to a lack of emotion and rawness between each character. The onscreen connection during the more heated scenes falls short after such a strong build-up of tension. That being said this is a well-made film with an interesting storyline that wins your attentions from the beginning, and only needed a little more hook and depth between characters in the final scenes to make it an overall success.