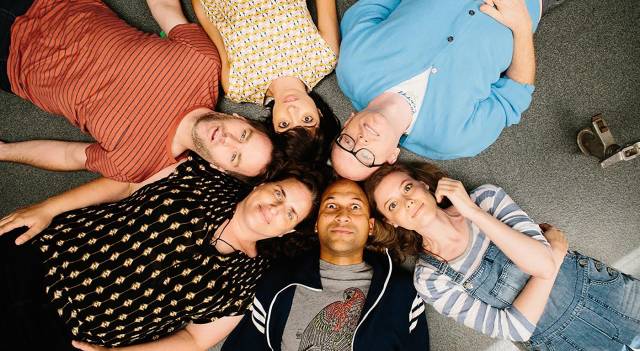 Don't Think Twice
Don't Think Twice, Mike Birbiglia's second feature film, stands taller than his previous feature, a slender work. Deeply personal and borne of his off-Broadway play and book, Sleep Walk With Me overextended its slight premise, the life of a struggling standup comedian, inducing laborious efforts upon its viewers to care. It was an insult to those in search of something meaty. But, offended viewers like myself happily forgive Mr. Birbiglia. His sophomore effort reaches farther and is often funnier, too, though make no mistake: Pick apart the crowded laughs and you'll reveal the film's pensive soul. Don't Think Twice locates its drama in the casually ticking time bomb of life, and more specifically, the languid yet merciless countdown to midlife—unspecified as a numeric value, but measurable by totems of adulthood like financial stability and age-appropriate girlfriends.
The six members of the improv troupe The Commune live only somewhat like overgrown children, smoking a modicum of pot and sheltering themselves in an industrial pigsty or in one case, the parents' brownstone. Birbiglia plays Miles, the group leader and oldest. Filling out the superb cast are Chris Gethard, Kate Micucci, Tami Sagher, Keegan Michael Key, and the luminous Gillian Jacobs. They are innocuous derelicts shrouded in the romantic glow and curious detachment of public radio. (Ira Glass produced this film as well as Sleep Walk with Me.)  This sheen covers the improv troupe at work: Much of it is actually adlibbed in front live audiences, but even the real has the whiff of reproduction. Yet this does not detract from film's emotional downturn, when a collective bubble bursts and the glint of optimism scampers off into the Williamsburg night one evening. The harmonious kibbutz mentality shatters and sleeping jealousies spike when one member lands on the lip of fame in a coveted role on Weekend Live, a barely disguised stand in for SNL. Birbiglia's film is applicable to those with creative pursuits and recognizable to anyone who has ever chased a dream. When do you hang it up? There are no easy answers as characters' chips land in different places. The movie falls as it rises, like a deep sigh of relief—from success or failure depends on your point of view. One thing we can't do is dwell on it too long.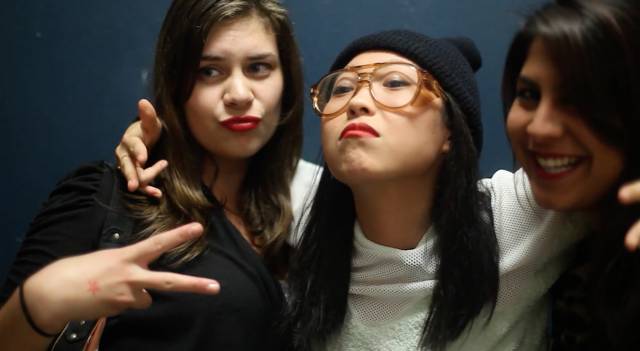 Bad Rap
Chinese takeout. Math. An Asian American rapper winces at the stereotypes sewn if not into the societal and cultural membrane of America's past, than at the very least (and more importantly) into the recesses of Asian Americans' minds. The requisite clip from a John Hughes movie reinforces another stereotype concerning size, then a slew of video footage outlines the fascinating albeit abbreviated history of Asian American rap in Salima Koroma's documentary. Bad Rap, her directorial debut, expounds on a nearly niche subject, coaxing out a vibrant story of four such rappers on the come up. At the forefront, LA-based Dumbfoundead ruminates and aggrieves the lack of mainstream success for himself, and other Asian American rappers. Hipster darling Awkwafina slings missives about her female genitalia and disses that of others in her viral hit, "My Vag." Perhaps the most visible, she is relegated to the background -- most of Bad Rap was filmed before her newly landed success -- and sorely missed from the mini-tours into the personal and familial lives of Dumbfoundead and Lyricks, who heaves loads of dry cleaning at his parents' store. The most obviously gifted rhymer, Lyricks straddles another hurdle in addition to race, that of religion as he attempts to promote his Christian values.
An obvious question: Does a lack of success result from a lack of talent? Viewers can make some preliminary decisions; plenty of snippets play throughout the film. The filmmaker addresses it, too, by paying a visit to industry professionals (none of whom appear to be Asian Asian), including a Complex editor, a HOT 97 DJ, and an Atlantic Records exec seeking feedback. The tension is taut as we await critiques and just as unsparing when the movie shifts its weight onto Dumbfoundead as he reenters the hallowed battle rap ground, from whence he came. Rap is an announcement of arrival, and when Dumbfoundead asks too perfectly in his song "Are we there yet?" the press questions, inane and absurd, which he gamely fields about Jet Li and Jackie Chan point towards the answer.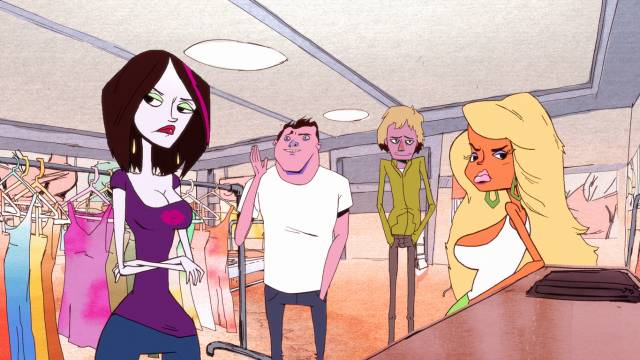 Nerdland
If fame doesn't take, there's always infamy. That's the plan of attack of two down-and-out creatives on the last-ditch prowl for stardom in Nerdland, an animated feature film debut from Titmouse.  The deadline is the upcoming 30th birthday of aspiring screenwriter Elliott (Patton Oswalt), accompanied by his best friend and aspiring actor John (Paul Rudd). They try the route of charity and generosity, sympathy -- police brutality victim, and other ways all conventionally preposterous to propel their visibility and score chicks—two mall workers, harebrained and vapid, but then again so is everyone else in this seamy meanly caricatured Los Angeles, where everyone is the worst version of themselves. Famewhores, degenerates, and imbecilic bystanders make up the monetized, digitized, headline-ready Hollywood world, which is not too easy on the eyes. The film's detailed illustrations are successfully awash in disgust and the disgusting -- dank and musty rooms, puckered anuses and porn feature early on in this hard-R comedy. The A-list actors and well known cast -- with the exception of Hannibal Buress -- can't save the jokes, the astounding sourness of which suppresses any trace of wit. The more clever gags are purely visual, like an excessively super-size drink labeled Treacle Blast. Disillusionment seems to have bled into the filmmaker's process; Nerdland runs on the fumes of John and Elliott, their cynical desperation and rancor long built up against the industry and the state of the postmodern world, yet there is nothing new explored, which makes for dull viewing. Nerdland glowers back at you with its recycled conceit.