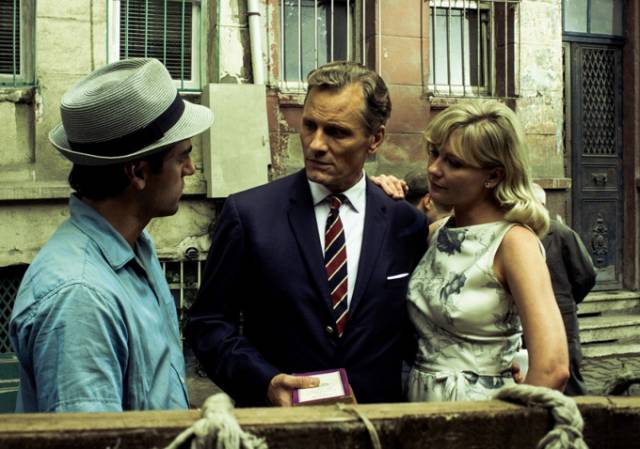 Set in sunny Greece during the early 1960's and based on a novel by Patricia Highsmith, The Two Faces of January will at first make you think of Anthony Minghella's adaptation of The Talented Mr. Ripley, but while the latter turns into a full blown, quasi-operatic tragedy, the former remains much more quiet, almost reflective. Directed by brilliant screenwriter Hossein Amini, who is making his directorial debut, the film is full of precise details that can only come from the mind of a writer, even postcards and pieces of paper placed on tables seem like they couldn't belong anywhere else.
The story follows American conman Chester Macfarland (Viggo Mortensen) and his wife Colette (Kirsten Dunst) as they spend a holiday in Greece, the much older man showers his young wife with presents and seems unable to say no to her whims, setting up enough intrigue for us to wonder if she'll fall for the charming, handsome tour guide named Rydal (Oscar Isaac) who befriends them and offers them his services. Little do we know, but the plot's axis will completely shift and turn our attention to the relationship between Chester and Rydal instead.
Threatened and fascinated by the young man, Chester allows him to come closer than he'd let anyone else, while Rydal - who initially explains Chester reminds him of his father - is both intrigued and repulsed by him. Amini, who in films like The Wings of the Dove and Drive has written characters who conjure entire backstories with simple lines or gestures, here seems to be really enjoying to shift and play with the conventions of noir and escape the clichés of femme fatales and brooding heroes. Instead we see people we can empathize with and understand.
Featuring terrific performances from Mortensen (who is never not great) and Isaac, the film belongs to Dunst, who embraces Colette's softness while allowing herself to look more vulnerable than she's ever been onscreen before. There are shades of Ingrid Bergman's work in Voyage to Italy in Dunst's performance; the same soft dignity, the unmistakable quiet fear...she makes us realize Colette is not at all like we thought at first, she isn't callous or shrill, she means well and Dunst's performance in The Two Faces of January is a thing of true beauty to watch.