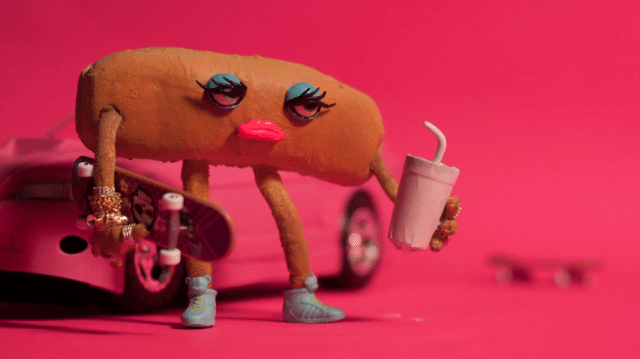 Rooftop Films kicked off their 2015 Summer Series with This is What We Mean by Short Films, screened simultaneously on two rooftops and a courtyard at Industry City in Sunset Park, Brooklyn. If anyone should know what they mean by short films, it's Rooftop Films - founder Mark Rosenberg has been screening short films on rooftops (starting on his own) since 1997 - and their selection criteria and commitment to serving a diverse audience has served them well, with a slate of fresh, innovative shorts that embrace the limitations of the medium to open up a world of under 30 minute possibilities.
Kicking off the night was fast and frenetic All Your Favorite Shows! (available here) by Danny Madden, a five minute frenzy of 2D animation, film references and razor-sharp editing that makes a case for both the glory and the horror of being ever connected to everything we could ever want to see, at any time, via our phones. Films referenced cover everything from Videodrome and Persepolis to The Matrix and the Bourne Identity, but the film itself is a sharp and smart essay in rabid consumption that escalates quickly and lands beautifully, leaving the breathless audience cheering, not only at its technical prowess, but its frightening familiarity.
Next up was Joris Clerté and Pierre-Emmanuel Lyet's La Nuit Americaine d'Angelique (available here), a poignant and personal reflection on the way film can alter our understanding of ourselves, others and our place in the world; and the point where fantasy must make way for reality. Watching Truffaut's Day for Night with her father has a profound impact on young Angelique. Years later, she must come to terms with the film's influence on her career, her feelings about love and sex, and the mythical truth she believed her father possessed but wouldn't tell. Beyond the sensitive writing, the film soars on beautiful, minimalist, monochrome animation, evoking paper cutouts and shadow play as the delicate stream of Angelique's narrated consciousness washes over us.

At 18 minutes, Actor Seeks Role (trailer here) clocks in as one of the longer shorts of the evening. Directed by award-winning Michael Tyburski, the film takes a dark, humorous look at the peculiar niche of medical acting and a hyper-dedicated, under-performing New York actor (Alex Karpovsky) trying to make a living off it while enduring a steady flow of rejections from actual gigs (and his acting coach). The only affirming voice in his world is an over-eager medical educator (Dylan Baker) who is far more impressed by the Meisner technique than his own students. As the actor immerses himself in his method, he begins to loss himself in the next set of convoluted symptoms as the lines between craft and reality begin to blur. Carefully styled, shot and paced, the film never feels rushed but builds to a brisk conclusion that aims to tantalise more than shock.
Butter Ya'Self (available here) is a gloriously styled hip hop music video parody / homage that proves any banana or hot dog with enough attitude can be a star. The stop-motion animation is on point, the one-liners land ("I'm on a roll!") and the music is inanely catchy. What's not to like? Directed by Julian Petzchek.
Somewhat of a departure from the rest of the programming, but no less entertaining, Erin Davis' The Land (trailer here) is a short documentary about Adventure Play; a big thing in the UK and mainland Europe, but not so much in the US, yet. In these lightly sanitized scrapyards, kids are free to play and explore to their heart's content, with minimal adult intervention. Although precautions are taken to ensure kids don't kill themselves, they are encouraged to take risks and be inventive; an approach believed to be vital to their development. Even on film, it's hard to watch kids handling hammers and saws, setting a pile of cardboard on fire or teetering in an old boat balanced on a pile of scrap, without wanting to jump in and protect them. If they are not encouraged to explore risks in a controlled environment, a supervisor informs, they will go looking for them elsewhere. The independent, highly engaged kids in the film make a strong case for his argument and, at least for the film's running time, there are no injuries a few plasters can't tend to.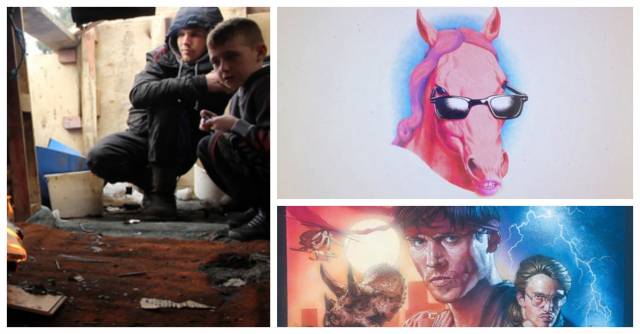 Lesley the Pony has an A+ Day  (available here) is a brisk, fresh, hilarious, disarmingly dark animated sing-along that follows Lesley, an effervescent, open-hearted pony on his way to hang with his "cool fella" friend, the Duke of Merryville, greeting every tulip along the way. Lesley's puffy cloud existence is shattered, however, when the demands of adulthood, or adults, are too much for his limited emotional vocabulary to process. Mostly drenched in goofy irreverence, there is a surprising layer of pathos as the loopy rhythms of Lesley's psyche are gleefully celebrated, and promptly crushed.
 The less you know about Kung Fury before experiencing it for yourself, the better. It had its rapturous world premiere at Cannes and was released on YouTube simultaneous to its rooftop screening - garnering five million views before the night was through. If you have a chance to see it on a big screen, though, do. It features everything you loved and loved to hate about the 80s - murderous arcade machines, VHS, giant phones, Miami palm trees, David Hasselhoff, talking cars, computer hacking, time travel, dinosaurs, Dino-humanoids, Viking goddesses on dinosaurs, Kung fu masters, Thor, Nazi Germany and Hitler (the Kung Fuhrer)... Wait, what? Exactly. Kung Fury is a majestic exercise in sustained pop culture absurdity and nostalgic wish fulfilment; an inventive homage to pretty much everything , all at once, fashioned as a long lost, much loved, TV episode that manages fresh surprises from start to finish. There is simply so much inspired lunacy to admire and it's all packaged in glistening visuals and impressive FX (given that the context requires the VFX to be somewhat ludicrous). David Sandberg's smash hit, crowd pleaser should inspire many remakes and spinoffs while the feature film version makes its way to a big screen near you. In the meantime, you can watch the full short for free here.
For more information on Rooftop Films Summer 2015 Series click here.