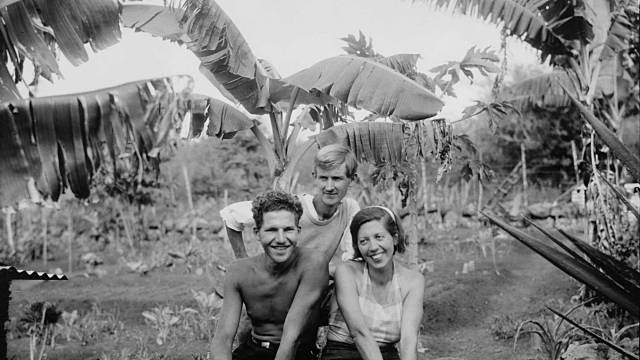 Full of lush greenery and biodiversity, the Galapagos Islands have enchanted people for decades, but not everyone gets what they bargained for as it happens in Daniel Geller and Dayna Goldfine's The Galapagos Affair: Satan Came to Eden, an intriguing documentary with a National Geographic spin on a 48 Hours-worthy story set in the 1930s. Dr. Friedrich Ritter abandoned his successful practice and wife in Berlin embarking on utopian dreams with a Nietzschean bent. In 1929 he settled on Floreana, an uninhabited island of the Galapagos with Dore Strauch, his adoring lover and biggest fan, though often treated as his inferior. (She eventually lavished her affection on her burro when Ritter spurned her needs.)
The documentary unspools through black and white photographs and home movies, as the couple established their new home and scrupulous existence, subsisting on the land and engineering innovations like what appears to be an enormous citrus squeezer, putting Survivor contestants to shame. The newspapers soon dubbed them Adam and Eve, but paradise became unsettled with the arrival of the Wittmer family: Heinz, his pregnant wife Margret, and their young son.
Cate Blanchett and Diane Kruger, among others, provide voice overs by reading from candid journals which reveal darkly funny nature of the situation. Though obsessed with Nietzsche, Dr. Ritter's Galapagos tenure transpires into Sartre, stuck in a tropical hell of other people, worsened by the arrival of a bunch more intrusive than the Wittmers, ordinary but innocuous. The loquacious, gun waving Baroness Von Wagner and her two lovers waltzed onto Floreana and plopped next door to the Wittmers on a 67-mile island. One minute she deemed the stream mutual property, and by the next claimed a portion of the land for her hotel. Then one day the Baroness mysteriously disappeared never to be heard of again.
The film builds tension slowly and steadily and shows the stuff of true crime in an exotic land. The directors resist sensationalizing, and instead mete out the story in thorough--perhaps too thorough-- details. The film also weaves narratives of present day islanders, some of whom are descendants of early settlers and others expatriates simply in search of quiet. The length of the modern day cast is excessive, making it difficult to keep track of everyone, and ultimately a distraction when they hold no clues to the central mystery. It is an over-winded demonstration of why some people are islands or what might possess them to want to live on one alone. The strange and wonderful case of The Galapagos Affair proves that works out better for some more than others.