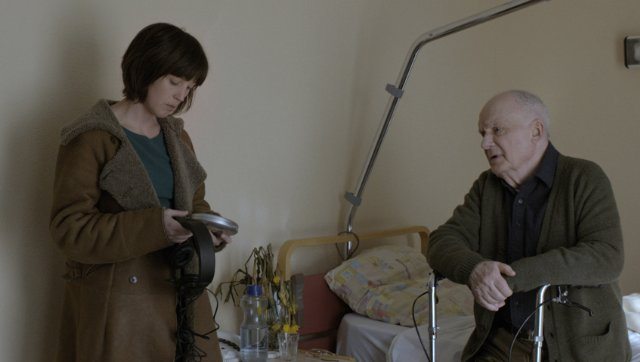 Stephanie Chuat and Veronique Reymond's first feature The Little Bedroom is a quiet narrative about loss, set against the imposing Swiss mountains near Lausanne. It is a straightforward, serious tale that savors the value in exacting realism. As their lives fall apart around them, Rose (Florence Loiret Caille) and Edmond (Michael Bouquet), nurse and patient, form a friendship built on mutual need and understanding.
Although on the surface, these two are an unlikely pair, they share striking similarities that bind them as allies against the rest of the world. While Edmond mourns the loss of his ability to take care of himself, Rose and her husband are recovering from the recent stillbirth of their expected child. In the simplest terms, Rose needs someone to mother and Edmond needs to be mothered. Chuat and Reymond paint this dynamic with interactions that recall childhood and a time when love was simple and unconditional. A dynamic that contrasts the tense, complicated, and all too familiarly weighted relationships they maintain with everyone else in their lives.
We are immersed in an expertly written reality played out in graceful and introspective performances. Caille finds a rare unison between fragility and strength and two-time César Award winner Bouquet is simply elegant. This film is not about what has happened, but rather how the characters handle it. When we meet Rose's husband Marc (Eric Caravaca), it is obvious that their marriage is in turmoil. Little digs, some tears, and one heart wrenching fight map out their struggle with moving on. The writers remind us that sometimes what's needed to see clearly is an outside perspective.
Over the course of their friendship, Rose begins to revive Edmond's faith in life and love, which has been fading since the passing of his wife over 40 years ago. And in return, he enables her to finally reconcile with the death of her child. The Little Bedroom has a subtle tone. The story of Rose and Edmond's growing friendship is told in small, tender moments. And the cold blues in the cinematography serve both the mountainous landscape and a sense of chilly isolation, which are prevalent themes in the film. Through caring for each other, Rose and Edmond rediscover what it is to care for themselves. Ultimately, The Little Bedroom is a meditative exploration in the circle of life that continues no matter how much we may fight it.