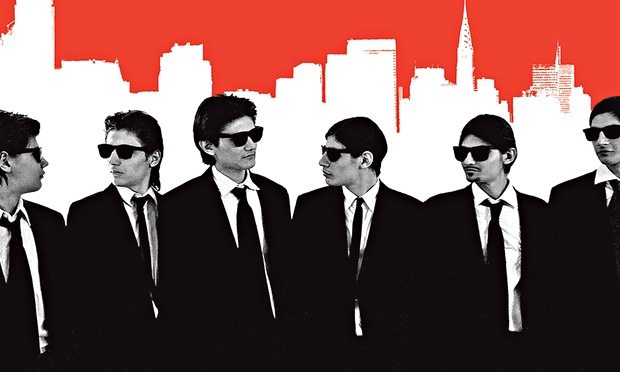 "Sometimes we would go out 9 times in a year, sometimes once, and in one particular year, we didn't leave the apartment at all," explains Govinda Angulo, "our father was the only one with keys." Director Crystal Moselle felt a documentarian's itch right away when she saw the six Angulo brothers on a LES sidewalk in 2010, and quickly befriended them. It just so happened to have been their first week of claimed freedom; freedom to socialize and explore outside of the apartment in which they had spent the first 15-20 years of their lives.
Moselle recounts their open, unguarded nature and eagerness to share their story. In the four years that followed their meeting, she filmed and cultivated a bond with the Angulos as they rebelled against their father's rules and set out into the world of Lower Manhattan for the first time. With full access to innumerable home videos and eventual deep and revealing testimonies from the family, Moselle was able to build a rich portrait of the captive life they lead and their ensuing liberation, both physical and emotional.
What is most striking about Angulo's sons — aged 16 to 23, all with hip-length black hair and Sanskrit names — is how wise they are. We tend to be forgiving with these victims of circumstance, allowing for unsound sanity, jerky social skills, pitiable intelligence levels, lice even. And as we should be. We understand PTSD and the need for therapy, and we no longer live in a "rub some dirt on it" era. But the Angulo boys don't need our lowered standards. In fact, they far surpass the majority in terms of wisdom and introspectiveness. And this, these indomitable characters, is just one of the many gorgeous aspects of The Wolfpack as both a film and a story.
In the film's opening sequence, prop guns are held at arms length as the boys reenact Reservoir Dogs shot for shot, a game they played with thousands of films growing up. For the Angulos, this constant cinematic intake acted as a vehicle for expressing creativity and learning about the outside world. And perhaps, The Wolfpack implies, through dissecting the viewpoints of so many auteurs, they learned more about humanity than one could've thought possible through mere "entertainment."
Mukunda Angulo was fifteen when he was the first of his brothers to leave the apartment. In a particularly touching moment, he wears a Batman costume crafted out of cereal boxes and yoga mats, and explains how The Dark Knight Rises was the motivating factor in his rebellion; channeling Bruce Wayne gave him the strength to venture out. "It may sound silly to some people, but in our world, it's really important." In a voyeuristic culture fascinated with the, admittedly "captivating," tales of sectism in media (i.e. Unbreakable Kimmy Schmidt, Going Clear, The Manson Family), one feels almost qualified to write a storyline for the severely restricted. It is a narrative of polarized characters and naïve, easily impressionable victims, victims susceptible to cult mentality through their emotional deficiencies — they are insecure, depressed, outcasts. This is a narrative that The Wolfpack utterly rejects.
Instead of cliched sensationalism, Moselle stands by the boys as they test the waters of freedom, withholding all judgement, even of the father who put them there. A father who could be demonized as a controlling abuser, but rather is portrayed as a victim of his own misguided fears of the world outside. The film embraces all that the Angulos put forth, adding narrative through graceful editing and an achingly sinister score composed by, ironically and surely intentionally, the musicians behind the indie "cult" darling, Martha Marcy May Marlene. Sundance's Grand Jury Doc winner, The Wolfpack, is a stunning must-see that elegantly and with sensitivity, unravels our perceptions of confinement and the resilience of creativity.