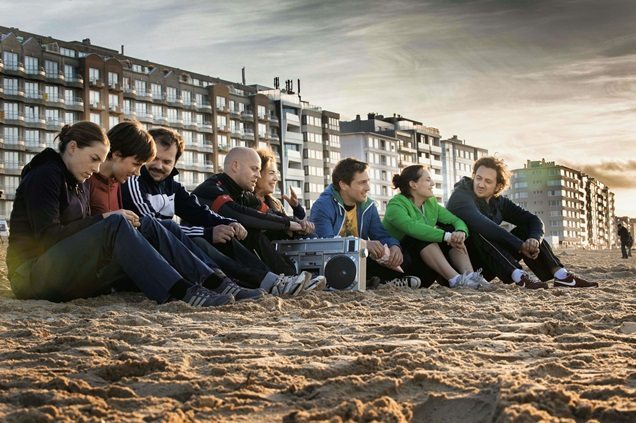 Christian Zübert's Tour de Force (Hin und Weg) is reminiscent of the Big Chill in reverse, a dramedy about a group of thirty-somethings coming to terms with life, love, relationships and mortality. It is time once again for Hannes (Florian David Fitz), Kiki (Julia Koschitz) and their friends to head off on their annual cross-country cycling holiday, a chance to reconvene and share laughter and adventures along the way. This year, it's the couple's turn to host the trip. Having anticipated a more exotic location, the group is underwhelmed to discover that the couple have chosen Belgium.
Early on in the film, Hannes reveals the real reason behind going to Belgium, he is rapidly succumbing to an incurable illness he knows well; the same one he lost his father to as a young boy. So Hannes wishes to die, he would rather spare himself the indignities of losing his physical and mental capacities, and beleaguering his family with a drawn-out death. Hannes' final wish is to celebrate one last time with the love of his life, his younger brother Finn (Volker Bruch), the shameless lothario Michael (Jurgen Vogel) and bickering couple Mareike (Victoria Mayer) and Dominik (Johannes Allmayer), ending their trip in Ostend, a city with legalized assisted euthanasia.
Hannes' companions must decide whether they will support him and celebrate life to the fullest, or submit to their own feelings of anger and sorrow. Each person is dealing with issues of their own, some of which bring a bit of levity to the experience; one of their pastimes involves a game of dare, or tasks that they assign each other. Ranging from the frivolous to the obscene, emphasizing a distinct character trait, each dare must be completed during their time together.
The topic of doctor-assisted suicide has been a matter of contention in the US for a long time, with recent cases making headlines around the country. Tour de Force humanizes the issue, posing the question of whether to support someone's right to die while witnessing the devastating effects firsthand. Filled with common cinematic tropes, Ariane Schröder's screenplay, however, makes powerful use of the cliché, like the best pop songs about love. Death, like love, is a universal theme and a visceral experience that draws people together.