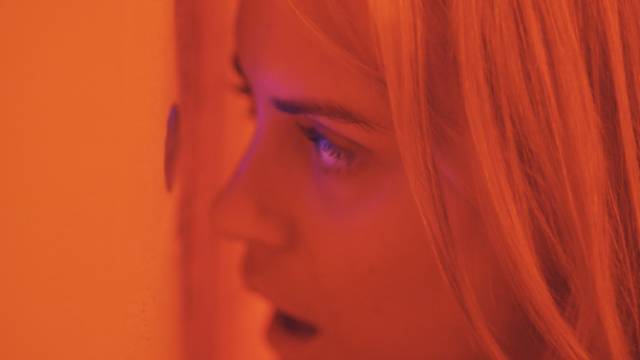 People are staying young longer, especially in LA. In Patrick Brice's new film The Overnight, he takes a raunchy comedic lens to those 30-something married couples who aren't quite ready to settle into an 8 o'clock bedtime routine. The resulting lesson: everyone's got problems, even the young, rich and beautiful. The film's tone is set right away with an opening scene where Alex and Emily (played by Adam Scott and Taylor Schilling) are going through the bizarre but evidently routine motions of their sex life: PG-rated niceties mixed with technical directions and a depressing "separate for the finish" technique. They're in the final stretch when adorable toddler RJ (R.J. Hermes) bounds into the room, oblivious, to wish them goodmorning. "It smells weird," he comments.
It only gets more awkward from here. Alex, Emily and RJ are new to LA and nervous about making friends. That problem is quickly solved when swaggering hipster dad Kurt (played to the limits with glee by Jason Schwartzman) approaches them at the park, inviting the whole family for dinner and a playdate for the kids. That night, Kurt and his beautiful French wife Charlotte (Judith Godreche) welcome Alex and Emily into their hilariously - and deliberately -  cliché mansion, where they have a space for each and every one of their new-agey hobbies (most notably an art room for anus portrait painting and photography). After the kids fall asleep, the sexual tension spirals in all directions in a wild through-the-night romp that soon has Alex and Emily testing the boundaries of their marriage and their sexualities.
Brice's writing is sharp and keenly self-aware. It is obvious that he made a study of the tropes and war stories of these LA couples before putting pen to paper, and it pays off. The film moves at such a hilariously blinding clip that occasional stilted moments will be forgotten at the next turn. The turn of say, Schwartzman exposing a crowd-halting prosthetic for some casual late night skinny dipping. To say the least, the film is not what you'd expect and Schwartzman is a large part of that. His performance is completely over the top yet simultaneously restrained, somehow communicating that you'd be, well, a huge nerd, to think anything he's doing is absurd. The rest of the ensemble is delightful as well, each actor bringing character from caricature with insight and an impressive lack of judgement.  Notable for its shock value alone, The Overnight is well worth the watch. A stellar cast supports an uproariously clever script that will have you thinking twice about your next dinner party.