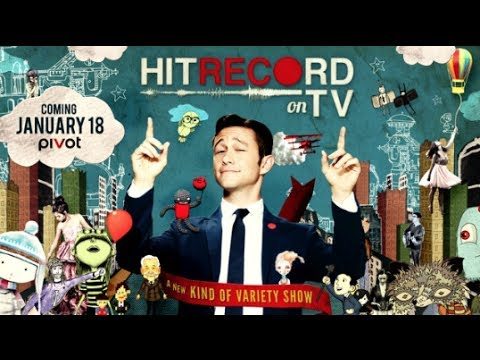 Joseph Gordon-Levitt has accomplished a lot since his childhood stint on the TV series "3rd Rock From The Sun". He's starred in movies with massive cultural impact, such as "Inception" and "The Dark Knight Rises", as well as indie hits like "(500) Days of Summer", "Brick", and "Looper". He also recently wrote and directed his first feature film, "Don Jon", which was met with mostly favorable reviews (read ours here). But the project Gordon-Levitt is most proud of is the company he started with his brother Dan in 2005, HitRECord. An "open collaborative production company", HitRECord lets artists from across the world come together to produce beautiful works of art that are showcased in various ways (film festivals, books, records, etc.) Now, Gordon-Levitt heads back to television to host a unique variety show called "HitRECord On TV".
"HitRECord On TV" features all original work done by collaborators on the HitRECord website. Though it doesn't premiere on Pivot until January 18, Gordon-Levitt was kind enough to upload the first episode on YouTube for everyone to see, free of charge. Each episode will revolve around a theme; the first, fittingly, is the number one. After an intro that shows off Gordon-Levitt as a rock star amongst his RECorders, we get our first taste of what actually gets done at HitRECord. In the first segment, the process begins with a young woman's true story about the first time she saw the stars; from that one story, collaborators on the site begin contributing their talents towards bringing the story to life. 1,440 contributions later, they have produced the delightful mostly-animated short "First Stars I See Tonight".
It's clear that Gordon-Levitt truly loves giving artists a platform from which they can share their gifts with the world. He doesn't want this show to be about him, and he succeeds in showing off HitRECord as a community, not a legion of JGL followers (though I'm sure many would follow him into the fray, if necessary). Will every segment be an incredible success? I doubt it. But there is something so heartwarming about seeing the efforts of thousands of people working together in harmony, for no other purpose than to create. (Some do make a couple bucks from their contributions, but it's usually a negligible amount.) In a way, the idea of "HitRECord On TV" is more beautiful than anything series could hope produce -- though I'm sure the contributors will do their best to prove me wrong.
You can watch "HitRECord On TV" on Pivot, starting January 18.