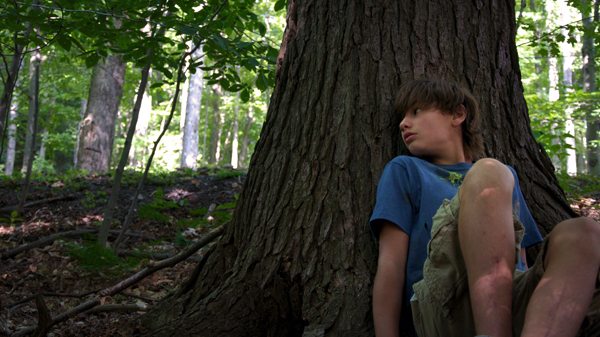 In "The Cold Lands" (in theaters March 14), director Tom Gilroy tells the story of Atticus (dazzling newcomer Silas Yelich), a young boy living with his nature-loving mother Nicole (Lili Taylor) who brings him up in a bubble of hippie ideals and anti-consumerism values. When she dies, he is left to his own devices and after hiding in the forests meets Carter (Peter Scanavino) a free spirited marijuana grower who takes him under his wing and takes on the unexpected role of father figure for the lonesome youth.
Gorgeously shot by cinematographer Wyatt Garfield, "The Cold Lands" marks Tom Gilroy's directorial return to feature lengths (his previous film was released in 1999) and his first time directing his long-time friend Taylor (who has directed him onstage before). We sat down with the director and his leading lady during an appropriately cold New York morning in early March, where they discussed elements like the film's haunting locations, Gilroy's techniques for setting up the mood and Taylor's upcoming theater role where she will be directed by Oscar winner Steven Soderbergh.
About the location...
Tom: I live there, about 95% of the locations are within a ten minute walk from my house and Silas lives at the bottom of the hill where I live and the peacock (from the opening scene) lives above. I live adjacent to a nature reserve and they gave me permission to shoot there.
Lili: I also live across the river. I know that land well...
On Lili's character after she dies...
Tom: There was a lot of stuff taken out, there were another 3 or 4 scenes in which Lili reappeared, there was never any thought of them being flashbacks because kids live either in the present or in their imagination. I wanted to explore what ghosts are, are they projections or memories? There's also the cinema history of ghosts and all the rules that come with this.
Lili: It felt like he was conjuring me up the way I was in real life...
Tom: Before I'd written any dialogue we'd agreed that Lili would play the mother, so I used her personality. Lili's a parent, I'm not, so I based a lot of it on Lili's experience as a mom.
Lili: You start knowing kids and you know what they'd do or not.
On Theater vs. Movies and collaborating...
Tom: Directing actors in a film is like if you're the UN, everybody has their own different language and you have to learn it. Lili and I know each other so well, that we might have been talking about cats but were really talking about the scene we were about to shoot.
On the enigmatic Carter...
Tom: When you meet Carter you realize he's obviously the character Atticus would be drawn to and how much he embodies of what the mother tried to teach her son. He doesn't have a job but he's very industrious and ethical and those were the things she wanted her son to embody.
Lili: Being a single mom, knowing her son needs male figures, there needs to be a "cool factor". My character might have some issues with him at first, but the end is worth it.
Working with Silas...
Lili: Tom had laid the relationship, they'd been working together for more than one year and for me it was about really protecting his innocence and protecting his raw impulses. Not going with the head at all, letting him know what I was up to, finding how he was comfortable. He had this sheep he loved for example.
Tom: [In order to write the character] I talked to a lot of people who lost their parents when they were young and they didn't cry. They only cried if there were other adults crying. Atticus knows his mother is sick and he knows what his mother told him.
Where did the title come from...
Tom: It says "the cold lands" right on the turn before Lili's house. There's a rest stop and I was there one day and I read that this place had been called like this in the 1700s, city people called it like this. It was a frontier, like if you got someone pregnant and fled they'd said "he's gone to the cold lands". It usually meant you went into the trapping business or granite.
Lili Taylor on working with Soderbergh...
Lili: My child dies in the play, so it's the reverse of this film. It's loosely based on Columbine. The mom in the play is very religious and she's much more in society, she wants to be in society, she gets her strength from the church.
On living off the grid...
Lili: It was in the early 90s, on the West Coast with the Earth First thing, which felt more of a camping thing…
Tom: I've lived without electricity and without phones, but based on many people who do live off the grid, I based a lot of what we see on the film.
Setting the film's mood...
Tom: A lot of people when they saw the film said that there was an overwhelming feeling of anxiety because people were concerned about what would happen to the child. In terms of tone I wanted to make a meditative film. In a subconscious way I wanted to help the kid be guided, the kid is moving in this kind of self reliant enclosure because of the way in which he was raised. Some people think it works out horribly, but I wanted to make this kind of Zen like film.
"The Cold Lands" is in theaters on March 14, 2014.