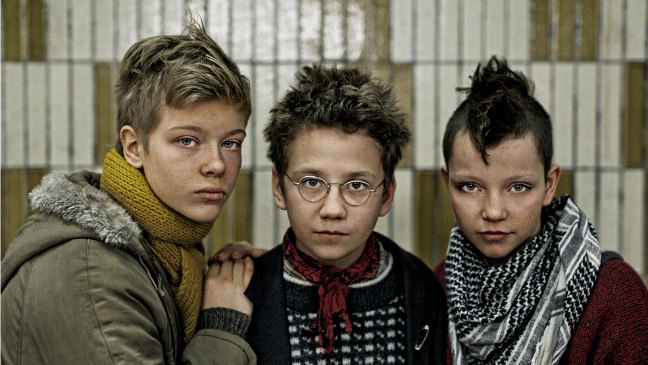 Against all odds three outcasts form a punk band. Klara (Mira Grosin), who acts like the mother of the three, is full of delicious energy, "Brezhenev, Reagan. Fuck off!" she screams. Hedvig (Liv LeMoyne), the only one who can play an instrument, takes possession of the guitar like an animal would take food back to its den--instantly her talent comes across. And Bobo (Mira Barkhammar) is the mediator of the group. She displays a strong moral compass in her relationships. "We Are the Best" is a coming-of-age tale about three Swedish girls testing the boundaries of their culture while toying with danger.  God, fascism, and Christianity are held under close scrutiny by the preteens. The way big subjects are handled with blissful ignorance by the girls, and even finesse, is one of the charms of this film.
In the train the reconciliation carried out by Hedvig of her two friends shows her passion for them.  She makes a serious grimace to one of the girls when they don't want to shake hands that is uncharacteristically masculine for her, as if Hedvig was sacrificing her budding femininity (after already having sacrificed her long, beautiful hair in another incident) for the lasting friendship of the group. The tension rises but the superpowers remain benign and the girls reunite, but one can already tell that Hedvig and Klara will have a true collision when they are older due to their strong identities. At the train station Hedvig, who is a Christian, is uncomfortable when Klara asks commuters for money by lying with stories. All in order to get funding for their band.  This is when Klara is at her best: on her own in the world, unabashedly pagan, asking it to love her simply because she exists. Bobo lacks the energy of Klara and lacks the discipline and conviction of Hedvig, as a result, in one of the film's most picturesque scenes, she's stuck in an existential limbo, somewhere on top of a snowy roof--a challenge in and of itself.
"We Are the Best" is self-conscious of its Swedish culture to the extent that Klara is obsessed with global issues like world hunger and the environment, as if Sweden was only concerned with comparatively trivial things shown in the film like sports, cheese, chocolate and Christmas.  And as if real danger was not an option.  Instead it seems that the nuances of social interaction are at the forefront of this culture. For example the different ways of saying no, as explained by Hedvig's mother to the other two girls after they'd cut Hedvig's hair. So what appears to be the only real danger, as exemplified through the story of Hedvig, is not having friends.