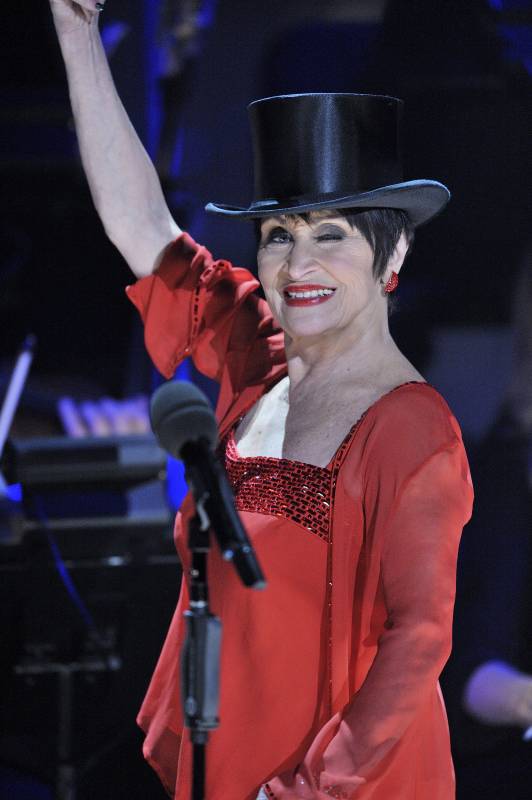 Every time Chita Rivera appears onstage, you know it will be a night to remember. Her debut at Brooklyn's On Stage at Kingsborough's cabaret series was no exception. Appropriately titled Chita: A Legendary Celebration, the 90 minute long performance saw the octogenarian revisit her astonishing career, proving why there is no one like her. As the lights went out and her band played the introduction from "All That Jazz", Chita appeared looking more vibrant than ever, in a three piece outfit dominated by a skirt with beaded fringes that swayed from side to side with her. She then went straight into "Lot of Livin' to Do", one of the classic songs from Bye Bye Birdie, which was her first Broadway lead. The song could very well serve as the anthem for this grand dame of the stage, who seems to be at the peak of her powers.
Sharing anecdotes and intimate stories about what went on behind the scenes of musicals like Sweet Charity and West Side Story, Rivera commanded the stage, which despite its very large size seemed to shrink as she wrapped the audience around her finger. From the get-go she made sure to make us realize that more of a celebration of her work, the show would be a gift to her adoring fans. At one point she joked "I've been around for 105 years", while commenting on the many blessings the theatre has given her throughout. Hearing her go into numbers like "A Boy Like That" was electric, and as she let Anita take over her for "America" she recreated some of Jerome Robbins' iconic dance moves, which could very well put to shame performers half her age.
This was perhaps the most astonishing thing about watching her set, every time she went into a song from a different show we stopped seeing Chita because all of a sudden there was Anita, or Fifi, or Aurora, or Claire instead. With a simple turn of her body she would become a whole different character, no costumes or props needed to transport us into the story of the musical where the song was extracted from. At times she became quite introspective, commenting on her career choices she explained how she would recommend kids to "try as many different kinds of characters" as they could, and when she sang "Where Am I Going" from Sweet Charity one could've easily been fooled into thinking it was being performed by an ingenue filled with uncertainty. By the time the evening arrived to its Kander and Ebb-filled finale of The Visit, Kiss of the Spider-Woman and of course Chicago, it was quite evident that if Chita Rivera has "done it all", she is still full of surprises. Considering how much she left the house sizzling, one can assume her best work might just be around the corner.