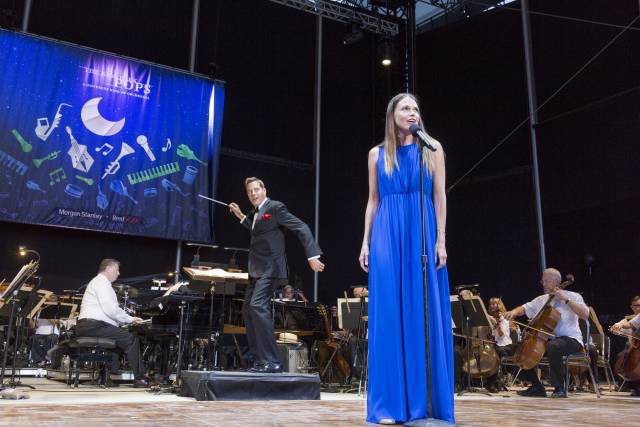 On two consecutive nights in early August, The New York Pops took over historic Forest Hills Stadium in Queens to begin their annual summer residency. It seems as if the elements conspired to make both nights unforgettable, as the hot, humid weather that had pervaded during the day, gave way to a cooler night, complete with pink sunsets and a refreshing breeze. "I wish you could see the sky" exclaimed Tony-winner Sutton Foster from the stage as she thanked audience members for attending the first show on August 6th. On this occasion she performed a revamped version of her March show with the Pops which included renditions of "Sunshine On My Shoulders" and "Anything Goes".
Confessing that it was the first time she was performing in an open theater with an orchestra, the usually gleeful Foster seemed more excited than ever as she infused each of her numbers with high energy and joy. Her guests that night were her Violet co-star Colin Donnell, with whom she tap-danced in "Fit as a Fiddle (and Ready for Love)", and her best friend and Little Women co-star Megan McGinnins who joined Foster to do "Flight". Donnell paid tribute to his Irish heritage by singing "On the Streets of Dublin" from A Man of No Importance, while McGinnis' solo number was the heartwarming "Neverland" from Peter Pan.

Among Foster's new numbers were "It All Fades Away" from The Bridges of Madison County and an enchanting rendition of "Maybe This Time" from Cabaret which she dedicated to her dog Mabel, who appeared onstage to have her famous owner serenade her. The number not only stole people's hearts (there were countless "aww"s heard throughout the stadium), it also tied in beautifully with Sutton's encore of "Gimme Gimme" which Jeanine Tesori seems to have written under inspired by Kander and Ebb.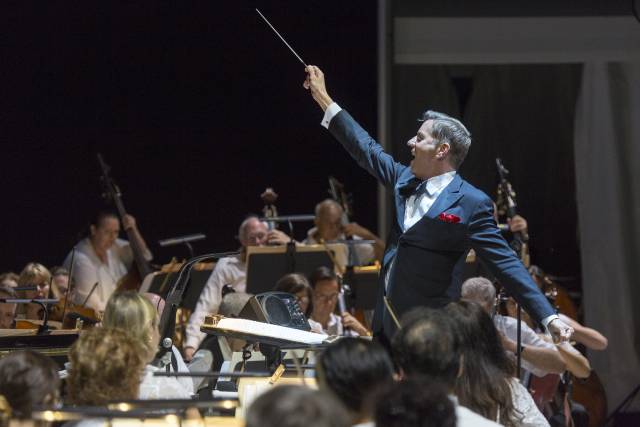 Equally inspiring was the night of the 7th which saw the Pops being joined by Portland-based band Pink Martini, who brought out the big guns to make for an astonishing performance. Pink Martini's irreverently retro style seemed to acquire new life when paired with the lush strings of The New York Pops, who helped add layers to Thomas Lauderdale's already complex orchestrations.
Performing in countless languages, from Romanian to French, Pink Martini singers China Forbes and Storm Large were joined by the exotic cabaret entertainer Meow Meow who borrowed audience members to make herself a luxurious throne from which she sang "Ne me quitte pas". Forbes and Large didn't rest on their laurels either, with the former leading the audience into a sing-a-long of her autobiographical "Hey Eugene!", and the latter evoking sensual screen siren Rita Hayworth when she sang "Quizás, Quizás, Quizás".
Considering that people in the audience constantly got up from their seats to dance in the aisles, it made sense that by the end of the night Lauderdale invited everyone to form a conga line as Forbes and Large sang Ary Barroso's "Brazil". To call what followed magical would be an understatement, as it felt more like being transported to Carnival in Rio de Janeiro, the players were all smiles as the strings and brass called everyone to the dancefloor, and Forbes and Large were exquisite. But perhaps the night was best summed up by Lauderdale who at one point during the finale got up from his piano to record the conga line on his phone. Like Mr. Lauderdale, it's safe to assume that everyone at Forest Hills Stadium wanted to save the memory of that night forever.