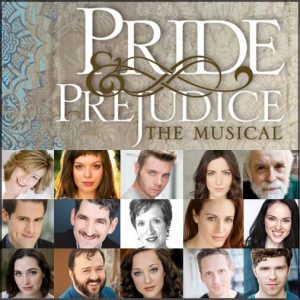 From Bridget Jones to Bollywood, the influence of Jane Austen's beloved Pride and Prejudice is undeniable, and yet we don't have an ultimate musical theatre adaptation! This might change with Lawrence Rush's take on the novel, which he presented in concert form at Feinstein's/54 Below on March 2, 2016. Rush, who wrote the book, music and lyrics, informed patrons that they were about to listen to an almost complete version of the show, before announcing that the show would see its first full production in England sometime in the fall. The excitement might have infused the all-star cast with even more energy, for what followed was a truly enchanting evening.
Directed by Frank Galgano and featuring musical direction by Matt Castle, the concert opened with "Wedding Bells", an establishing number, performed by the members of the Bennett family played by Margo Seibert as Elizabeth, Teal Wicks as Jane, Rita Markova as Mary, Christiana Cole as Kitty, Jessica Fontana as Lydia, Karen Mason as Mrs. Bennett, and Gordon Stanley as the patriarch. The hilarious number not only set the mood for what was to come, but shed a light on what Mr. Rush's musical gets best, which is that it shines a light on characters that have never received much love in other adaptations.
For instance, in this initial choral performance, he singles out Mary, as the only one who isn't allowed to sing, so the number becomes a sextet where we can't help but look and feel sorry for Mary, and in the process want to learn more about her. Similarly, in the second act, he gives a beautiful ballad to Charlotte Lucas, Lizzie's best friend played by Vivienne Cleary (who fulfilled double duties, also playing the sly Caroline Bingley), who in television and film adaptations has been seen as a sidekick, but is here given the chance to express the limited options women had during the Regency. It's by no means a pity song, but a tender, oft-heartbreaking anthem to survival and making the best with what we have.
Needless to say so the performances were overall excellent, with Mason stealing her scenes as Mrs. Bennett (the narrator, Mr. Castle, surprised everyone by revealing Ms. Mason had only learned the material the day before!), Nathaniel Hackmann being delightfully obtuse as Mr. Darcy, Brian Ray Norris making the room explode with laughter as Mr. Collins, and the always spectacular Margo Seibert making the perfect Liz. Towards the end of the concert, which saw Liz and Mr. Darcy put behind the title nouns and confess their love for each other, Ms. Seibert's Liz was positively glowing as she listened to Mr. Hackmann's Darcy go from being a petulant boy, to a swoon-worthy romantic hero. As Seibert sang "we have no more need of our defenses", one could almost imagine the costumes, sets and swelling orchestra that would make this moment even more magical. And what could be better for a concert production than to leave its audience craving more?