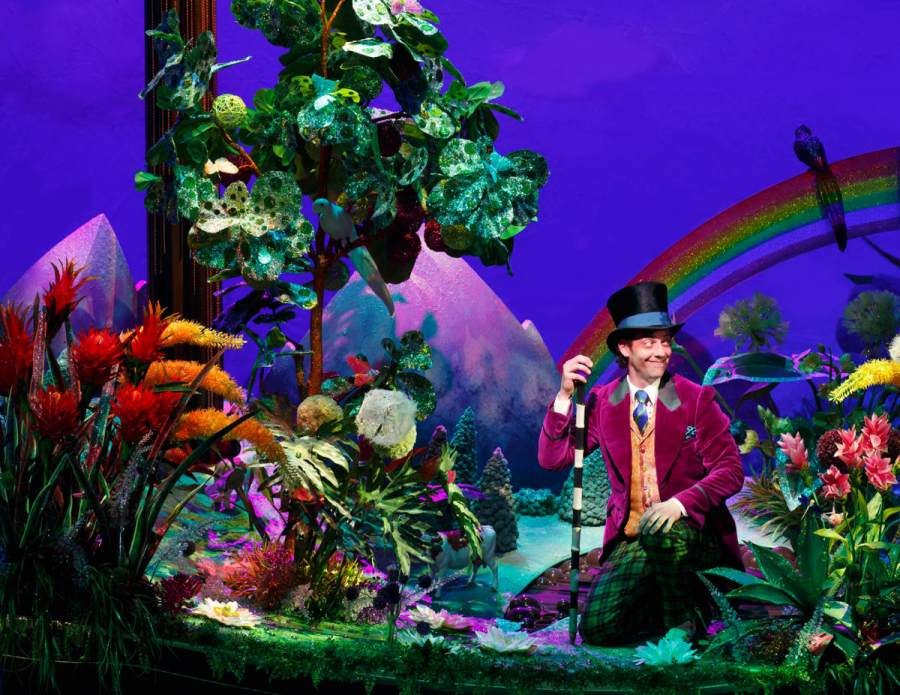 Charlie and the Chocolate Factory, the new musical based on the films of the same name, as well as the book by Roald Dahl, puts audiences inside the "world of pure imagination." Starring two-time Tony Award winner Christian Borle and directed by three-time Tony Award-winning director Jack O'Brien, this new musical features the beloved songs from the original film, including "Pure Imagination" and "The Candy Man," alongside a brand new score from the songwriters of Hairspray, Marc Shaiman and Scott Wittman, a book from David Greig and choreography from Joshua Bergasse.
Willy Wonka, world famous inventor of the Everlasting Gobstopper, has just made an astonishing announcement. His marvelous—and mysterious—factory is opening its gates…to a lucky few. That includes young Charlie Bucket, whose life definitely needs sweetening. He and four other golden ticket winners will embark on a mesmerizing, life-changing journey through Wonka's wondrous world.
The following are my Top Five favorite songs from the original cast recording.
"What Could Possibly Go Wrong?"
This song is a fun one because it shows the contrast between Mike Teevee and his mother. She's more old-fashioned, and her verses in the song show that, whereas his verses have a distinct rock sound. The contrast makes for a fun effect, and Mike's verses especially are fun to jam out to and remind me of something like American Idiot or Spring Awakening.
"It Must Be Believed to Be Seen"
This is the first song on the album that actually feels like a new, original Broadway track. This song has Willy Wonka talking about his factory and basically saying what the title says, that in order for the magic of the factory to appear one must believe in it. The sound itself is similar to classic Broadway, and Borle's voice is wonderfully smooth.
"Strike That, Reverse It"
This one shows just how zany Wonka is, and Borle seems to play into it perfectly. The song has the fast-moving intricate lyrics, my favorite. It features some popular phrases that Wonka, in all of his madness, says backwards and then to "strike that, reverse it." An example is "what's here tomorrow's gone today," which of course is supposed to be "what's here today's gone tomorrow."
"The Oompa Loompa Song"
Come on, this one's a classic. The version on this album is basically the same version that has been featured in the beloved films but I think the sense of nostalgia that it evokes reserves it a well-deserved place on my list. And if you've watched the films countless times as I have, you're picturing the campy scenes as you listen, so that's fun.
"Vidiots"
This one might be my favorite on the album, full stop. It's very modern, and creates a social commentary on this generation's obsession with technology. The electronic backtrack adds to the theme of technology that is the focus of the song. Featuring the lyrics, "the only things that Mike can spell are FYI and LOL," this song is the one that really makes this musical seem like a completely separate entity from the movies upon which it is based. A+ for staying relevant.
The Original Broadway Cast Recording of Charlie in the Chocolate Factory is available now in digital formats from Masterworks Broadway, and will be available in stores on CD on June 23.