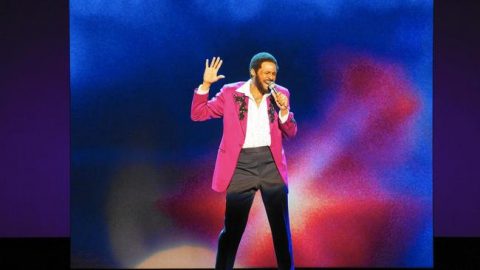 On June 13, Motown the Musical began its run at the Shubert Theatre in New Haven, CT. It's a 5 day stop along the show's national tour, and I was lucky enough to attend the opening performance. The show, with book by Berry Gordy, and music and lyrics taken directly from the immense Motown catalogue, follows the story of Motown. The record label, created by Gordy himself, signed stars such as Smokey Robinson, Marvin Gaye, and Diana Ross. This music tells their story through their own rich music, tying the audience in from the moment the curtain rises.
The scenic design, done by David Korins of Hamilton fame, is extremely minimalistic but incredibly intriguing nonetheless. There are very few traditional set pieces, not much more than a chair and a desk in a few scenes, but the set is created by screens that move on and offstage from the wings as well as descend from the flyrail. These screens have projected "sets" including rooms and walls, as well as signs advertising the performers and their concerts.
The lighting is reminiscent of the times. Designed by Natasha Katz, the flashing neon lights depict a world of color in which these people lived. There was often just a simple cyclorama with a bright color projected onto it. The simplistic nature of this design allowed for more focus to be on the music. The costumes, designed by Emilio Sosa, were flashy and detailed, and many of them were exact replicas of those that the people actually wore when they were beginning their careers. The dresses Diana Ross, played by Allison Semmes, wore were intricate and wonderful as Diana herself.
Speaking of Semmes, she is the most exquisite part of this show in my opinion. She speaks and performs just as Ross herself did, and even from my seats a few rows back she looks just like her as well. A notable part of the show for me is when Ms. Semmes, portraying Ross, comes down into the audience and invites real attendees to sing along with her. She also invites the entire crowd to hold hands and sing along. The interactive element had everyone smiling and really made the whole event seem like a concert rather than a theatrical musical.
Chester Gregory who played Gordy was an extremely charismatic performer, with an absolutely stunning voice to match. His range hit the highest highs and lowest lows, and just when you thought it couldn't stretch anymore, he belted a note into the stratosphere. I related to him as Gordy, I felt for him, I smiled when he smiled and cried when he cried. That is the mark of a true performer.
The highlight of this production for me was Mr. Raymond Davis Jr. who portrayed multiple "young" versions of the adult roles, but mainly young Michael Jackson. Aside from his voice sounding exactly like Michael's did, the kid had charisma for days. He danced and snapped his fingers to the beat, keeping up with every single adult member of his cast. With the 1000-watt smile, I can't wait to see Davis breaking hearts someday and making it huge.