Cancer Survivor Benjamin Scheuer Is Performing His Award-Winning Musical One Last Time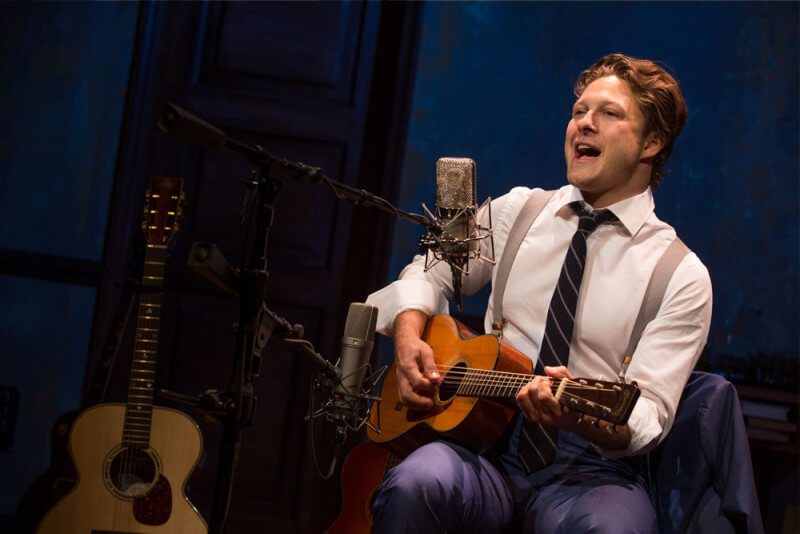 If you missed The Lion, acclaimed singer, songwriter and guitarist Benjamin Scheuer's beautiful solo show, when it was here in New York a few years ago at Manhattan Theater Club and then at the Culture Project, you have one more chance. Mr. Scheuer is set to perform his award-winning one-man/six-guitars show at The Sheen Center for Thought and Culture in New York City on April 30 to benefit The Leukemia & Lymphoma Society. After winning the 2015 Drama Desk Award for Outstanding Solo Performance and the 2015 Off West End Award for Best New Musical, The Lion then went on tour playing more than 500 performances in 13 cities. Through song and narrative the autobiographical musical tells Mr. Scheuer's journey growing up with parental judgment, his struggles to find himself as a man and a musician, and his battle with cancer.
During our phone conversation, Mr. Scheuer not only spoke about his commitment to supporting the work of the Leukemia & Lymphoma Society, but gave fascinating glimpses into the early stages of developing The Lion and his own songwriting process.
Can you briefly describe how The Lion as a solo show began and its early development?
In 2011 I underwent chemotherapy for advanced stage cancer. I was 28 years old. Being a songwriter I found it extremely challenging to write while I was ill. I only wrote one song that year, "The Lion," about four generations of my family. It was different than other songs that I had written. It covered a lot of details, very personal and very specific. And after I was cured of cancer I thought, "I want to go to an open mic in the Village and play this song for people." I couldn't go on a date, 'cause when they ask you what you've been doing, and you say cancer, they run a mile. So I thought, "I'm going to go to an open mic and control the situation." Previously cancer had controlled me, now I wanted to control it. So when I played "The Lion," people responded positively to it. And then I'd go to another open mic and they'd say, "Why don't you play two songs?" I kept writing about my experience in songs, but one thing I realized is that I should not only work on writing the songs, I should work on writing the in-between-song dialogue. I should use my skills as a playwright to treat what the audience perceived to be a coffee house set - I should treat that as a piece of musical theater. But they [the audience] wouldn't know that's what I was doing. Every time I would go to an open mic, I would try to notice when people got bored – you can tell when people get bored, they go pee, they check their phone, they go get a cup of coffee – and I would go home that night and rewrite the part where people got bored. I wanted to make it clearer, more compelling. I'd want to make it shorter, more punchy. And so this is what I did in 2012. Every day I would rewrite, every night I would find an open mic and I would play. And I began telling the story of what had happened to me when I was ill. Then I started to go back farther and write about my father who died when I was a little boy. Before he died he taught me to play the guitar. When I was very, very little he wrote me a song called "Cookie Tin Banjo" and built me a cookie tin banjo, so I wrote my song "Cookie Tin Banjo."
Then I met a director named Sean Daniels. Sean said, "I think I can help direct your show." And I said, "Cool. How would you do that?" And Sean said, "How would I do what?" I was confused. Then Sean said, "Let's be clear, you don't have a show yet. You have maybe three songs that you'll keep, everything else you'll cut. I'm going to help you tell your story to the best of your capabilities. I'm going to tell you when it's boring, when it's stupid and I'm going to tell you when it's confusing." And I said, "Sean isn't that overly simplistic." And he said, "Absolutely not. If you get rid of all the boring, stupid and confusing parts, you'll have a great show!"
And so that's what we did. I would write new work and send it to him and he would tell me if it was boring, stupid or confusing. Then we went took the early version of The Lion to the Edinburgh Fringe Festival and played 28 nights. We rewrote it for the first 11 nights. From there St. James Theater in London came a knocking, then Manhattan Theater Club in New York.
Being a musician, I imagine singing and playing are second nature to you. This is your comfort zone. How did you navigate the challenges of being an actor in The Lion?
So long as I have a guitar in my hands, I'm comfortable doing anything. Sean and I realized very quickly that if I put the guitar down and talked to the audience without the guitar I became very awkward very quickly. So we made sure I always had a guitar in my hands.
Perfect solution! For two years from 2015 to 2017 you were performing The Lion around the country. Was there a particular performance or audience interaction that stood out for you?
After the show I would speak to people who would tell me that my story was the same as their story. And that they really connected to it. Then they would tell me [their] story. It seemed to have nothing to do with my story at all. Initially I was confused by this, until I realized that it's not that we all have the same story, but that we all feel the same way about whatever story we have. We feel loss, we feel shame, we feel guilt, we feel redemption. One of the things that was important for me to do, was to make good things out of bad things.
You are doing The Lion as a benefit for The Leukemia & Lymphoma Society. How has LLS been a part of your own healing process?
When I was ill, I was photographed once a week by photographer Riya Lerner. And the reason I was photographed once a week is because my doctor told me, "Ben, you're going to get better on the inside and look worse on the outside because of the chemotherapy." And I thought this was an interesting visual paradox. So Riya photographed me once a week and we put these photographs into a book called Between Two Spaces. We sold the book after every performance of The Lion and gave the proceeds to The Leukemia & Lymphoma Society. So I got to meet folks who worked for LLS, I got to contribute back to an organization that supports patient care and cancer research. Research that ultimately led to my lifesaving medicine.
This year The Leukemia & Lymphoma Society nominated me as Man of the Year. That's the reason I am performing The Lion one last time on April 30 at The Sheen Center. I'm giving every dollar made from ticket sales back to The Leukemia & Lymphoma Society for its cancer research.
What in your opinion is most needed to cure cancer in our lifetime?
The research being done with immunotherapy is making the greatest strides in curing cancer right now. Immunotherapy needs more research and it needs money. The Leukemia & Lymphoma Society among many other marvelous organizations is helping to lead this research. Money, research and awareness.
I think it would be almost impossible to find a person who doesn't know a friend, colleague or family member that has been affected by cancer. As a cancer survivor and in hindsight, was there a gift to be found in the experience of having cancer?
I don't think there is inherent good in bad experiences. I think we have to choose to make the good from it. I think that is a very hard thing to do and I celebrate all those who've done it with the courage, determination and grit that it requires. I do think that sharing experiences whether they be bad or good, beautiful or horrifying, allows us to connect with other people. Allows other people to see what we are going through; humanizes the specifics to a sense of universal.
As a songwriter I like writing songs that are taking bad things and turning them into good things. I also like writing about happiness. I got married last summer to an illustrator named Jemima. We met because of the animated music video I'd made for the song "The Lion." It won a prize at the British Animation Awards and Jemima worked for a TV show that won a prize at those same awards. We met one another at the party and I wrote a song for her called "Hello Jemima." That track [along with another new song "Silent Giants"] will be released on April 20th to the public digitally. And we decided to release a limited edition vinyl. Jemima designed the packaging; she did all the art work, so that's been really lovely. It's exciting to create work from a place of happiness. I think young songwriters place greater value in writing songs about sad things more than happy ones. I would gently disagree with them. It's important to write about all things.
What is your process for writing new material? Does the music or lyrics come first? Where do you find inspiration for your songwriting?
You mentioned - do lyrics come first or music? I do my best as a songwriter to use all available methods. While working on The Lion, I often had my guitar in my hand and a notebook on my desk. And I would tune my guitar to non-traditional alternate tunings. And what that did was – my hands couldn't go to the places they would otherwise go to, because suddenly all the interval relationships were different. So I had to relearn the guitar every time. It challenged me. I think inspiration is for amateurs. You can't count on it. I'm inspired by work. I put my bum in my chair every day and slog away with a copy of Roget's Thesaurus and a rhyme dictionary on my desk. It takes a long time. In order to write something that sounds like it is easy, the process for me is hard. I stress this for all young writers. There's no correlation between how is feels when your write something and how it feels to the listener when they hear that thing you wrote.
What are you writing now?
Right now I'm writing a new musical about Peter Mark Roget; the man who wrote the thesaurus. And I'm using a new technique for writing that I haven't used before. I'm doing a lot of writing to samples, where I take pieces of music that I really like, cut them up in different ways digitally, create loops from these samples and then write words to those loops. Or write a lyric independently of music, away from any instrument and then set that text against the sample loops. It's been fascinating for me to write away from instruments. A third thing that I really like to do is start on one instrument and then halfway thru the writing process transfer to another – start on baritone guitar, get the harmonic structure and then sit down at the piano and finish writing the song there; because it will push me in new and different directions. By the limitations of the tools I'm using I'm forced to be creative.
Anything else coming up?
So "Hello Jemima" will also have a new music video created by the same director/animator that did "The Lion," Peter Baynton. This is our 5th video collaboration. Oh, and Jemima and I are making a children's book together! Based on a song that I wrote, she is doing the pictures and Simon and Schuster is releasing it next year.