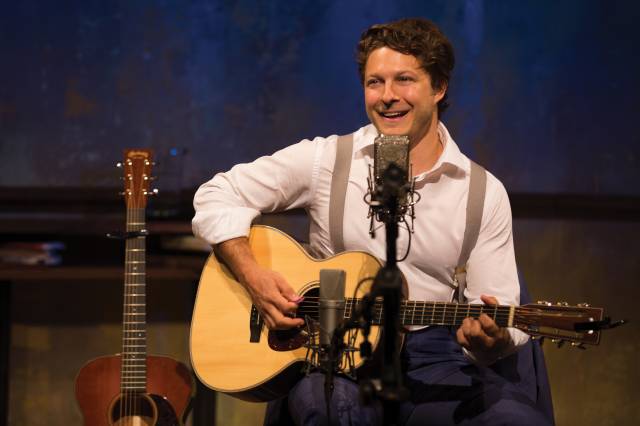 I am an avid collector of quotes about living an authentic life, and after seeing The Lion, written and performed by award winning singer/songwriter Benjamin Scheuer, I have a new one from the title song for my collection:
Inside my gentle paws I've got some devastating claws,
And I'm learning what it means to really roar.
The Lion, now playing at the Lynn Redgrave Theater at Culture Project, is a devastatingly enchanting autobiographical musical that takes us on Mr. Scheuer's journey growing up with parental judgment, his struggles to find himself as a man and a musician, and his battle with cancer. Told mainly through song, interspersed with bits of narrative, this 70 minute show inspires us to persevere, to travel through the dark to get to the light and reap the insights we will receive each step of the way.
Possessing an easy and charming stage presence, Mr. Scheuer is a modern day troubadour; it is fitting that The Lion is playing on Bleecker Street, home to venues like The Bitter End and the now defunct CBGB's, where an earlier wave of singer/songwriters like Bob Dylan and Patti Smith made deeply personal statements with their songs. Writing in folk, rock, and jazz styles and surrounded by a multitude of guitars, Mr. Scheuer's voice is smooth and expressive and he plays some devilishly good guitar licks.
The lovely song "Cookie Tin Banjo", which begins and ends the evening, shows the admiration of a little boy for his father and their joy of making music together; and the title song brings the show to its climactic roar. Yet it is in the middle of the show that the audience gets hit in the gut by tour de force songs of an almost operatic nature and we are given an uncannily accurate emotional picture of the devastating effects of both cancer and chemotherapy. Here, Mr. Scheuer sings with terrifying raw emotion as he grapples with pain and mortality. Director Sean Daniels orchestrates these emotional moments brilliantly, giving this scene clarity and balance. Weaving music, narrative, and staging together seamlessly, Mr. Daniels' direction is always in service to the story, letting it unfold with honest simplicity.
Great storytelling takes the audience beyond the given narrative, allowing the story to resonate and dwell in the heart. The Lion does just that.