Editor's Note: As we look back at 2014, we are highlighting some of the best shows, performances, theater-related products and experiences the year gave us; for we will surely be talking about them for many years to come.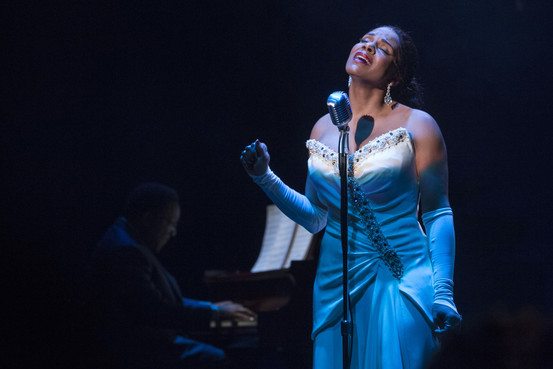 1) Lady Day at Emerson's Bar and Grill
There's theatre, and then there's Audra McDonald. The endlessly talented artist won a record-breaking sixth Tony Award for her performance as Billie Holiday in Lonny Price's intimate adaptation of Lanie Robertson's 1986 play. The space at Circle in the Square was turned into a smoky South Philly lounge, where Lady Day entertained the audience with her iconic songs, as well as sassy anecdotes about her life and loves. While it was delightful to hear Ms. McDonald emulate Holiday's unique vocals (how she did it remains one of the year's mysteries), the true wonders of the performance were in the details beyond the mimicry. McDonald, if nothing else, delivered the year's most empathetic performance, as she allowed Holiday's joys and sorrows wash upon her and not only inform her performance, but make her more vulnerable, to the point where we wondered how was she able to get up the next morning and do this all over again. Comparing it to possession would be to diminish the technical precision and effort involved in McDonald's art, but there was certainly something else at work here, something the likes of which we might never see onstage again.
The Broadway cult classic about conjoined twins Violet and Daisy Hilton came back for a much needed, but much too short, revival (it'll close the day after the original closed back in 1998, after only seven weeks of performances), which is ironically fitting for a show about "freaks" unable to find their place in the world. With a tweaked book, and dazzling direction by Bill Condon, who shifted the show's center away from the purely emotional and into the intellectual (more than ever, it's a biting satire of pop culture and hiding our "imperfections" to achieve fame and success). The score is as glorious as ever, with leading ladies Emily Padgett and Erin Davie bringing urgency and gravitas to their rendition of "I Will Never Leave You", which they sing as a heartbreaking promise and a sardonic threat.
When David Ives decided to adapt Jean-François Regnard's play about a young man (Dave Quay) waiting for his rich uncle (Paxton Whitehead) to die, so he can inherit his fortune and marry his sweetheart (Amelia Pedlow), few could have imagined it would make for the most hilarious comedy of the year. Completely written in rhymed verse and directed energetically by John Rando, this tale of mistaken identities, failed romances and greed delivered timeless lessons about love, family and reminded us that there is no point in owning anything if we're not willing to spread the bliss.
An adaptation of a little known play by Sophie Treadwell, the Roundabout's production of Machinal was one of those theater experiences that couldn't help but feel absolutely seminal. The simple story of a woman (a splendid Rebecca Hall) who is punished by society for desiring the things she was raised to abhor was turned by director Lyndsey Turner into a spectacle for the eyes and ears. The stunning set, designed by Es Devlin, took the action and set it inside a metallic-deco cube that morphed into everything from a seedy hotel, to a crowded subway, to a courtroom, conveying Treadwell's idea of what America was turning into before the Great Depression. With a brilliant use of lighting and sound design, Machinal also felt like watching a case be presented for the evolution of cinema from silent films into "talkies", all while asking us if even we today are ready for the fast movement of times.
A true labor of love, this adaptation of the "missing" Marx Brothers show (it was last seen in 1924!) turned out to be the most delightful, bold surprise at the 2014 New York International Fringe Festival. With a splendid troupe under the direction of Trav S.D. every actor, costume and prop came together to make for an experience that was pure pleasure. Like stepping into a time machine all the way to the 1920s, upon our return to the present, it made us wish we could pay for an instant Broadway transfer.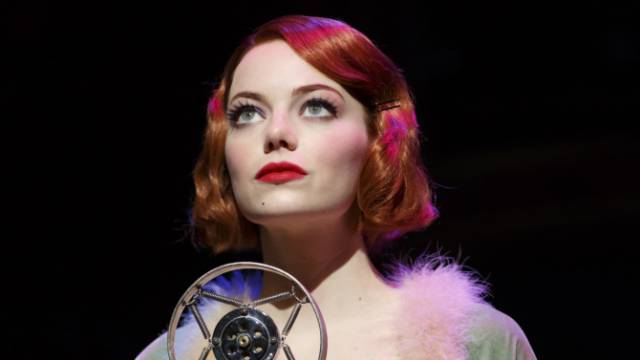 6) Cabaret - With Emma Stone as Sally Bowles

Many critics have pointed out that less than a revival, this is a continuation of the 1998 Broadway production which starred Alan Cumming as the Emcee and the late Natasha Richardson as Sally Bowles. While it's true, and very little, if any, has changed in this Sam Mendes/Rob Marshall revival, this particular iteration is essential in order to see a new stage star arrive in the shape of Emma Stone. Sensual and rebelliously charming where Michelle Williams was too controlled and rigid, Stone makes Sally Bowles feel like an actual young woman torn between trying to pick between what she needs and what she wants. Stone is magnetic! There is not a single moment where she's onstage, where you can take your eyes away from her, and while her singing is no Liza (whose is?) she goes through her numbers with energy and sassiness. By the time she reaches the title song, the way in which she has effortlessly stolen our hearts makes her earn that ovation she will receive.
Few shows have captured the hustle and bustle of living in New York City the way Yorkey-Kitt's If/Then does, the way in which the city more often than not determines the paths and fates of its inhabitants. The show centers on a single one of these cases. Urban planner Elizabeth (an electric Idina Menzel) arrives to NYC looking to find a brand new start to her life by finding a stable job and possibly dating her longtime friend (Anthony Rapp), but little does she know the city has exciting plans for her. This is where the show divides itself into two parallel storylines, each of which shows us what would happen to her if she went this way or the other. With a sweeping score and lyrics that pierce the heart, the show's true magic is upon realizing that the entire concept is contained in a single second, perhaps that instant while we wait for the subway doors to close on our way to somewhere we're not even keen on going.
The space at Ars Nova was deceptively welcoming, as the production designer transformed it into a warm, woody, 80s ski lodge, with a large, bubbling jacuzzi at its center. Of course, once you remember The Shining also happened in a snowy lodge in the 80s, you realize how truly perverse The Debate Society's Jacuzzi is. Written by Hannah Bos and Paul Thureen, who also star as a duplicitous duo who takes advantage of a deluded millionaire (Peter Friedman) and his aimless son (Chris Lowell), the show was a creepy allegory about the blindness of the 1% when it came to the needs of others. It was also scarily prescient, given the social uprisings that would erupt all over the country soon after it opened.
Leave it to the ingenious folks at Classic Stage Company to turn a Brechtian farce into one of the year's most unforgettable musicals. With a haunting score and lyrics by Duncan Sheik, and a splendid cast under the direction of Brian Kulick, A Man's A Man was the rare existential show that seemed both general and specific. Set in British Colonial India, its themes about losing your identity in the service of fitting in was at times almost too hard to watch, with elephant gods, jungles made out of paper and metal barrels, and dozens of laughs per line, it often mastered the art of creating controlled chaos, and boy was it a pleasure to get lost in it.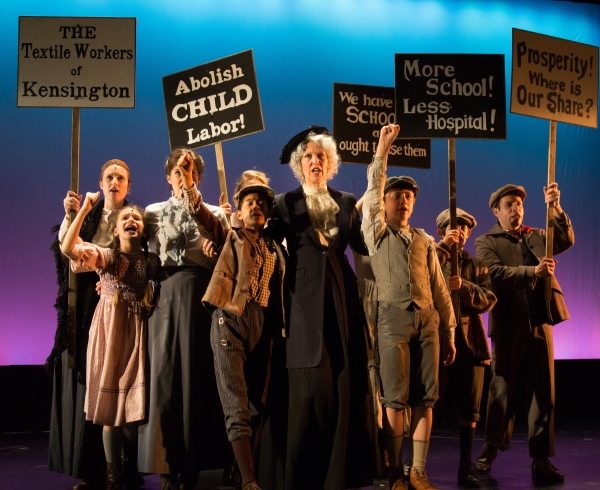 10) Mother Jones and the Children's Crusade
Like Machinal, Mother Jones and the Children's Crusade took a woman's story and set it against the backdrop of a heavily industrialized world. While the fictitious heroine of Machinal succumbs to the turning wheels of change, the leading lady in Mother Jones (Lynne Wintersteller), inspired by true life activist Mary Harry Jones, keeps fighting to achieve social change. With an inventive production design and rousing dance numbers, it was the one show at the 2014 New York Musical Theatre Festival that raised hell and sent audiences home feeling like they could conquer the world!