BroadwayCon 2018: The Cast of 'The Band's Visit' on Diversity, Language, and Loneliness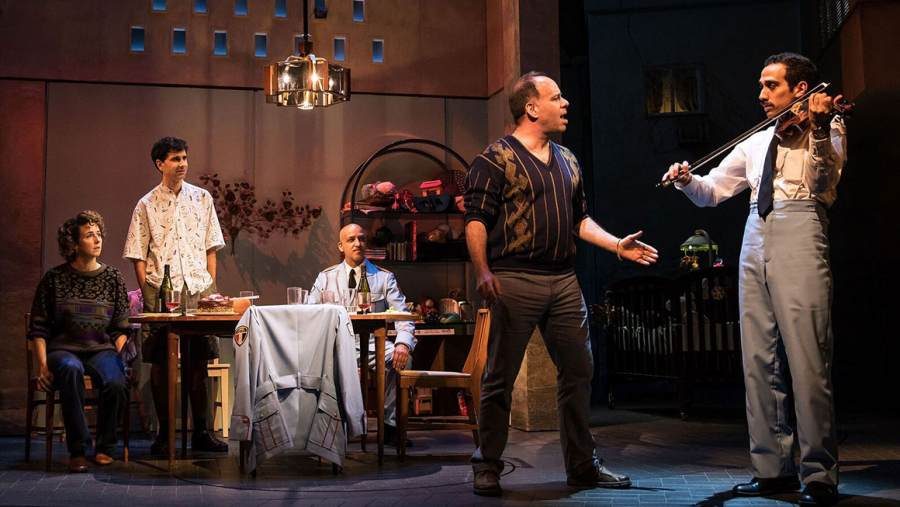 At BroadwayCon 2018, we got to hear from the cast of one of the most anticipated shows on Broadway this season: The Band's Visit. Cast members Jonathan Raviv, Etai Benson, George Abud, and Sharone Sayegh discussed the show's beauty, diversity, and authenticity. Here's a recap from each of them:
Jonathan Raviv
Jonathan Raviv plays Sammy in The Band's Visit. But you may not know that he also translated some lines into Hebrew for the show. Originally, the musical was going to be all in English, with only accents to suggest different languages. But the creative team felt the show lost something without the other languages, so they went back and added lines in Hebrew and Arabic as well. For the Broadway run, they decided they wanted even more Hebrew, so Jonathan Raviv translated some of the play's lines into Hebrew. For Raviv, this lends the show authenticity. "These are real conversations," he said.
Etai Benson
Speaking of Hebrew, Etai Benson (Papi) said he's started signing his name in Hebrew at the stage door. If there are any Jewish or Israeli people at the stage door, they always get excited when he signs his name this way. It's a conversation starter, he said, and a way to connect - which is ultimately what the musical is about. Benson also appreciates the authenticity of the show's different languages, especially since the speech uses regional dialects. For a while, Benson and the other actors were ad libbing in Hebrew for each performance. But they eventually had to nail the lines down to make it easier for the understudies.
George Abud
George Abud (Camal) enjoys the musical's inclusive atmosphere. He encourages young people to reach out to the cast of The Band's Visit and other shows, and to look for mentors in actors who share their ethnicity or origin. He and the other cast members love talking to young people. On a related note, Abud hopes the show's diversity - in character, language, and cast - will start a trend that makes more people feel welcome at the theatre. "The ideal is that anyone can play any part," he said. Hopefully in the future, he went on, we can all be on stage. We'll be able to say, "this is a story about Americans. And they'll look like every freaking one of you."
Sharone Sayegh
Sharone Sayegh (Anna) says she often hears from aspiring young Middle Eastern actors, who tell her how cool it is to see an Israeli/Iraqi actor onstage. When they say she inspires them, it brings tears to her eyes. Sayegh also speaks Hebrew in the play, and she gets a kick out of hearing a few people in the audience - Hebrew speakers - laugh at appropriate times. One example is a line she mutters in Hebrew, which in English translates to "what a weirdo." If she hears anyone laugh at that line, she knows someone in the audience speaks Hebrew.
Perhaps both the actors' remarks and the musical are best summed up in the song "Answer Me," in which The Band's Visit composer David Yazbek tries to convey what it would sound like if borders disappeared. It's an expression of collective loneliness. And according to the cast, it's like being inside a poem.