Cheyenne Jackson on Acting: " It's all about telling stories and finding truth in what you're saying"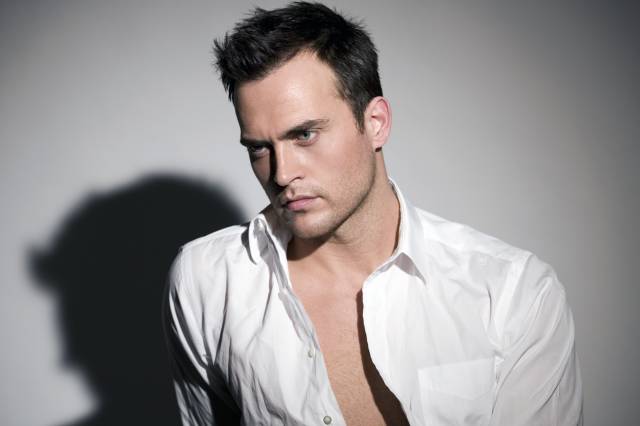 On June 12th, Xanadu star Cheyenne Jackson will present a brand new show at The Town Hall where he will be joined by special guest star, Tony winner, Laura Benanti. Last seen on Broadway in The Performers, Jackson has been busy off-stage doing work in television, film and promoting his 2013 record I'm Blue, Skies. In 2014 he also appeared as Tony in the San Francisco Orchestra's majestic recording of West Side Story. Simply put, the man does it all! Next up we'll be seeing him in American Horror Story: Hotel and in the meantime we'll cross our fingers so he comes back to the New York stage sooner rather than later.
Cheyenne was kind enough to fit us into his busy schedule to answer to a few questions about his show at The Town Hall, some of his favorite AHS moments and how he tortured a newly minted Oscar winner on TV.
What have you prepared for your headlining show at The Town Hall? Will it be a combination of music from your albums, new material or an all-Broadway setlist?
Since this is my last big show in NYC for a while, as I'm going to be shooting American Horror Story for next 6 months, it's all three: some album tunes, some new material, and some oldies but goodies.
Since you announced Laura Benanti will join you onstage, are we allowed to dream of you two doing "Suspended in Time" from Xanadu?    
Ooh, good idea!  Hmmm...
You were one of the porters in "Life is Like a Train" at the Actors Fund of America benefit concert of On the Twentieth Century ten years ago. Andy Karl and the other Altar Boyz were there as well. Have you visited Andy at the revival yet?
Nope, but I have tickets to see him and Kristin in it when I'm in town for The Town Hall concert.
The last few times you've been onstage you've done straight plays as opposed to musicals. How have they changed/affected your acting? Are you looking forward to doing more plays/taking a break from musicals?
I don't feel like doing plays has affected my acting.  It's all the same; musicals, plays, movies, TV. It's all about telling stories and finding truth in what you're saying. I love it all.
You're in the new American Horror Story and I won't even try to ask anything about the plot, but can you talk about what's been your favorite season so far? Favorite character(s)?
Ryan Murphy is genius.  I've loved different things about each season; Jessica Lange in Season 1 haunted my soul,  and her Elsa Mars was wildly bold.  Kathy Bates is stunning,  I've been a Kathy Bates super fan since Dolores Claiborne.  Sarah Paulson in season 2 sticks in my head.
You were not very nice to Patty Arquette in CSI: Cyber. Was it fun to play a villain? Did you and Patty talk about female empowerment during breaks?
Ha!  Yes, it's great fun to play a villain.  Patty and I bonded on set, she is cool as shit. We talked about a lot of things, not sure about female empowerment, though.
Speaking of feminist role models, are you looking forward to the new Wonder Woman movie?
Don't know a lot about it, but I'll definitely see it.
I was really touched by your performance in Love is Strange. How did you come into that role?
Thank you. I was asked by Ira Sachs to be a part of it. Didn't audition, which doesn't usually happen. It was such a beautiful script and cast, a highlight for me.
Your Tony in the San Francisco Symphony's recording of West Side Story makes me cry every single time. Which is a good thing, because Tony doesn't ever get as much attention as Maria, usually. What was it like to record the part the way it was originally envisioned by Laurents/Sondheim/Bernstein?
Ah thanks.  Yeah, Tony is kind of a tough one.  You come out at the top of show, yearning and pining, and it could be perceived as one note, or weak....because there isn't much vacillating or decision making involved.  He simply decides what he wants and just works for it throughout act one...so finding that energy and that excitement and danger was great fun.  Singing that role with Michael Tilson Thomas and the San Francisco Symphony was a career highlight for sure.  Thrilling, and daunting, and richly satisfying, and to receive a Grammy nomination for it was a fantastic cherry on top.
Any dream Sondheim parts you're looking forward to play?
Oh God.  So many.  West Side Story aside, I've literally never done a Sondheim show. Would love it!
Don't miss Cheyenne Jackson at The Town Hall on June 12th. For tickets and more click here.