Interview: Betsy Morgan on the Challenges of Playing Two Roles in the Immersive New Production of "Sweeney Todd"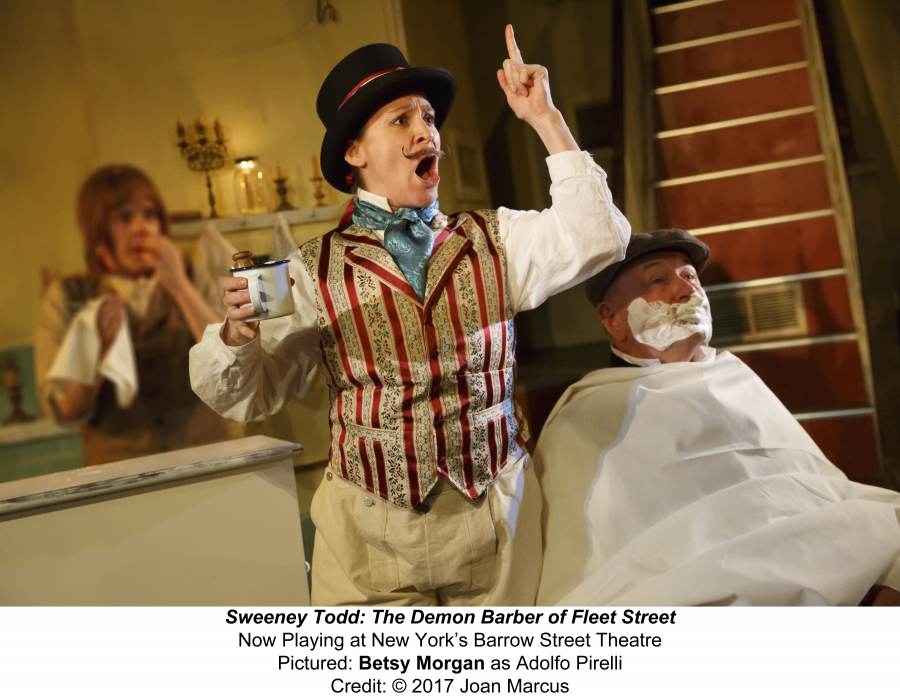 Sweeney Todd, arguably one of the most loved shows in the musical theater canon, has returned to New York this season in a completely revamped, immersive production, helmed by UK based Tooting Arts Club and directed by Bill Buckhurst. We got the chance to chat about the show with Betsy Morgan, who portrays the roles of Beggar Woman and Pirelli in this exciting new production. Check out our interview below:
How did you get involved with this project? I know that a lot of the performers came over from the original production in the U.K.
Betsy Morgan: Yeah they brought over four of the original cast members from England, and then there were obviously the four other roles. When the project came up, I didn't know what they were doing with doubling the casting of Pirelli and The Beggar Woman, so initially when I heard about the show I didn't think there was a role for me. Then when I heard about how they were making those into one part, just vocally it seemed like such a good fit since those two characters are so different vocally and that kind of fits into my wheelhouse, being able to jump all over the place.
Having the same person play both The Beggar Woman and Pirelli is a unique idea, as they are such different characters. That's not how they usually pair the roles, right?
Betsy Morgan: No, not at all. When you watch the show, you see why they don't do that, because [both characters] are in that first act. I am all over the place. I mean you blink and I'm in a different costume. I've never had an official conversation with them about it but I know that the idea with the production is to keep it as small as possible. So like with Brad Oscar, he does play both The Beadle and Mr. Fogg. I'm assuming they looked at every opportunity where they could double roles, and because The Beggar Woman and Pirelli are never onstage at the same time, that seemed like a natural way to go. Now again, that's what I think they thought. I'm not sure exactly what they thought!
This show is so important to so many people, and this might be the first immersive version of it.
Betsy Morgan: I don't know that I can think of any others, and you know, I've got to be honest. I've never seen the show before live. So this is my first experience with it, not only performing it but also being with it live. And actually, we don't get a ton of [immersive musical theater] at all,  so this is an exciting season with both Sweeney Todd and [Natasha, Pierre & the Great Comet of 1812].
Is this your first experience doing immersive theater?
Betsy Morgan: You know, I think the short answer is yes. Just previous to this, I was working in the round at Arena Stage, which is by no means the same thing, but the audience is so close, and you enter and exit through the audience. It was a good kind of stepping stone. I'm trying to think back, to if I've ever done anything immersive, and nothing comes to mind. I mean, especially like this. This is so unique.
Absolutely, and you've worked in a lot of really different environments, like at Lincoln Center...
Betsy Morgan: Right! I was in King and I, which is almost as all-surrounding as Arena Stage, and then I got to go to Arena where I was completely surrounded, and then from Arena to immersive. So I feel like I got to take a bunch of little stepping stones.
What are the challenges of this show? Especially because in the show the actors are really in the audience's faces, literally!
Betsy Morgan: I think the whole thing is fun. I wouldn't call it a challenge necessarily. I mean, yes, it is a challenge. But I think that part of what makes it so theatrical and exciting is that you don't know what people are going to do. It's been really cool developing ways to encourage the audience to come with us, even when they don't want to sometimes, or even when they're so onboard that it's like, "Okay, wait. I need to figure out how to do this moment, and also I have this person patting me on the back at the same time." It's great because people are getting a new experience and they're getting to kind of deal with theater on a different level. I mean, they have to deal with it. It's not going away. Because we are there and there's nowhere else to be. It's not like you can jump back up onstage.
Have you had any weird or funny audience reactions?
Betsy Morgan: Every single night is different, and they're all cool and funny. We don't do something and then catch reactions out of the corner of our eye; you're looking at people in the eye. So you really get to see it every night. Sometimes people feel uncomfortable and that is something I like to help with, to ease their fear. There's a moment in the show when I, as The Beggar Woman, sing to one person for an extended period of time. I usually pick a chair in a pretty specific area. Last night the girl sitting in that chair was a young girl, and The Beggar Woman is a little frightening. So I saw this young girl, and I was like, "Okay, well tonight, this moment is going to be full of a lot more care and tenderness," because I didn't want her to be scared, and that worked for the moment. So we can make those snap decisions.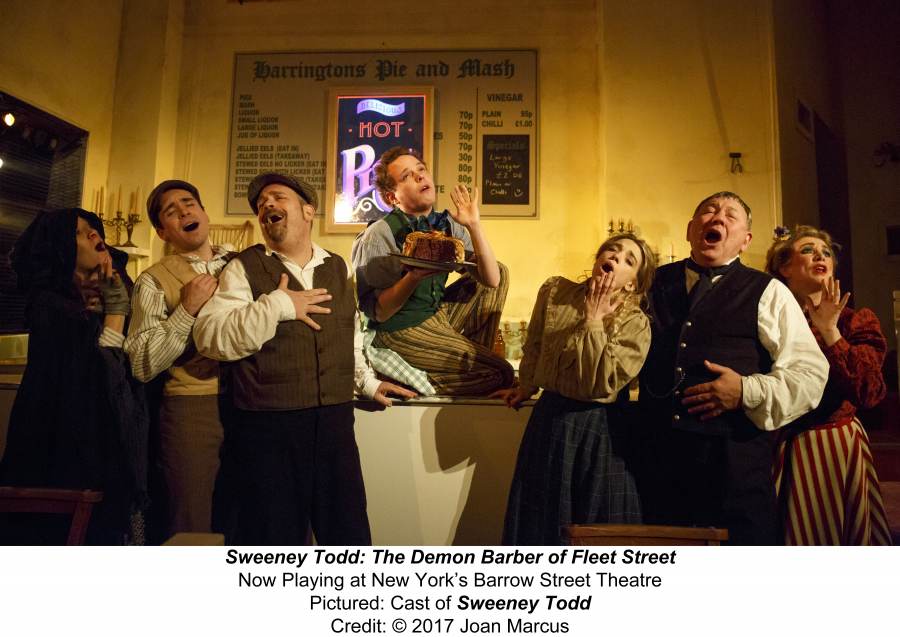 The Beggar Woman is an interesting role. How do you embrace and portray this character?
Betsy Morgan: The Beggar Woman was so hard for me, because I approach everything from an over-thought place, and with The Beggar Woman, she doesn't have that capacity. She can't think linearly, so she doesn't overthink anything. She just does, and that is so not the way my brain works. She was so hard for me because I wanted to analyze her, and I wanted to make decisions about this and that in a moment. And I just can't do that with this character. I just have to go. The key for me with her is not thinking ahead, ever. It's always to keep her in that exact moment. And sometimes she is thinking clearly and she says something that makes sense, and sometimes she doesn't and she doesn't know that. So in her brain it always has to make sense and be important. And I follow that through so at the end, hopefully it kind of feels just that much more devastating because she didn't know.
In your portrayal of the character how connected is The Beggar Woman to the person she once was?
Betsy Morgan: That's such a good question. So on the surface, she's not really connected at all. We don't want to foreshadow that at all, because I don't think she knows. I think that she has flashes of understanding and flashes of remembrance, but not in any way that is grounded in reality. I don't make a clear connection at all, and I follow the text so clearly, so when she says, "Hey, don't I know you mister?" I'm not looking into that at all. I'm not digging into that, and thinking, "well she's referring to A, B, and C." I'm just taking it exactly as it is on the page, which is "Hey, don't I know you?"  I try to keep her as in the moment as possible. The truth is that by the end, hopefully all of those things will add up to something for somebody who's watching, even though it doesn't necessarily for her.
Pirelli is such a different character. I can imagine that other than that the physical challenges of changing costumes in that space, is it also difficult to switch gears and be this character who is completely different?
Betsy Morgan: In the beginning it was really difficult, because we're used to going into a performance and having this through-line from beginning to end, and you can't really do that in this show. You can try, but it's difficult when you're jumping back and forth so much. So I kind of had to think of every single time each of those characters came on stage as its own play. This especially works well for The Beggar Woman because she probably doesn't remember the last time she was onstage. So every individual moment has its own little play within itself that has a purpose and a reason. With Pirelli it's those two scenes, and they're close enough that I can kind of bridge them so that it makes sense for everybody. But yeah, I had to kind of rework the idea of what it means to play a person from beginning, middle, to end,  because we're jumping back and forth so much.
You were saying earlier that this pairing of roles is kind of perfect for you, and in looking at your resume, you've played such a versatile bunch of roles. Can you elaborate on what makes this track so ideal for you as an actress?
Betsy Morgan:  Well I think that is such a good question. I love a challenge, and because I've never really been pinpointed into one particular kind of part, I think being able to go into one show and do two completely different things is exciting for me. I got to do something similar in First Daughter's Suite at The Public last year, both on a much bigger scale and on a much smaller scale. I was playing the same part from beginning to end, but then I had to switch so quickly, even quicker than some of these changes I do in Sweeney Todd, into a completely different part from beginning to end. So I had a little experience coming into this show with being able to jump back and forth. So when this popped up it was like, oh, I know how to do this. And also with the high high soprano stuff, it just felt like such a great challenge to do The Beggar Woman, which sits in a very resonant, forward placement.
It must be really challenging vocally. Are you on vocal rest all the time?
Betsy Morgan: It's so interesting, you never know exactly how a show is going to affect you vocally. When I was doing King and I at the Lincoln Center, that show vocally was so hard, because of the talking, the yelling, and the singing. It was so vocally demanding. And Sweeney Todd,  even though it's probably the most versatile role I've ever had and my back range is three octaves, I've had my moments where I've just needed to not talk for the day, but you take it little bit by little bit and you learn where you can preserve and where you can't. I also try to take really good care of myself when I'm doing shows like this that are so physically and vocally demanding.
You have a long run. As of right now you're going through late December, right?
Betsy Morgan:  As of right now they're selling tickets through December 31st, and as long as people keep coming to see the show, I think they're going to keep selling tickets. For me, though, I'm not sure if you can tell us watching the show, but I'm seven and a half months pregnant. So I actually will be leaving with the British company, and like, going to have a baby really quickly.
Wow! I had no idea! Well, to finish off our interview, this is really an amazing production of Sweeney Todd. If you could pinpoint one or two elements, other than the immersive factor, that make this production a unique and special part of the theater season, what would they be?
Betsy Morgan: Well I think, first of all Sondheim is such a thing this season. There's so much Sondheim being done incredibly well across the board.   I'm partial, my husband's conducting Sunday in the Park with George, so we have a Sondheim household right now. I also think that this particular production of Sweeney Todd,  when you read what Sondheim has written his original idea of Sweeney Todd, about the movie scoring, or how he wanted it to feel so dramatic, I think this immersive element almost makes you feel like you're inside the real story. It does feel almost like you're inside a movie. And because it's that real, it makes it that much more absurd. So it's so funny, and then also so heartbreaking at the end.