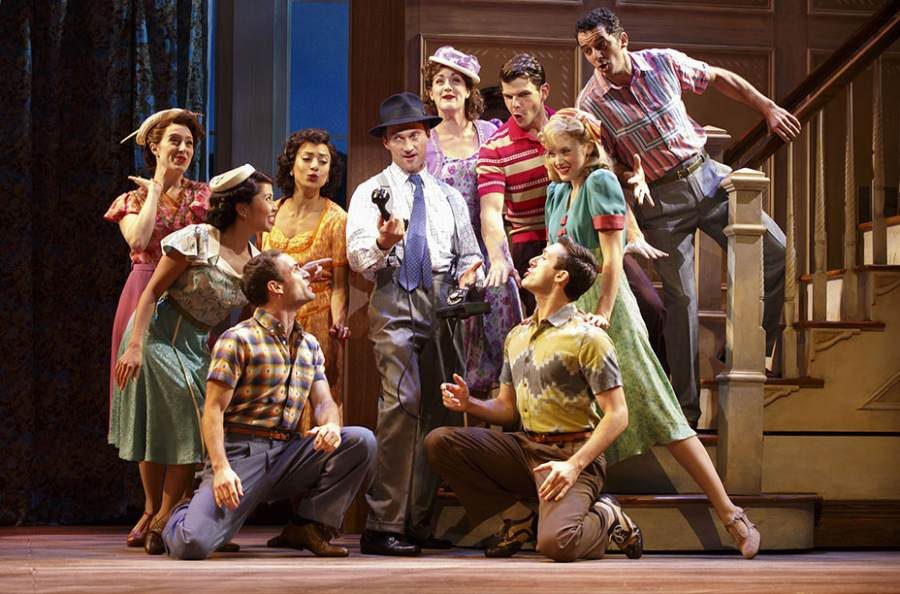 With a swoon-worthy voice, and the comedic chops to go with it, Bryce Pinkham has become the ultimate Broadway leading man. In A Gentleman's Guide to Love and Murder he played lovable social climber Monty Navarro, who realizes murder might help him achieve his romantic dreams, in the revival of The Heidi Chronicles he breathed new life into a character made famous in a Tony-winning performance by Boyd Gaines, and in Holiday Inn (now available as a cast recording), he takes on a part originated by none other than Bing Crosby. Pinkham seems ready to take on any role, as long as it's unlike anything he's played before. We spoke to him about taking on Irving Berlin's music, experimenting with his voice, and why he loves outdoors theaters.
Holiday Inn was on Broadway, it was also streamed on BroadwayHD and now we have a cast recording. Have you had a chance to sit with the last two?
I've seen clips of the stream, I have a difficulty watching myself perform after the fact, just because the stream was two days before we closed, so I didn't wanna watch it and figure out a bunch of things I'd done differently. Maybe I'll watch it Christmas time this year.
This isn't the first cast recording you've done, but it's the first time you're recording songs Bing Crosby and others made famous. What's that like?
A little intimidating. These cast recordings are done in one day, recording artists sometimes get many takes, and can go back and redo things, but for us it's a whole day of performance in a venue we're not used to, so it's a challenge. I was definitely looking forward to it, but I was trying to think too much about the fact I'd sing "Blue Skies" and "White Christmas." I knew we were doing our versions of it, and thought about it like you would when you give a performance on camera. You do your work and then it goes into an editor's hands, and then you don't see it for another six months. Ultimately we had a great day, singing along with an enhanced orchestra was special, we had more strings we didn't have in the theater cause there was no space in the pit.
Are you looking forward to your mom pulling out your "White Christmas" during the holidays?
(Laughs) I don't know! I'm sure this record will be well worn out on my mom's playlist. I think the ultimate compliment would be to have our version pop up on a Pandora playlist during the holidays, that'd be pretty neat.
Listening to the cast recording I heard you do things with your voice that I hadn't heard in things like Gentleman's Guide for instance. What opportunities did the score give you to try out new things vocally?

One of the reasons I wanted to do this show was to sing this music in a different style than Gentleman's Guide which was almost operetta, and Ghost, although I'm not in that cast recording. What excites me about Irving Berlin and Golden Age movie musicals is they have a very distinct sound, I was trying to pay homage to the Bing Crosby/Gene Kelly sound. It gave me the opportunity to grow my voice and train it for that croony sound you hear in things like "Steppin' Out with My Baby," my character Jim goes from being a showman to wanting to live a simple life. I tried to do something similar with his vocals, at the beginning of the show when he's performing he sounds different than when he's in simpler, more intimate moments. He uses less vibrato, less ping, he sings with more ease in "Be Careful with My Heart," it's Jim easing away from showbusiness. At the end of the day I just loved singing the music, Berlin is so hummable, so singable. I like people telling me they haven't heard me sing like that, it means I'm expanding the notion of what's possible.
Are there any Irving Berlin songs you'd love to have sung that weren't in the show?
"They Say It's Wonderful"!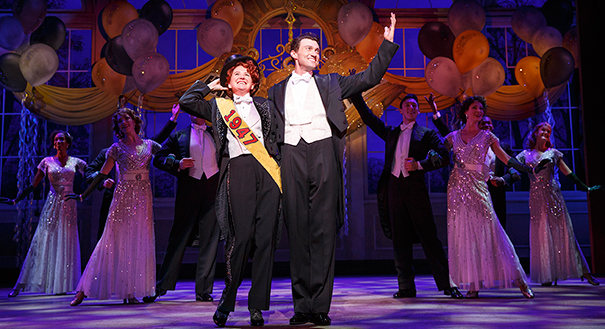 Jim wasn't a traditional Broadway hero because he has to juggle three storylines and characters who are all vying for his attention. Did you have to develop different chemistry with each of the actors?

I think Jim's caught between his friendship with Corbin Bleu's character, his fiancee played by Megan Sikora, and then ultimately with Lora Lee Gayer's character. Everything stems from the change he wants, I love "The Little Things in Life" because it speaks about what I started going through when I did the show, I started reassessing what's important, at the time I wondered if I wanted to live in the city, what was most important for me for the next 30 years. Each of those characters also forces Jim to ask the questions in a different way. Sometimes we find ourselves in relationships that don't share our visions of life, I love the moment in the show when Jim says "this was our dream" and Lila says "your dream, Jim." I like they added that in our book to reinforce the agency of the female characters. When you think about it, we're telling a simple story, as an actor you try to give your stories stakes and importance.
If someone gave you a blank check and told you to come up with your own Holiday Inn what would it look like?
It would be a couple of things. The proposal is a bit ridiculous, having that many performers come from NYC on a Sunday night, and they learn material for a Monday show, there's also enough bedrooms for all of them to stay, plus the locals, it's a bit far-fetched. If I were to do it, I'd make the theater an outdoor venue everyone could come to, and it would have vendors who would provide meals. I'd house the actors for the summer in an old Victorian style farmhouse and everybody would live there and pull from the prop storage and costumes and throw everything together based on the season's events. That was what Irving Berlin was doing in a way, I'd also invite a composer to come write the music for that week, and have a director come up. I love the idea of a summer outdoor theater the public can attend for free.
It kinda sounds like the O'Neill Theater Center.
Yeah! I grew up going to the California Shakespeare Festival and the setting alone was worth the trip, not to mention the productions. If you gave me a blank check, I'd do that for the rest of my life probably.
I'd love to know what's in your Sondheim bucket list?
That's a big question. One of my favorite songs was one that was cut from Company, which served as a prelude to "Being Alive" called "Multitudes of Amys", about when the guy realizes every woman he runs into reminds him of one. That's when he gets it, but they cut the song. I'd say Bobby is a dream role, I'd love to do Pseudolus in Funny Thing, but I'm not sure I'll ever do based on the way he's cast, it's a such great role and an opportunity for mischief making. I played Tony in West Side Story already, but is Bobby my final answer? I'm not sure now.
After watching you on Mercy Street I think you'd make a great Pirelli in Sweeney as well. You're so weird in that show!
(Laughs) McBurney is definitely a little strange. There's also got to be a role in Assassins, I also wanted to learn how to play the cello and play Henrik in A Little Night Music but I'm not sure there's any cello playing in my immediate future, so let's stick to Company.
The Original Cast Recording of Holiday Inn is now available in stores and digitally. For more information click here.