Interview: Jade Anouka on Playing Ariel in Donmar Warehouse's All-Female "Tempest"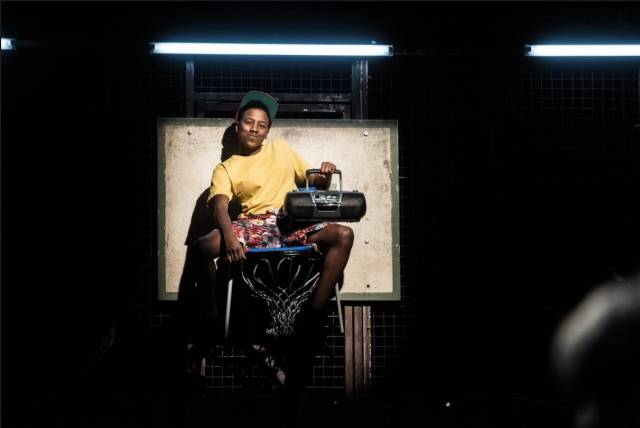 Up-and-coming English actress Jade Anouka, who plays Ariel in the Donmar Warehouse's acclaimed production of The Tempest at St. Ann's Warehouse, graciously allowed me to chat with her on her day off. The Tempest is the finale of Phyllida Lloyd's magnificent all-female Shakespeare Trilogy set in a prison; the previous plays included Julius Caesar and Henry IV, and I had the privilege of seeing Ms. Anouka as the fierce passionate Hotspur last year. Speaking in her distinctive voice, punctuated by a rich throaty laugh, Ms. Anouka shared some behind the scene glimpses working with the phenomenal Harriet Walter, her creative process for Ariel and her love for New York.
Would you share a little bit about what drew you to the theater, where you trained as an actor and if there was any other training you added to play the role of Ariel?
Acting was something I always enjoyed.  As a kid I'd put on little shows for my family with my cousins, but actually I was a bit shy when I was younger.  Everyone in England pretty much, at the end of primary school, we call it year six and we have a year six play, so before you go into secondary school or high school you do a play.  You have to write down what you want to be in it, an actor, a singer, do you want to have lines or not, and basically I was like, "I would like to be in it, but I don't want to have too many lines."  I wanted to do it, but I was a bit scared about it.  And when we got to the play, I ended up being chorus member number five and I remember knowing every single person's lines and being so desperate to be up on stage.  From then on every kind of school play that was coming up, I signed up for and I joined a local drama club, a Saturday school.  But I never really thought it was something you could do as a profession.  But then eventually, as I did it more and more and met more people that did it, they were like "you need to go to drama school" - that's kind of the next step if you do want to do this as a career.  So I went to a place called the Guildford School of Acting just outside of London and I did a three-year degree course there.  That's where I got my main training.  I also did National Youth Theater, which is quite a popular theater company for young people that you can do outside of training.  It's a very good kind of way to meet young people who want to be actors.  That's how I got into theater.
For the particular world that Ariel is in, we did some particular movement training.  Trying to figure out how we would show the magic, and what would it be within this prison setting.  How would we show the history of Ariel being trapped in a tree; we thought movement would be a very good way to show that.  So I had some sessions with our movement director Ann Yee and also this amazing dancer Kaner Flex, he's brilliant, he's from London he works a lot with FKA twigs.  He's lovely.  He came in and just helped me with my movement, which really helped I think for the show.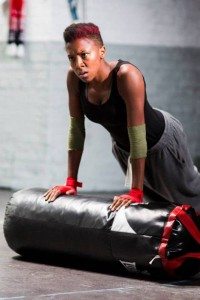 What attracted you to this project (the entire trilogy) in the first place?
It all started with one audition back in early 2012.  My agent called me and said I got an auditon for Donmar Warehouse.  Donmar Warehouse is renowned for doing wonderful plays and it had just been taken over by Josie Rourke (Artistic Director) and Kate Pakenham (Executive Producer), two wonderful women who are leading one of the major theaters in central London, and it was going to be directed by Phyllida Lloyd!  So I was like, "This sounds like an amazing project!"  I didn't even know it was all female or set in a prison, I just knew it was going to be a Shakespeare production directed by a wonderful director and at a theater that is just brilliant, so as an actor I was like, that's great!  I got there at the audition and Phyllida directs you in the audition and she told me a bit more about the concept of the play.  And that was just for Julius Caesar.  I was actually auditioning then for a female role.  I had no idea how this "present" was going to be, what an amazing part of my life it was going to take up; it was brilliant!  It was just one play and then one play led to two led to three and then the Trilogy last year was one of those dream gigs.  I got to play Marc Anthony, Hotspur and Ariel. Sometimes all in one day….in London, in a major theater!   One of those things you….it's a once in a life time… (Laughs)  Well hopefully not, but it is one of those ones that you go, "that's special" and then on top of all of that, this is a project that I feel very passionate about, the kind of ethos of it as well.
In one sentence, why Shakespeare?  What is it about him?
One sentence, okay that's hard but it's the story.  The stories are great, but then also it's the words.  The stories hold.  And as storytellers it's up to us as the performers and the creatives to work it out, how do we want to tell it.
How do you prepare for each show?  Are there any warm-ups or rituals that you do for yourself or that the entire cast does together?
There's physical warm-ups especially because of the movement aspects in the show, so I do warm up my body and also my voice because of the singing.  We go through all the songs before the show, we do a little run through of the songs and the music.  That's my warm up.  And we do have rituals.  One of the great things is that Harriet Walter, she does a kind of chain gang song with us before every show.  I don't know how she does it, as well as playing these amazing roles brilliantly, but she makes up a song before every show and it's kind of a call and response and we all do it together just before we come out.  It's a way of coming together before the show.
So each time Harriet improvises this?  It's not a set song?
Sometimes it's improvised; sometimes she's thought it up earlier during the day.  It often relates very much to the events of the day.  You know, if something's happened within the company, it might be about a member of the company or events in the news.  It can be anything really.  It's kind of brilliant.  And they're [the songs] nearly always actually hilarious.  (Laughs)  She's great!
What helped you create your version of Ariel?  In the beginning, did you find something particular, some key in the door to this role as it is coming through you?  Having seen your Hotspur, I think I can safely say, your interpretation is not my grandmother's Ariel!
(Laughs)  I think with all of these plays, actually the fact that we all play prisoners, we all have prison characters; that is the way in.  We have a prison character that is held throughout the Trilogy, so all three plays.  My prison character's name is Sade.  Basically it helps to try and find the character of Ariel though her.  She [Sade] is playing Ariel, she's playing Hotspur, she's playing Marc Anthony.  And that helps, especially with Ariel I've found.  Thinking of my prison character, of who she was and how she'd want to tell it.  So that's how I dealt with it and then rap and poetry came out and then dance and movement came out.  In the same way that with Hotspur, I found that Sade's character had a lot of energy and lot of maybe pent up anger and aggression and she would in the prison release that through exercise.  So that's how we developed that Hotspur would be boxing and working out throughout Henry IV.  In a similar way I thought that growing up in the place that we placed Sade in, and also where I grew up, in Southeast London, what is the world that she might have had before being inside.  The idea of song and her heritage, the idea of song and rap music really helped.  And dance as well.  I used all that for Ariel.
Could you speak briefly on gender and racial parity in the theater?
I think theater in England is leaps and bound ahead of the screen world, but there's always more to go, you know, there's always further to go.  But there's projects like Phyllida's Trilogy.   It is not only an all-female cast, but we've got an amazing array of ethnicities, ages and sizes and then Phyllida has in some ways proven that all of that doesn't matter.  If you're actors and you can speak the words well and tell the story, you can do a Shakespeare play, a 400-year-old play.  We can tell that with women, who originally weren't even allowed on the stage, we can tell that with black women and we can tell that with women who are older and we can tell that with women that are all different sizes, all different kinds of backgrounds.  If nothing else, the work speaks for itself. It works.  We can all tell the story.  What else matters?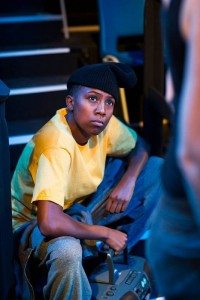 If you're not acting, what else occupies your time?
I write poetry.  I actually did a performance here at the Nuyorican Poets Café, recently.  I love writing poetry.  It helps me in the down times when, you're not working and also I find it quite enjoyable.  It's a hobby, it's not something that I have to force myself to do.  Actually last year I published my first poetry book, Eggs on Toast.  It's amazing to have my words written down and other people reading it.  So I've got this book out there which kind of feels very proper but also very lovely.  And there are videos of my poems including two videos shot with Michael Dickes of Awkword Paper Cut.  I love the poetry scene in New York!
That's a great segue into my next question.  What three things do you love about New York?
You say three things?  (Laughs)  I love so much about New York!  Okay, I do love the poetry scene.  I love the music, the jazz….I'm a big, big jazz fan.   And the people!  I've had the best conversations here with people.
What's up next for you?
It's hard isn't it?  After doing an amazing trilogy of roles for so long, what is next? So I think for now I'm taking a little break from theater.  We'll see.  If an amazing role comes up, I'm not going to turn it down.  (Laughs) But I'm going to see about a bit more screen work.  I've done Chewing Gum, a British show that's just come on Netflix here in America, so a bit more of that stuff would be great!