Interview: Longest–Running Native Theater Company is Celebrated with Performances at LaMaMa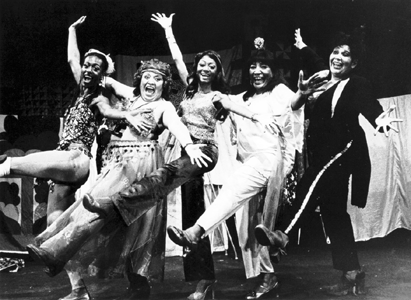 Founded in 1976, Spiderwoman Theater is the longest-running Native theatre company, with the mission to present exceptional theatre performance and to offer theater training and education rooted in an urban Indigenous performance practice. The company's strong community bonds is reflected in its founding members, which includes Muriel Miguel and both of her sisters, Lisa Mayo and Gloria Miguel, in its wide group of diverse women.
Spiderwoman Theater is marking their first four decades of leadership for Native artists in storytelling, dance, theatre and music with a one-night celebration, set for September 19th at La MaMa. The night includes performances from Obie Award-winners Talking Band and Split Britches' Lois Weaver. Native singers such as Kevin Tarrant and the SilverCloud Singers, La MaMa Safe Harbors Indigenous Collective director Murielle Borst-Tarrant, and singer Soni Moreno will celebrate the women with drumming and song. Acclaimed First Nations electronic group A Tribe Called Red is featured in the after-party capping off the night.
Director Muriel Miguel took a few moments from this extremely busy week to share some of her insights as the company puts the finishing touches on their one-night celebratory event.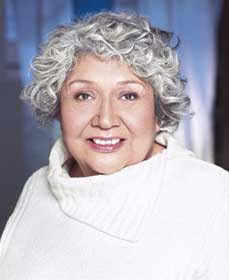 Congrats on your 40th anniversary! You have an exciting show set up for Sept 19. Tell us a bit about the artists and how you all came together for this event.
Many of these artists are from the Native community and the off-off-Broadway theater groups we worked with since the 1960s. We came together because we were either in their groups, or we directed and acted in their groups. All of these people we have known for a long time. Some of the young performers are at the start of their careers.
What 3 adjectives would you use to describe this night?
Wonderful
Exciting
Beyond belief
You're in the final week before the show, and all the hard work is about to be revealed. Congrats again! What do you enjoy most about the process at this point? What could you go without?
What is coming now are tributes from people who cannot be there. We asked for tributes from different people from all over the world. It's wonderful to hear them talk about Spiderwoman and how we influenced them. They're so gracious and kind in how they talk...it's a very a heartfelt feeling that I have. Some of it is from my family, my in laws...and that surprised me when it came in. The feeling is–I want to do everything right. [It gives me] scary feelings at the pit of my stomach [to think] that I forgot somebody.
Social media has really dominated since your 30th anniversary. How do you feel it helps artistic endeavors when planning a one-night such as this? What downsides do you see?
I think social media lets us get the message of this big celebration across to more people quickly–It's an important message: to let people know that you can survive...and how it's important to do the things that you want to do.
In the 1970s, we became known because of our work; the people who knew our work helped create new opportunities for us. Our first European tour came about because of a friend, Luis Valdez, who was the director of El Teatro Campesino, a theater group that was supporting the farmworker's movement led by Cesar Chavez. El Teatro Campesino would go around educating people about the farmworker's conditions and why it was important to protest.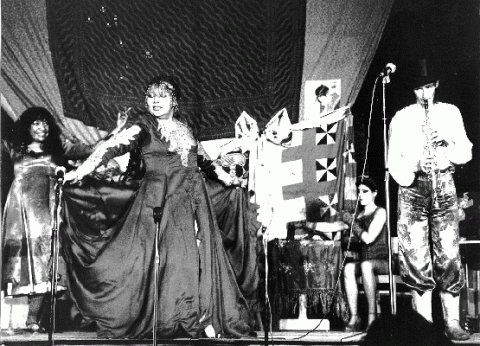 When Luis Valdez was asked who he would recommend to go to the World Festival at Nancy, France he said "If you don't take Spiderwoman Theater, don't take anyone at all!" And we were invited. I received a letter inviting Spiderwoman to the World Festival at Nancy in France, which was very exciting.
One of the things that was said to us is "You can't do that" and my reply was "Oh yes when can!" We had to figure out how to get ourselves to France, and we had to pay our way there. We had to take a stage manager, a business manager...it was at least 8 people. People were saying "you can't do it" and asking "where are you going to get the money from?" I got a loan, I got Eurail passes.
When we got to Nancy we were only supposed to stay three weeks- but after Nancy, we stayed in Europe and went to Holland then Germany, Belgium and Italy with our first play Women in Violence.
With social media, I don't like a lot of the words used i.e. re-branding. I don't want to be rebranded. I realize I have to be part of Facebook, Instagram...but I need someone with me [taking photos and creating posts] because I'm in the now–not in the taking of the pictures. If I'm asked to teach some place, I'll go because I'm interested–but I'm not going to post on Facebook about being there. It's like pushing out of the old with the new. I don't see why there can't be a compromise.
For more information and tickets visit: http://lamama.org/spiderwoman_theater/