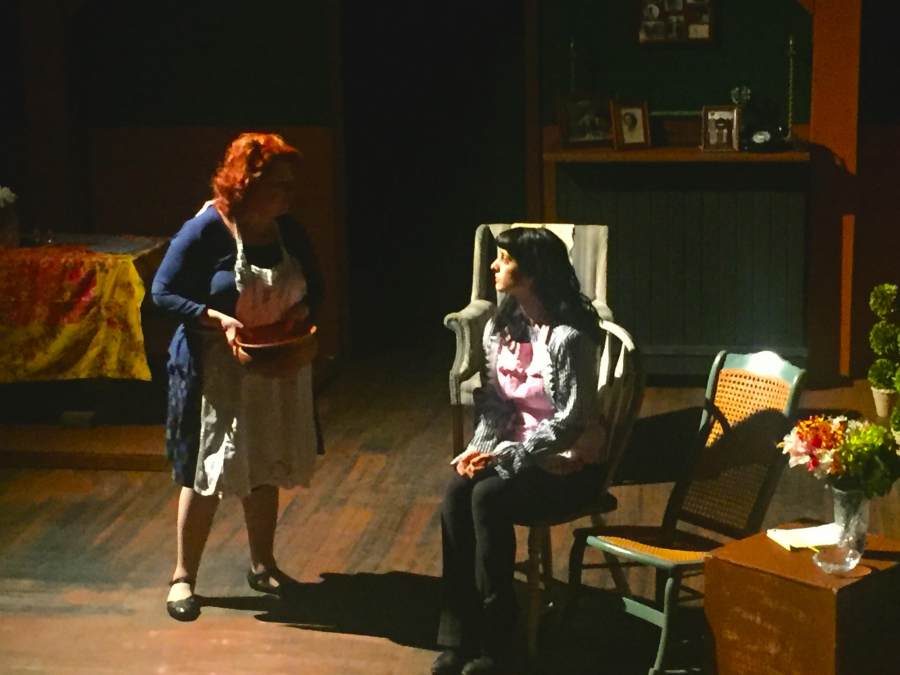 In its first revival, appropriately debuting on International Women's Day, R.T. Robinson's work The Cover of Life depicts all the hopes and regrets women face, no matter how happy they are with the choices they make.
Set in 1943, the show opens with Kate Miller (Jill Cook), a journalist at Life magazine in New York, telling how the three Cliffert brothers have enlisted in three different branches of the US military on the same day. By doing this, they have brought together their wives Weetsie, Tood and Sybil (Abigail Milner-Sweetser, Jessica Carillo, Molly Callahan) in a household headed by their mother Aunt Ola (Amy Losi) in Sterlington, Louisiana. It soon becomes apparent that the women, none related by blood, are now each other's family, whether they like it or not.
Kate hears about this through a local photojournalist Addie Mae (Maia Nero) and, seeing this "women's piece" as her opportunity to write a cover story, agrees to spend a week with the Clifferts in their home to "get the real story".
Famous last words.
Kate's week in Louisiana leads to all the women discovering things about themselves, each other and their place in the Cliffert family and 1943 America.
The play is almost exclusively female, who are so symbiotic that they share their husbands' letters with one another (that is, as long as there is no heart drawn on the envelope, a code that the letter is private). Their jealousies over who gets the most hearts and therefore the most privacy is familiar to anyone who was once in high school.
While the character of Sybil is written to be interesting, Callahan comes off as lazy and flat instead of languid. She talks a good game about how popular she is in town but it is not believable. Even when she is tragic, she is boring.
Luckily, as Weetsie and Tood, Milner-Sweetser and Carillo more than make up for that. Their high-energy performances as the religious Weetsie and the spirited Tood draw the audience in and keeps them there. Sweet but not to be messed with, Weetsie has appointed herself as the head of the daughters-in-law without asking anyone else, and insists they are all on some kind of chain gang that will follow their husbands collectively when they return to a new job at a bait-and-tackle shop where they will all work with worms.
Tood has the gumption to want more, and takes in other people's washing in one of the few economic opportunities available to her. She bonds with Kate as she talks about how stuck she feels, pigeonholed for the rest of her life in other people's decisions. Her joy at saving nearly $100 (equivalent to over $1400 today) of her own hard-earned money is a triumph for herself and every woman who ever felt stuck in her circumstances.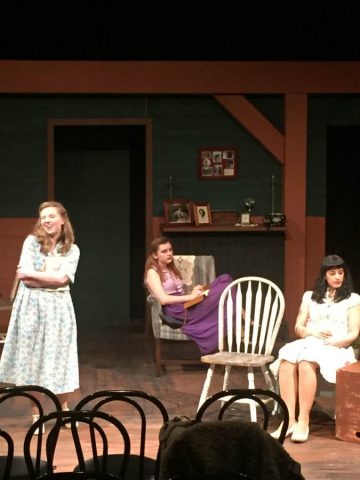 Carillo's scenes with her onstage husband Tommy (Thomas Kalnas) have great chemistry, and they seem not to act as much as they channel a couple from World War II. Kalnas is a gifted actor who is astounding in his acting debut, and he matches Carillo's excellent timing and presence to a tee.
Losi as Aunt Ola is marvelously complex as a matriarch who, having already raised a family of boys, now is told she must lead a family of girls while her husband lays dying. She has 46 years of emotions that she has almost never shared, and you can see her boiling, even when she is smiling over homemade cornbread.
The set by Tony White shows a beautiful, well-kept home by a family of modest means.
The Cover of Life has the added layer of having been written and directed by men (the playwright RT Robinson and his nephew Stephen Miller) who truly listened to women as they created this production.
It would have been so easy to bow to stereotype by location, and simply make Kate a hard-driven New York career woman or everyone else a simpering Southern belle who stands by her man. Instead, the writing and directing took the time to draw out each character, and what she liked about herself and wished she could have been instead.
No matter how they may self-identify, every audience member will see themselves in the women in this play. Highly recommended.