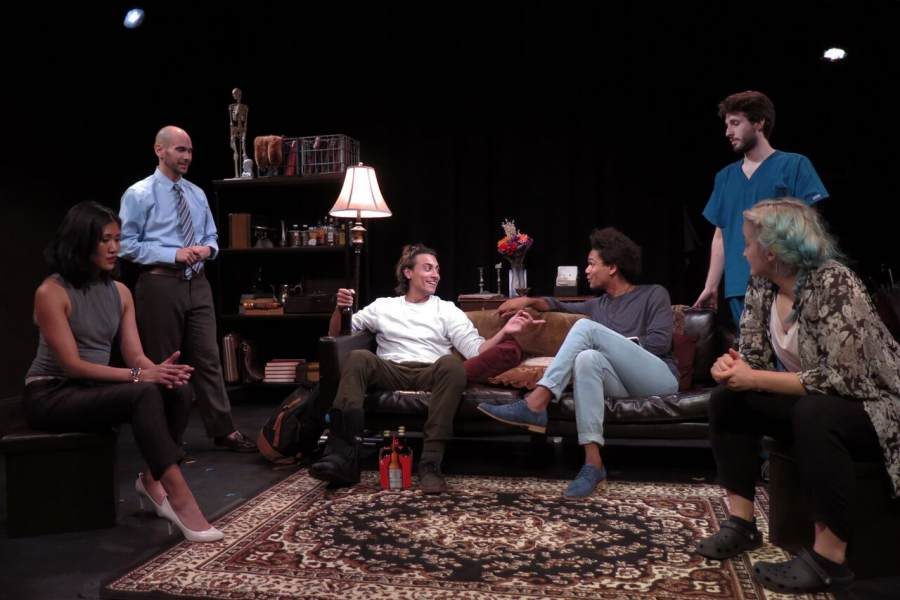 Five stars for False Stars!
Fast-paced, heartfelt and precise, the writing, acting and direction of this piece by Nora Sørena Casey, presented at the inaugural Corkscrew Theater Festival, come together to form a riveting production.
Set in a university town in the South, the play centers around Larry (whom we never see), a neuroscientist stricken by stroke while six young people gather in his home during a hurricane. The six are a motley crew, each embroiled in their own issues. And what issues they have...
There is Mac (Ryan Molloy), a together caregiver who is having an affair; Peg (Jules Forsberg-Lary), a doctoral student who is Larry's protegee; Mychal (Ashton Muñiz), Larry's grown child visiting his father from New York City; Lillian (Marissa Carpio) and Jorge (Felipe Bonilla), an unhappily married couple who are both brilliant researchers; and Victor (Jonathan Iglesias), Mychal's childhood friend whom Larry always favored.
Jealousy is a running theme between all of these characters, some of their jealousies uncovered from long ago, some yet to be discovered; all of them worry that they are somehow being replaced. Add to that professional jealousy when a notebook containing Larry's original research is found that could hold the key to a breakthrough in several characters' careers, with the rightful owner unable to speak for himself, and the stakes rise even higher.
The attention to detail in Chika Shimizu's set design as well as props and costumes (by Shimizu and costume assistant Sho Hanafusa), the precision of the sound (by Kate Marvin) and lighting (by Elizabeth Mak), and the high-caliber acting of all the actors made this production superb. There was clear dedication in the development of each of these characters, and the nuances of resentment and competition in the world of academic medicine was well-researched (no pun intended).
The direction of Jenny Reed, coupled with the work of movement consultant Samantha Sheppard, created brilliantly staged blocking, where there could be three storylines playing out on stage at once, yet the audience could concentrate on the dialogue of one without being overly distracted by the physical acting of the others. There was no wasted space or movement in this entire production, and it was a wonder to witness.