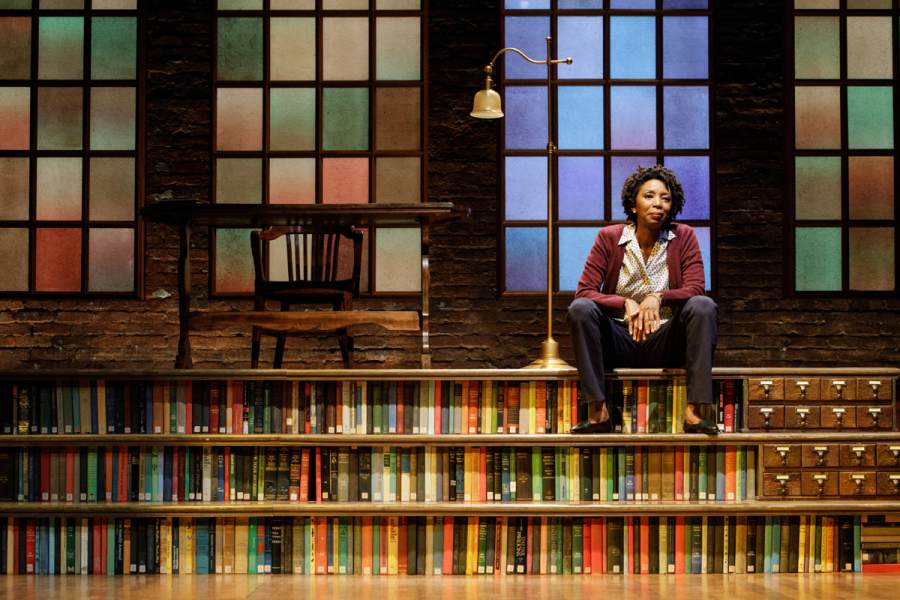 Theater director Maria Mileaf is back at Primary Stages for a third time with the production Feeding the Dragon, written and performed by theater and television veteran Sharon Washington. Feeding the Dragon is about Ms. Washington's childhood growing up in an apartment on the top floor inside the St. Agnes Branch of the New York Public Library, where her father served as the building's custodian; Ms. Washington creates many vibrant characters all seen through the eyes of "the little girl who lived in the library."
As a freelance director concentrating on new work, Ms. Mileaf has been steadily working since the early 1990's after finishing her MFA in directing at University of California/San Diego (plus an undergraduate degree in semiotics from Yale). Early theatrical adventures included being on the staff of Peter Sellar's L.A. Festival and spending a season in Italy to observe Nobel Prize winner for Literature Dario Fo's creative process as he developed his piece The Rape of Francesca. In addition to Primary Stages, she's directed productions in New York for The Play Company, The Vineyard and Playwrights Horizons as well as many regional theaters including New York Stage and Film, Philadelphia Theater Company (Barrymore Award for Outstanding Direction of Tracey Scott Wilson's The Story) Williamstown Theater Festival and A.C.T. in San Francisco. Lee Blessing, Lisa D'Amour, Lynne Nottage, Patricia Wettig, Lucy Prebble and Kwame Kwei-Armah are among the many playwrights she's collaborated with.
During our brief phone chat, I was struck by Ms. Mileaf's keen intelligence, the deep respect she has for collaboration and the sanctity of the rehearsal process; the kind of director playwrights, actors and designers love to work with.
How did you become involved with this project? Had you and Sharon worked together before?
It was fortuitous matchmaking. Tracy Brigden, the then Artistic Director of City Theater in Pittsburgh, called me. Sharon had sent Tracy an unfinished script (they have a new play festival every year) and they had done a week long workshop [of the script] without me. Then Tracy programed it for the 2016-2017 City Theater season. Tracy knew me from New York, she called me and set Sharon and me up. So I did the Pittsburgh production which was really fun and then the co-production happened with Hartford Stage and Primary Stages.
So this has really been on your plate for a while?
We worked over the [2017] holidays on Feeding the Dragon [before Hartford Stage] and Sharon and I also worked on it in between the Pittsburgh production and this co-production with Hartford and Primary Stages. We had the luxury of working in a very calm way. Go back, talk about the script, which is a very lucky thing for us to do. I'd never done that before.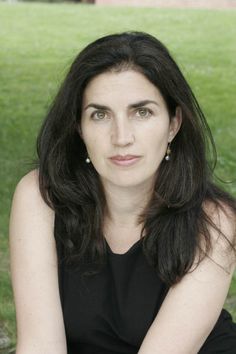 Have you directed other one-person shows?
I directed Underneath the Lintel with Richard Schiff. We did it at George Street Playhouse and then it moved to London's West End. I did a piece that I loved called HA with multi-disciplinary artist and Butoh performer Dawn Akemi Saito at Dance Theater Workshop/Live Arts and also worked at PS 122 with another dancer, Jeannie Hutchins. So there are a few one person pieces that I've done. Those were both movement pieces but they also had text.
Is there any difference between directing a one-person show and a show with two or more people in the cast?
Sharon's piece as well as Dawn and Jeannie's pieces were all written by the performers and that feels really different than dealing with a piece like Glen Berger's Underneath the Lintel, which is an existing script for any actor. Working with Sharon, your collaborator is also the writer. It's a really intense collaboration because you cannot really separate out the writer from the performer, so you are creating a piece that is going to be lived by the person who is making it. To me it is very different than working on a play with a playwright. When the playwright is not in the play, then they are your major collaborator. And you can both have the same point of view because you can both step back and look at the piece while you are making it. But when you are working with a performer, who is in the piece, it is really special because the point of view is completely different; the risks that that performer has to take are completely unimaginable. Sharon is super vulnerable out there. So it is a very…this is a really good question! It is a huge responsibility to create a space for someone [solo performer/writer] to be able to take those kinds of risks, and also they have to trust you to be their only eyes in the audience, because they can't be out there [as the playwright] with you.
Music and sound seem to be a minor character in this piece. How did you, Sharon and the sound designer, Lindsay Jones, decide what moments needed sound?
Before we went into rehearsal we started having conversations with the sound designer, Lindsay Jones, about what the tone, possibilities and challenges of creating this piece were going to be. Lindsay is kind of amazing. He came to Pittsburgh, after having all these theoretical conversations, but he came without anything and just watched the show. And he was with us longer than is usual. He sat in rehearsal and then he went away (to the artist housing in Pittsburgh) and came back with drafts of things that we could use. That was the main way that we worked together. Sharon would try these things in rehearsal and then we'd all talk together about what was working and what was a place for evolvement. Lindsay definitely had ideas about places he thought there could be underscoring; Sharon had specific music that she was interested in using. I had a sense of where the piece could have that kind of support and then we all worked together to make it happen. How Lindsay came up with the aural scape of the fairytale sound -- that was his magic. Sharon's memories of specific music -- that was her magic. And I just tried to pull it all together.
Can you share briefly about the rehearsal process and the shaping of Feeding the Dragon. Were you involved with writing/rewrite decisions?
In every production I've ever worked on, when there is actually a date and a space happening for the show, I always find that the process of evolving the script is easier because you are thinking about a really specific thing. If you know you have an audience in a month, then you're motivated to make something happen. A real gift from a theater is when they give a writer a space to actually do a new play. And then in this case, it was an unfinished play. So that was fantastic.
Sharon wrote the play, she's the person who put pencil to paper, but in that process, first of all in Pittsburgh there was a dramaturg named Clare Drobot, who predated my involvement and was very helpful with Feeding the Dragon. She was in rehearsal with us all, so she was another collaborator/contributor with a really smart great eye and helped articulate what was going on. You know when you are working [as a director] you are responding to what you're seeing. For example, Sharon can say, "this is what is happening in this scene," and I can say, "this is what I'm receiving," and sometimes they're the same thing and sometimes they're not. Sharon has the opportunity to decide whether she wants to manipulate the writing so that it is what she thinks she's trying to do or whether she wants to respond to others who are saying this is how it is working for them. Sometimes if you articulate the dynamic in a moment, it will help any writer, not just one who is performing her own work, to get there. I think that I like to believe that I had a huge impact on helping her articulate what the options could be to make theater out of her story. But the story is completely Sharon's.
Also going from one production to the other, Sharon had the luxury to just be the performer and see what happens. When you walk away from a live performance you can say, "Hmm. Do we think that this idea landed in the right way?" or "Do we think we spent too much time on this?" There were things that were cut from the Pittsburgh production that we didn't have time to finesse but then we put back into the Hartford production. Like the story about her grandmother reading, that was cut along the way and then Sharon said, "I really miss that character and I want to put that back in." Or some of the details about her uncle, they were taken out because we didn't have the time to develop them, but then when we had a year between productions, we could figure out how to put those important things back in. Watching a full production you notice, wow we said that twice, we can get rid of that the second time. Or see that that beautiful moment needs more space around it. For me it was really interesting to have the time between shows to work on the script and then we did it again between Hartford and New York. In the month between the show closing in Hartford and going back in rehearsal for Primary Stages, Sharon made more changes in the script which I think were really effective. And I also changed things in the production, too.
What do you as a director hope audiences come away with from experiencing Feeding the Dragon?
(Laughs) That's a good question. I like to make theater without proposing answers. I like people to articulate their own questions when they walk away from a piece of theater. I also think that in the political climate that we are working in the power of memoir and testimony is becoming more and more important. I feel myself drawn more to nonfiction writing than fiction now and I think that Sharon's bold clean look at her own history and its manifestation today is really moving. So I hope it inspires others to look at their own stories and listen to their friends' stories differently. When I watch the play and see Sharon bring to life all the characters of her family, it's really interesting to think about how one's own life is formed by the experiences of the people around them. How we impact other people.
One thing I wanted to do with this piece is that I wanted it to look like invisible narration. Sharon just starts talking and takes you to places. That you felt like it was just her talking to you. But there were really bold brilliant design collaborations also happening. I hope that nobody is actually talking about my work, because I want it to be about Sharon. But I want to give a shout out to the designers. Besides Lindsay, we had the set designer Tony Ferrieri, lighting design by Ann G. Wrightson and costumes by Toni-Leslie James. Their work is amazing.
What's next?
Nothing I can talk about yet, but I'm keeping my fingers crossed. For me it's really fun to be at the Cherry Lane Theater. This is my third show with Primary Stages. It's lovely to go back to a place where you have an artistic home. And they support your work. Those kinds of relationships are priceless. You know the whole time we were working on this in Pittsburgh, we were thinking how much fun it would be to do this in New York. It's a little bit of a dream come true to come home with this piece, Feeding the Dragon.