Perhaps one mark of a great play is that it transforms not only the audience, but its actors as well. Only a few months after its world premiere at Yale Rep, Mary Jane, a collaboration between playwright Amy Herzog and director Anne Kauffman, settles in at New York Theatre Workshop to reprise the story of a single mother caring for a chronically ill, special needs child. Carrie Coon takes over the titular role, conveying Mary Jane's unflagging spirit — one that astounds, confounds, and inspires those around her, and, as she searches for meaning in her son's suffering, helps her transcend boundaries of class, culture, and religion.
Like the rest of the play's all-female cast, aside from Coon, Susan Pourfar tackles two different roles — Brianne, a new mom Mary Jane coaches on the challenges and bureaucratic loopholes of raising a child with special needs, and Chaya, an Orthodox Jew with a special needs child of her own whom Mary Jane meets in the hospital.
The actress, who has made a name for herself in theater (Tribes, Women or Nothing), film (Manchester By the Sea, Irrational Man), and television (Scandal, House of Cards), reflected on the powerful, unexpected ways embodying these two different women has set her on a path towards communicating across perceived difference and strengthening the universal bonds of love, grief, and motherhood.
Tell me a bit about how you got involved with the project.
I've known Amy [Herzog] and Anne [Kauffman] separately from this project for years. I did a play with Anne, when we were both first starting out, at the Cherry Lane. It was written by Anne Washburn. We were all just complete and total unknowns. I loved working with her, but between logistics and projects and things not working out, it's taken us... I don't know, I think it's been at least 15 years, to come back around and work on something.
They, over the summer, reached out with the script and asked me if I'd like to participate, and I don't know if you know, but I had a newborn. I said, ok, all I can do is talk to my husband and work out scheduling, and if we can make this happen I want to do it. They're both people I have huge respect for. Amy's plays I have loved — Belleville, which I never saw but read, and 4,000 Miles, which I saw multiple times. I think she's a phenomenal writer. So between those two women, when it was offered to me I just knew I wanted to do it.
So you took it, no questions asked!
I basically was like, based on New York Theater Workshop, Amy and Anne… and I also knew Carrie Coon was gonna be involved… I was like, say no more. I also knew that there had been a production in New Haven and that this would be their second go around, which is also exciting. To be honest, I said yes before reading it (laughs).
They had you in mind for the particular dual role?
Yeah, I mean I don't even know if I've spoken to them much about my background or anything. I think of this as the Jewish track (laughs). Cause in my mind they're on a spectrum of Judaism, these two women, like one, I believe Brianne is probably secular, dealing with the situation in her own way. Then we have Chaya, the Orthodox Jew. They have two very different belief systems, but they're both mothers with children who are of special needs.
What was the sense among the team of taking over from a completely different cast only months later? Did you guys really set out to put your own stamp on it?
First of all, I give props to Miriam Silverman who did my role — well this role, it's not my role — in New Haven. She has another job she's doing, so she reached out to me and gave me such a warm welcome to the experience and sort of like a blessing and a passing along. I appreciated that so much because that so often is a little bit of a tricky situation. She also came to see the play and reached out afterwards. I think it's a testament to Amy's writing that these roles can be filled by so many different human beings. After we do it I'm sure there will be regional productions, and these words will fit beautifully in many different actresses' mouths.
What Anne said is a different group of actors asks a different group of questions. What she learned about the play was new and different in that we came at it with different perspectives. I think this play is just different based on the different personalities and inquiries and curiosities of this particular group of women.
What was is like playing two such different characters in the same show? Can you talk a bit about how you prepared?
I like to start with the writing, with what's on the page. I've already told this story, so forgive me if you know it already, but during rehearsal, when we had a Monday off, this was not a plan that I had, but I decided, it was the last somewhat warm day of summer, I went with my husband and family to this little lake in New Jersey, and it was basically completely and totally empty except for two women, both of whom were Orthodox Jews, with their children. I was like, oh god, this is a sign. I must go over and speak to these two women, one in particular who was at the water's edge with her child. We struck up a conversation, and when we got home, Brian, my husband, said, "Did talking to that woman help you with the play?" and I said, "Actually the play helped me talk to that woman." I really believe that in terms of both the issue of where you are on a spectrum of religion or also in terms of disability, there are certain topics that I didn't have a comfort level broaching. Now, because of the play, I feel like I still have much to learn, but it gives me a way into experience that I didn't have a way into before.
It's a shame that we often fear — because we seem to be so different — approaching someone, when really there are so many bigger similarities, just on a human scale.
So many similarities. The only boundary that we have is created in our own minds. Now granted, if that woman didn't want to speak then she would have said so, but she was very open, and now, on the train or on the playground, I have struck up a conversation, not even saying I'm doing Amy's play — I just strike up conversations with women who are Orthodox, and they're very approachable. I've not once had a situation where I got even a sideways look of: You're not Orthodox, why are we having a conversation? It's this line that we draw between ourselves and people who don't look like us, or dress like us, or sound like us, and it's this line that we draw that is self-created and self-perpetuating. That's been a huge gift to me.
Back to the original question of how do I prepare, I do start with what's in the script, and then I add on details from there. We had a Skype session with a rabbi that was very helpful and put a lot of things into perspective for me. I also did the smallest bit of research on what Brianne does, her job in the world that she was just breaking into before her son was born, which is disaster management, which I think is very clever. I mean that in a complimentary way — it's very clever that this woman who is in disaster management finds herself in the middle of something that you can't really fix with PR. It feels overwhelming and bigger than her.
Can you talk about developing and living in your roles opposite Carrie Coon? What was it like working with her?
Carrie is an extremely generous actress. She's in every single scene of the play, so the load that she's carrying both in terms of emotion and then simply lines and the changes that she's doing offstage that no one's seeing that are happening rapid fire — having to find a spot to use the bathroom in an hour and a half (laughs). And on top of that, having to, I've never spoken to Carrie about this, but for each woman she has a scene with, she probably has a somewhat different way of working with her. So she has to be adaptive, and she's been all of those things. She's tireless and generous and always very present to act with. She's a pro. In her past life, I've heard she was an athlete, and I think that athleticism, in terms of stamina, is very useful for actors, and for this role in particular, because she doesn't seem to tire out.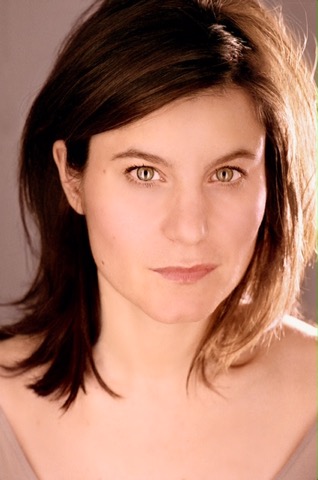 Which is so perfect for this role…
Yeah, because it's a woman who seems to have boundless energy in reserve and is doing it all on her own, and Carrie lives in Chicago normally and has been in New York for rehearsal, and she's kind of been on her own… I mean there are so many similarities that I can draw between the upbeat nature of this woman and the energy of this woman that Carrie automatically brought into the role.
Can you offer some insight into what the experience was like working with Herzog and Kauffman as a team?
They were both very present and both available to the fact that, like I said, our questions led us down different paths. Very available to it being a new production. I never felt like they were trying to shoehorn us into the way it worked in New Haven.
The interesting thing about Anne is she's so specific about moment to moment work, and she's so detail oriented. She's almost like a really gifted conductor. But every time I go see a production that she has directed, what I always come away with is that there's a very light touch. I never feel that the actors have been hamstrung. You go, and you see it, the effect is a light touch, but what actually created that effect was a lot of attention to detail.
How do you feel that Mary Jane fits into NYTW's mission to inspire and challenge?
I didn't know that was their mission. I do think it's inspiring and challenging. I think it fits right smack dab in the middle — bullseye — of that mission. Challenging in that, first of all, I've never seen this particular situation dealt with on stage. And I also have to say that one thing I love about the play is that we meet women across class line, intersecting across class lines. From someone who is working as a superintendent all the way to a very high-powered doctor in the unit in the hospital. My character, Brianne, who I believe the one thing she says she's lucky for is that she doesn't have any financial concern about, will I be able to care about my child? Then we have Carrie's character, Mary Jane, who is on a phone call three-quarters of the way through, making the case for keeping her health insurance even though she's being let go of her job. Someone who's on the brink of losing basic care and basic coverage for her special needs child. It's heartbreaking, but the beautiful thing and challenging about the play is that it puts all of the people in different economic strata and pushes them together because what they're dealing with, what brings them together is this character off stage, Alexander. I don't see that a lot, so it shouldn't be this wow, that's so innovative, but it feels innovative because I feel like generally I see plays either about the working class or the bourgeoisie, the upper middle class, but I don't see this wonderful intersection that's happening in Amy's play, and it's reality.
And challenging in that there's a lot of grief surrounding Alexander's diagnosis and story. There's a lot of grief, and the play isn't wallowing, but it doesn't shy away from it. It's never maudlin, but it's also showing the daily grind of caring for a child who has as many needs as Alex has. It doesn't shy away from what that reality is. So that's challenging in its own way in terms of asking people to face something or think about something, and I feel like people are relating to it even if they don't have children. It's not only moving if you have children, it's moving to anyone who's ever been a caregiver, for a parent even. I had someone come this weekend who said it reminds her so much of what it feels like to be a caregiver for her dad. Dealing with the medical profession, and dealing with the exhaustion, and dealing with insurance. So I do think it resonates for people on a broader level.
Herzog has mentioned that she doesn't like to create plays where there's an easy sense of catharsis. And that's true for Mary Jane — you definitely have to sit the ending and wonder what will happen next to the characters.
It's very open-ended. Everybody wants to know, you know, what does that mean? And I think that's up for you to interpret, what did it mean? What does it mean for you?