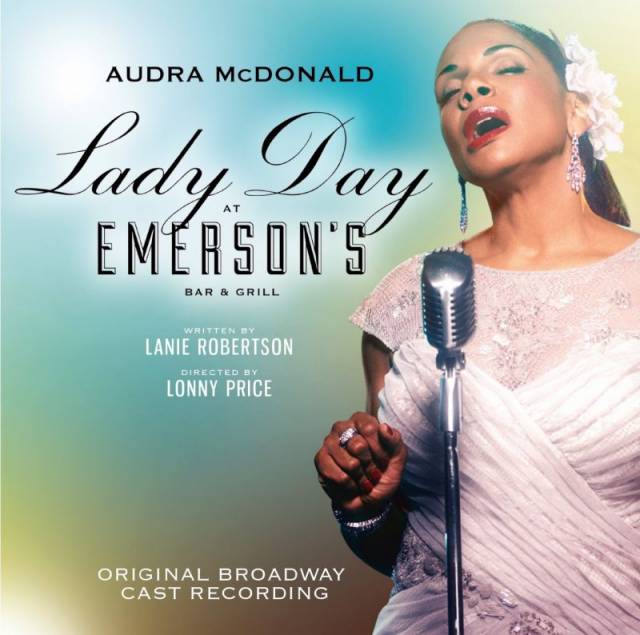 We hear the notes of a piano, the clinking of glasses, the murmurs of a crowd and then a voice, "good evening ladies and gentleman, welcome to Philadelphia's liveliest spot in South Philly: Emerson's Bar and Grill" says the announcer, before introducing the headlining performer "the legend in her own time" Miss Billie Holiday. A roar of applause, then silence…"all I know is I'm in love with you" sings Lady Day as the piano joins her "even though you say that we are through". From the very first notes we are under her spell, her raspy voice declaring "I just can't go on...I wonder where our love has gone". Lady Day has never sounded so present, so alive...and the true surprise is that this isn't Billie, but six-time Tony Award winner Audra McDonald playing her, becoming completely possessed by her.
McDonald's spectacular performance was the hottest ticket during the 2014 Broadway season and with reason, she turned the stage at Circle in the Square into a place where time stood still, where Billie Holiday would live for as long as the show ran. Seeing how she mastered her every move, her self loathing, her love for performing and especially that voice (McDonald, a soprano, has explained she achieved Billie's unique sound by copying her own grandmother's voice) made for one of the grandest stage performances of our times and fortunately PS Classics decided to record it and release it as a magnificent Original Broadway Cast Recording.
The album features the entire performance, complete with spoken interludes where Lady Day talks about the inspiration behind some of her most iconic songs and in a way, it feels not as a second-best option for those who couldn't see the Broadway show, but as a unique experience on its own. Listening to the album evokes the same haunting feeling one gets when listening to Judy Garland's Judy at Carnegie Hall, it's a recorded confession that feels particular and intimate, despite the fact that they were performed in rooms where the artists were surrounded by hundreds of patrons.
Lady Day at Emerson's Bar and Grill takes place just a few months before Holiday's untimely death in 1959 and through McDonald's melancholy affectations we feel as if she's saying her goodbyes. The play, written by Lanie Robertson, has Lady Day look back at her life and exorcise her demons onstage, in front of us. The magic of the recording is that this disembodied voice is both spooky and angelic, a message sent to us from a place where Lady Day is finally at ease with herself. Skipping the spoken tracks would be a disservice to the recording - even though it can be quite the emotional task to undertake - but the album works wonderfully just through its songs as well.
It's impossible not to tap your feet at "What a Little Moonlight Can Do" (made even more charming by Billie's confession that she might need a little more moonlight before the show is over), "Easy Living" is for lack of better words completely delicious, and "God Bless the Child" has rarely sounded this soulful and fresh. By the time she gets to "Strange Fruit" you've long forgotten you're listening to Audra McDonald and as cliché as it may sound, this imitation isn't just the best way of flattery, it's perhaps the most affecting tribute any artist has ever paid to a legend.