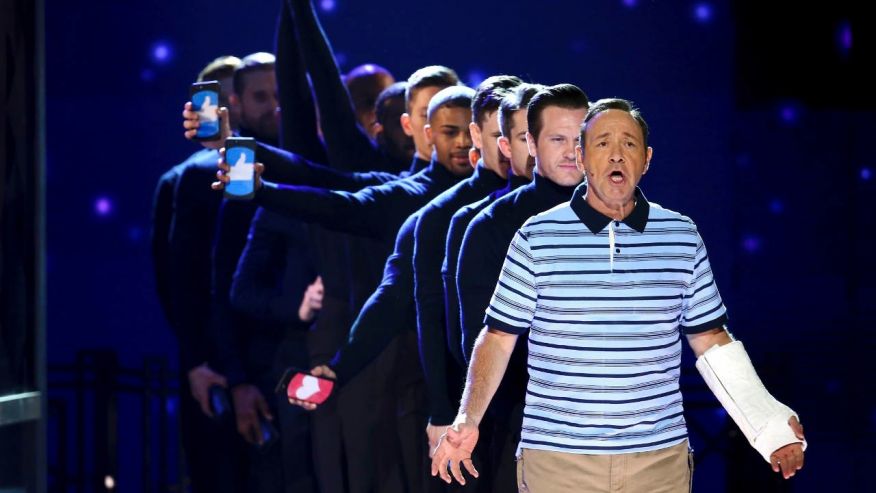 This year has seen some incredible work in Broadway's theaters, and last night's Tonys brought the best moments from our favorite musicals of the year to Radio City Music Hall. Kevin Spacey kicked off the evening with a musical monologue that riffed on Dear Evan Hansen and Natasha, Pierre &the Great Comet of 1812, among other Best Musical nominees. His jokes were tailored towards those who've seen the musicals, so anyone who hasn't won the Dear Evan Hansen lottery yet might have dozed off during the opening number, but some of his lyrics, like the "And Neil Patrick isn't here" rewrite of Great Comet's "Prologue," were undeniably funny.
Following Spacey's comic take on the musicals came performances from the musicals themselves, with each Best Musical and Best Revival nominee taking the stage. Putting their best foot forward, these impressive musicals set out to show the world how they got their nomination.
The evening included performances from stars like Patti LuPone and Christine Ebersole, who were unsurprisingly magnificent in War Paint's performance, and Christian Borle, Andrew Rannells, and Stephanie J. Block were incredible in "A Day in Falsettoland." Others were conspicuously absent, as Hello, Dolly! didn't include Bette Midler in their performance.
Though it wasn't recognized in wins despite its astounding 12 nominations, Natasha, Pierre &the Great Comet of 1812 stole the show by bringing its immersive setup to Radio City. The show rearranged the Imperial Theater to translate their intimate off-Broadway arrangement to the big Broadway stage, bringing set designer Mimi Lein a well-deserved win. Though it would have been nice to see more from the stellar Denée Benton, who was nominated for Best Leading Actress in a Musical, the performance featured a solo from star Josh Groban and Lucas Steele, nominated for Best Featured Actor in a Musical. With their mash-up of Josh Groban's show-stopping ballad "Dust and Ashes" and the rousing ensemble number "The Abduction," a combination that mixed together surprisingly well, Great Comet brought to Radio City everything that makes it such a beautiful show: touching moments of humanity presented alongside high-energy, highly-entertaining big numbers that seep out into the audience. They even brought the breathtaking chandelier that serves as the titular comet.
Dear Evan Hansen, on the other hand, brought intimacy through a smaller scale. Ben Platt performed largely alone in his much-lauded role as Evan Hansen, the struggling high schooler who lies about a friendship with a suicide victim to gain popularity. Platt delivered a strong performance that certainly made it clear why his performance has received so much acclaim. I'll admit, though, the dubious actions of the musical's protagonist have left me skeptical about the praise the show has received, and "Waving Through a Window," the song about a teen feeling left out in the pop-folk style that many contemporary musicals have adopted, still left me unclear on what makes this show so special.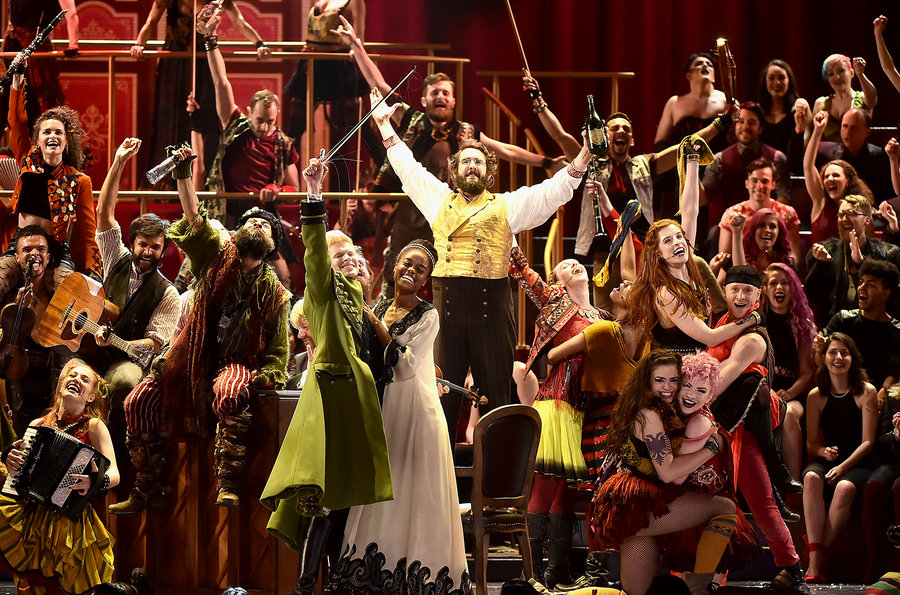 Like Great Comet, Come From Away and Bandstand went with ensemble numbers in their performances. The cast of Come From Away kicked off the evening with their opening number, "Welcome to the Rock," creating the perfect invitation to anyone who hasn't yet seen the show. Introduced by Dr. Jill Biden, who stole the show when she received a standing ovation before even starting her speech, Bandstand showed off why choreographer Andy Blankenbuehler won the Tony with its spellbinding swing moves.
Miss Saigon's choice of song, "I'd Give My Life For You," felt like something of a major spoiler for anyone unfamiliar with the show, but Eva Noblezada more than made up for it with her stunning vocals and deeply emotional performance. Groundhog Day: The Musical also went the spoiler route with "Seeing You," a touching song near the end of the musical that was charming and heartwarming enough to succeed as a standalone performance.
Ultimately, while last year's Tonys served as a vehicle to give Hamilton the praise it deserved, last night's show was a holistic celebration of the season, which truly had something for everyone. Though Dear Evan Hansen brought home most of the major awards, the performances served as a reminder that this year's Broadway season pushed the boundaries of creativity across the board. With everything from a musical about 9/11 to an electropop operetta take on War and Peace, this year's nominees brought out-of-the-box weird ideas to the stage in the best way possible, and it was an honor to celebrate them.