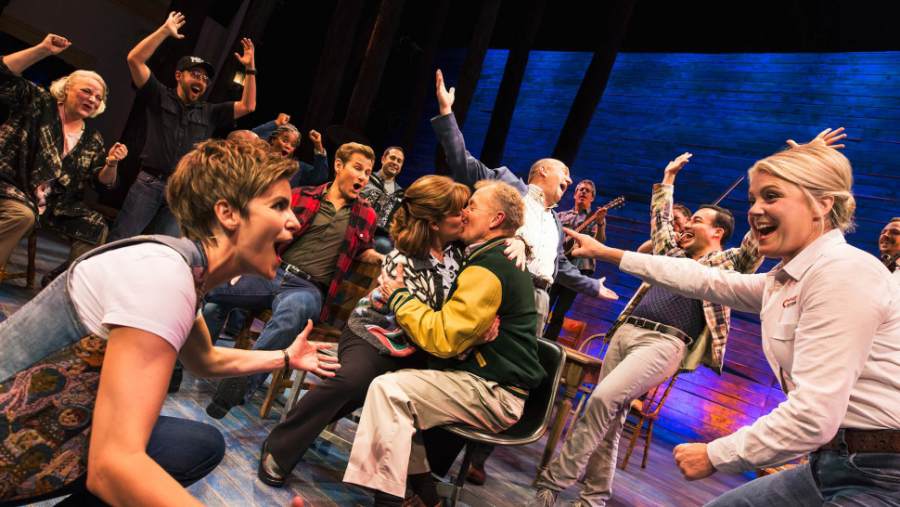 Love triangles are an all-too-familiar trope, so the premise of Natasha, Pierre, and the Great Comet of 1812 doesn't immediately stand out as particularly original. It follows Natasha (Denée Benton), a young Russian countess engaged to Andrey (Nicholas Belton), who's off fighting in the war. She finds herself swept off her feet by Anatole (Lucas Steele), the charming – but secretly married – brother-in-law of Pierre (Josh Groban). As the unhappily married Pierre drowns in drink and meaningless scholarly study, Anatole plans an abduction: an elopement, a fake marriage, all to trick Natasha into bed with him.
What does separate it from the crowd, in truly spectacular ways, are the stakes that writer Dave Malloy infuses into his music. The heart-rushing pace of "The Abduction," in which Anatole plans to elope with Natasha, makes it clear that there's more going on here than can be divided into "Team Andrey" and "Team Anatole." For women in 1812, marriage wasn't just a matter of finding love. It was, to put it simply, life-or-death. Women depended on their husbands for everything from social position to basic necessities they weren't allowed to procure themselves. By tricking Natasha into sleeping with him unmarried, thereby making her "unmarriageable" by the standards of her society, Anatole might as well be murdering her.
"There's a war going on," sings Andrey at the end of the musical, as though to tell the audience that his struggle has made Natasha's plight insignificant. Then, Natasha comes onstage, barefoot and in her nightdress with all of her fashionable trappings gone, weak from a suicide attempt, lost and undone by a scandal that almost killed her – she knows about war.
Great Comet is an absolutely breathtaking show, celebrated by 12 Tony nominations, including Best Musical. But how do about the life-and-death stakes of a long-gone Russian countess's love life fit in with its fellow Tony nominees?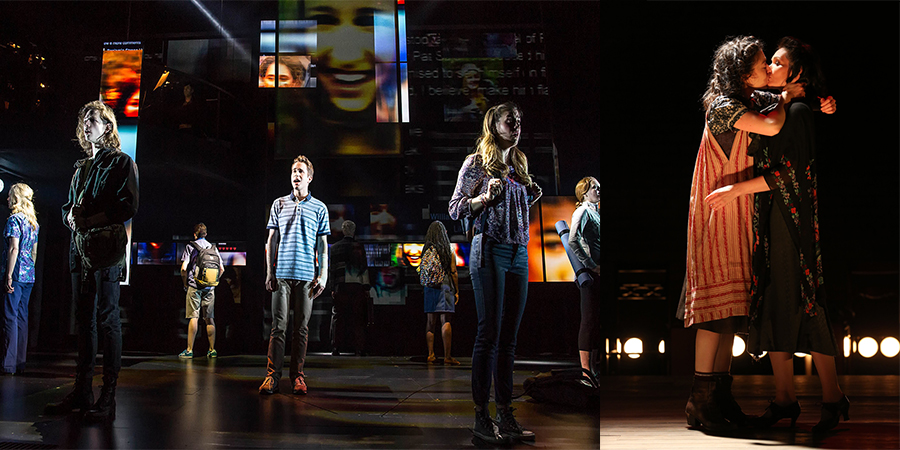 As it turns out, the very question of fitting in is what ties most of them together. Take Dear Evan Hansen, the acclaimed new musical about a bullied teenager with social anxiety, lost in the mess of social media, feeling more and more invisible every day. Like Natasha, Evan Hansen (Ben Platt) struggles to find his place. Playwright Steven Levenson brings out the parts of our society that make it hard for Evan to connect, like the social media that he finds so pervasive.
It isn't until Evan connects with the others around him that he can finally find his place in school and in life, much like Phil Conners (Andy Karl) of Groundhog Day: The Musical cannot rejoin his own life until he learns to understand his connection with Rita Hanson (Barrett Doss) and the rest of the world.
Come From Away embraces human connection as playwrights Irene Carl Sankoff and David Hein took on the challenge of creating a musical around 9/11. Based on real residents of Gander, a Canadian town where 38 planes were ordered to land after the attacks, this musical literalizes the theme by displacing 7000 people, exploring the beauty behind human connection through the relationships formed between the plane passengers and the Gander locals.
Approaching the issue of finding a place, Best Play nominee Sweat takes a somewhat reverse method, considering what happens when one has an identity, only to see it taken away. Set in Reading, Pennsylvania, Lynn Nottage's brilliant play follows blue-collar workers who have dedicated their entire professional lives to the local factory. Employment there has been passed down through generations, with characters listing their years working with pride. So when the plant starts removing machines, downsizing, outsourcing jobs, and eventually locking out all the workers unless they accept a 60% pay cut, its employees are out more than just a job: they've lost their identity, their place, their way of not only providing for themselves, but connecting with each other.
As with Great Comet, many of these nominees focus on women finding their place against the odds of a society stacked against them. Sweat focuses primarily on three women who have dedicated over twenty years working at the plant, one of whom is promoted to an office job shortly before the downsizing begins. From this promotion emerge racial and class divides that only deepen after the lock-out, exploding into violence between once-friends.
A Doll's House Part 2, Lucas Hnath's continuation of Henrick Ibsen's famous A Doll's House, also takes on the theme of female identity. Where Ibsen's work ends with Nora Helmer leaving her family to start her own life, Hnath's begins with Helmer (Laurie Metcalf) knocking on the door of her family home, returned at last. Not for good, though. She's come back, having found success as a feminist novelist, to finalize her divorce, but she finds her newfound place challenged by those she abandoned to find her identity.
Like Paula Vogel's play Indecent, which also takes its inspiration from a classic play, in this case chronicling the story behind the production of Sholem Asch's God of Vengeance, A Doll's House Part 2 considers what it means for women to challenge social norms, and accept backlash if it means creating for themselves an identity of their own.
Indecent, much like Sweat, also looks at the question of identity from the perspective of immigrants. Silent for much of the play's beginning, Oscar (Carlo Alban) argues with Tracey (Johanna Day) halfway through Sweat when she challenges his right to apply for a job at the plant because he's an immigrant (even though he was born in the US to immigrant parents). Vogel also takes on the issue of immigrant identity in her chronicling of the Jewish play that caused so much controversy when it opened in 1923. For immigrants and racial minorities in Sweat and Indecent, finding a place comes with the extra challenge of having that place challenged by those who see it as a threat.
Oslo tackles the threat posed by place more literally in its dramatization of the 1993 peace treaty between the Palestine Liberation Organization and Israel. Despite the enormity of its subject, Oslo, like Sweat, uses the political complexities as a backdrop for a human story. As playwright J.T. Rogers writes, "It's a very small country," one that creates a tight-knit community full of complex personal relationships. And of course, to find peace, its negotiators must find communal humanity in the space between their two homelands.
Of course, these works have their own nuances, perspectives, and moments of beauty, which is why we're so excited to see them recognized at the Tonys this Sunday. But at their core, all of them deal with that timeless issue of feeling lost, yearning to find, create, or preserve an identity. Many come to the heartwarming conclusion that we find that identity in our shared humanity.
In the final songs of Great Comet, Natasha meets Pierre, her fellow titular character, for the first time. Together, but apart, they've spent the musical struggling to find their place in the world. And in each other, perhaps they find it.