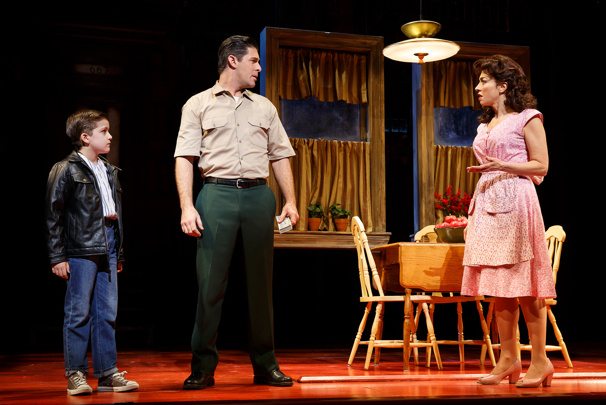 The dining scene of New York's Theater District is quickly becoming one of the best of the city, and few people know it better than the actors who call the neighborhood their second home. In this installment of thEATer, we chatted with Lucia Giannetta, who is currently playing Rosina in A Bronx Tale on Broadway. With four Broadway shows under her belt, Giannetta is no stranger to the eateries of the neighborhood. Check out her go-to places below:
Dinner with the family before a show?
Ding Asian Szechuan Restaurant. My favorite!! Lisa and the staff take such good care of me! I have a lot of food allergies so when I start a show I generally go around the area to see where I can get what I need. I was so lucky to find Ding at the beginning of tech on A Bronx Tale. I get fish steamed with steamed bok choy, bean sprouts and zucchini with rice and my favorite hot oils on the side. I could eat it every day and almost do! They also have these amazing Hot Pots that everyone is raving about where you pick your ingredients and they bring a pot of broth and you cook it at the table. It's such fun! And their Chinese dishes are amazing as well! I wouldn't pass up a chance to eat there if I were coming into town to see a show. Just make sure you make a reservation!!
Caffeine fix?
I'm a decaf girl myself, so finding exceptional coffee around where I'm working is a must! Decaf isn't always brewed fresh so I'm usually begging the barista to make a fresh pot…but not at Gregory's Coffee! I honestly think it's the best coffee I've ever had. I used to walk 10 blocks downtown to get it when I was in Les Miz and now they've just opened around the corner from A Bronx Tale – so I'm in heaven. Honestly, for me, the relationships I make with folks I see every day is so important, and Corey at Gregory's always makes the trip extra special!
Sugar fix?
Amorino – for treats and coffee, but I'm told their gelato is off the hook! There's also a really nice place in the back to sit and relax after battling the crowds in Times Square.
Classic NYC Establishment?
The Westway Diner on 9th Avenue. It's definitely a New York staple for me. A traditional NY diner smack dab in the middle of the Theater District. I'm always running into folks in the business which makes it even more fun! The food and service are awesome.
Place to bring out of towners?
Uncle Nick's in Hell's Kitchen. It is an amazing Greek restaurant. I get my staple, an incredible Greek salad, some Melitzanosalata (fresh eggplant with olive oil), and a piece of grilled salmon or a shrimp kabob. The food is incredibly fresh and delicious. When I bring folks from out of town I encourage them to get the flaming cheese appetizer (Saganaki-Tiri) – they set the cheese on fire at your table and serve it with fresh hot pita! I mean, hot pita and melted cheese - REALLY!!