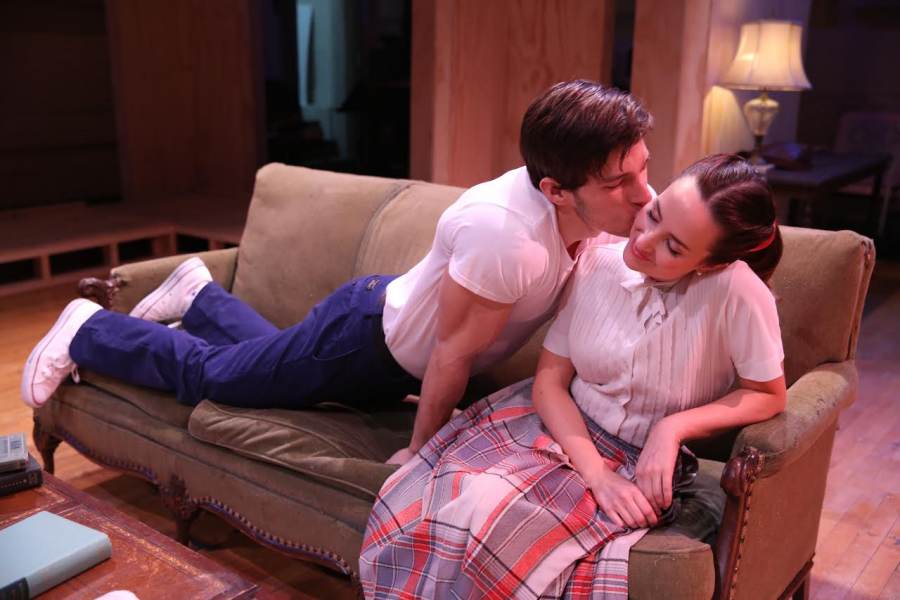 William Inge's Come Back, Little Sheba (1950) seems to owe much to the plays of his friend and mentor (and probable sex partner) Tennessee Williams—and in particular to 1944's The Glass Menagerie. For instance, when Inge's protagonist, Lola Delaney, busily readies her home to welcome the long-distance boyfriend of her young boarder, Marie, it recalls Amanda Wingfield's anxious preparation for daughter Laura's "gentleman caller" in Menagerie. (In both plays, the planned evening ends badly.)
Sheba's script—at least its first act—comes off these days mostly as clunky and overwritten. Laura Wingfield's damaged glass unicorn may feel heavy-handed as a metaphor in 2017, but it's nothing compared with what Lola's missing lapdog (the titular Sheba) must bear as a symbol of lost innocence. (And let's not go too near the javelin—actually, a broom—that Turk, Marie's athletic friend-with-benefits, holds aloft while posing in his skimpy gym togs for a life drawing. "You hold it like this—erect," he says.)
Transport Group's new staging, performed in repertory with Inge's Picnic at The Gym at Judson, doesn't do the script any favors by presenting much of the action in a broad, cartoonish way. Director Jack Cummings III frequently has his actors move in an overly choreographed manner. The amorous Turk (David T. Patterson) and the reluctant-but-persuadable Marie (Hannah Elless) come off as characters from musical comedy— Will Parker and Ado Annie from Oklahoma!, perhaps.
The story, of course, really belongs to Lola (Heather Mac Rae) and her husband Doc (Joseph Kolinski). Lola is a frowsy stay-at-home non-mom (she lost a baby years earlier, after her shotgun wedding). Chiropractor Doc is a recovering alcoholic whose ambition to become a "real" doctor was thwarted when he had to marry Lola. (In a stinging touch, Inge has Lola refer to Doc as "Daddy." Considering that parenthood is a sore subject in the marriage, this could be read as passive aggression on her part.) Doc sees Marie as a virginal goddess, so when he learns she's been fooling around with Turk and thereby cheating on that long-distance boyfriend, Bruce (Rowan Vickers), the chiropractor wants to break bones.
Mac Rae plays up Lola's optimism in the face of catastrophe, and that makes for some pathos. But what happens to Lola should be devastating, and with Mac Rae it really isn't. Kolinski, on the other hand, gives an engrossing, multi-layered performance. In the second-act scene in which Doc goes on a bender, the actor is perfectly convincing—and frightening—as an enraged, menacing sauce-hound. In this sequence, the production comes alive. That's partly thanks to Kolinski's performance. But it's also due in part to Inge's unsparing portrayal of alcohol addiction (something he knew about firsthand).
At one point in the action, Turk jokes with Marie about Alfred Kinsey's 1948 report on male sex behavior—considered one of the first stepping stones toward the sexual revolution of coming decades. To most of us, the mores in Sheba will likely seem quaintly out of date. I, however, happened to attend this production in the same week in which reports surfaced regarding Vice President Pence's personal rules about not dining with a woman other than his wife (and not going to functions at which booze is to be served, unless the missus tags along). I was reminded that some Americans have continued to embrace a mid-twentieth century attitude toward carnal temptation. In that light, Sheba, perhaps, has more relevance in 2017 than I would otherwise have expected. I mean, consider that Pence refers to his wife as "Mother," just as Lola calls Doc "Daddy."