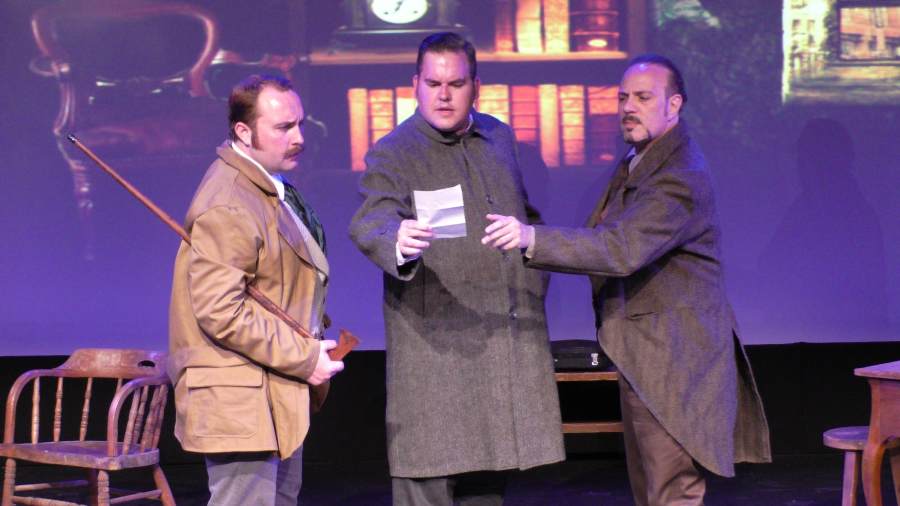 My Dear Watson (at the Peter Jay Sharp Theater for NYMF) is not exactly a new take on the story of Sherlock Holmes. In fact, it doesn't take a consulting detective to predict most of the musical's events just before they occur - simply because most of us have seen this story play out before. So you'll know that when John Watson tells Lestrade he needs a place to live, Lestrade will introduce him to Sherlock Holmes. Then, when Watson and Holmes meet, you know that Holmes will amaze Watson with his deduction skills, that they'll move into Baker Street, etc. You probably know what's going to happen in the end when Holmes and Moriarty face off at the Reichenbach Falls. And you're going to be skeptical down to the last minute about whether or not Sherlock Holmes is in fact gone for good.
Despite all of that, we keep making and watching movies, TV shows, and plays about Sherlock Holmes, so in the end, it would seem that the element of surprise is not all that essential. Maybe it's not so much the plot as it is the characters that attract us to Conan Doyle's story, and all its various reincarnations: Sherlock Holmes and John Watson - the enduring duo that never fails to amuse, delight, and inspire.
It's certainly the characters that take center stage in Jami-Leigh Bartschi's My Dear Watson: A Sherlock Holmes Musical (directed by John Didonna, who also plays Holmes). While there is a fine story as well (and a good mystery in the middle), this show hinges on the relationship between Dr. John Watson and Sherlock Holmes. The bromance is real.
As John Watson is the heart of Sherlock Holmes, so Kyle Stone's John Watson is the heart of this production. Besides looking the part perfectly, he acts with vulnerability, courage, and sincere emotion - and the musical never shines more brightly than in those moments when Watson ponders his strange friend and their strange, but endearing, relationship.
Fittingly, the back and forth between Holmes and Watson is clever and delightful (the audience I saw the show with absolutely loved it); and these moments also rank among the show's best. In fact, Bartschi's script very successfully elucidates the relationship between the two characters, digging into the heart of the friendship by revealing both characters' true feelings - beneath their teasing banter and Holmes's aloof facade. I found the song "It Was Worth a Wound" especially sweet.
Consequently, fans of Sherlock Holmes will doubtless enjoy My Dear Watson. It's a fun little musical that banks on the ever-enduring popularity of Sherlock Holmes and John Watson as a duo. It's not exactly chock full of showstoppers (though the music is nice) and it may leave a little something to be desired in parts; but it's Sherlock Holmes. And Sherlock Holmes is always good - especially with John Watson at his side. And, as Stone's Watson informs us, he'll be there 'til the end of time. Truer words were never spoken.